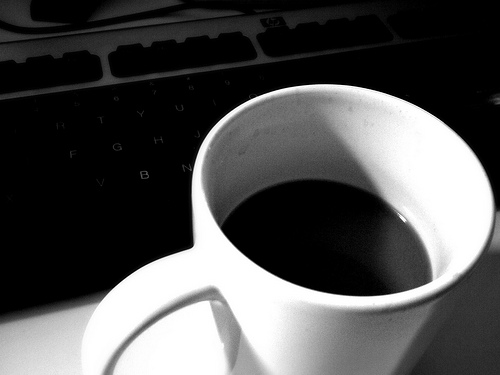 It's time to sit back, relax and enjoy a little joe …
Welcome to another rousing edition of Black Coffee, your off-beat weekly round-up of what's been going on in the world of money and personal finance.
Let's dive right in this week …
"What do you get when you cross poison ivy with a four-leaf clover? A rash of good luck."
— Author Unknown
Credits and Debits
Debit: Three years ago, Fair Isaac, the company behind your FICO score, removed any record of consumers who failed to pay bills that were settled with a collection agency, as well as started giving less weight to unpaid medical bills, from their calculations. Now, they're removing tax liens and civil judgments too.
Debit: Of course, that's great news for the 12 million Americans who are about to get a higher FICO score — but it's even better news for the Ponzi scheme known as our debt-based monetary system, which needs an ever-expanding pool of people in hawk to keep the dollar from imploding. And if you think Fair Isaac's move is only a coincidence, I've got a bridge in London I'd like to sell you.
Debit: Meanwhile, the Fed raised rates 25 basis points at its March meeting, which was held this week. The Fed also promised that more rate increases are on the way. Psst. Don't expect your savings accounts to get the same treatment, however.
Credit: Of course, rate hikes are typically used to "tap the brakes" on an economy in order to keep it from overheating — which is why it should come as no surprise that Fed Chair Janet Yellen says the central bank raised rates for only the third time in 11 years because "The economy is doing well." But is it really?
Debit: Frankly, the evidence strongly suggests that the US economy is anything but doing as well as Yellen proclaims. This is especially true when you consider the government just announced that industrial production has declined on a 24-month basis — and that's never happened without the US economy being in recession. Uh oh.
Debit: If GDP forecasts for the first quarter are correct, the latest Fed hike will be the weakest economy since 1987 in which rates were increased. By the way, 1987 was also the year that the Dow experienced its biggest single-day percentage drop ever; 22.61% to be exact. (For whatever that's worth.)
Debit: Perhaps the most convincing sign of an economy on life support is that, even after the latest rate hike — and eight years of "recovery" — the current federal funds rate is still sitting at a mere 1%; that figure is far below the historic average between 6% and 8%.
Debit: Here's more evidence of a slowing economy: An increasing number of Americans have stopped paying their car loans. In fact, losses on subprime auto loans have spiked in the last few months, jumping 9.1% in January alone — that's up from 7.9% in January 2016.
Credit: Then again, with the US having more than $20 trillion in debt officially on the books, the Fed is realistically unable to raise rates to any significant degree because doing so will increase the cost of servicing the debt to a point that quickly overwhelms the US budget.
Credit: That inconvenient truth is one of the biggest reasons why financial analyst Bill Holter believes, "The only tool central banks have left is to print — whether outright, or via piling more debt onto an already over-indebted system."
Debit: Speaking of debt, global debt now totals $21,714 for every man, woman and child. I'm sure that won't be a problem in a world where most people manage to survive on just $2 per day. Am I right? Anybody? Hey … can somebody give me a "hallelujah" here?
Credit: In other news, with St. Patrick's Day officially behind us, McDonald's annual Shamrock Shake promotion is coming to an end. I see this year they got creative by introducing a chocolate version, which many consumers find to be superior to the original. Here's a photo: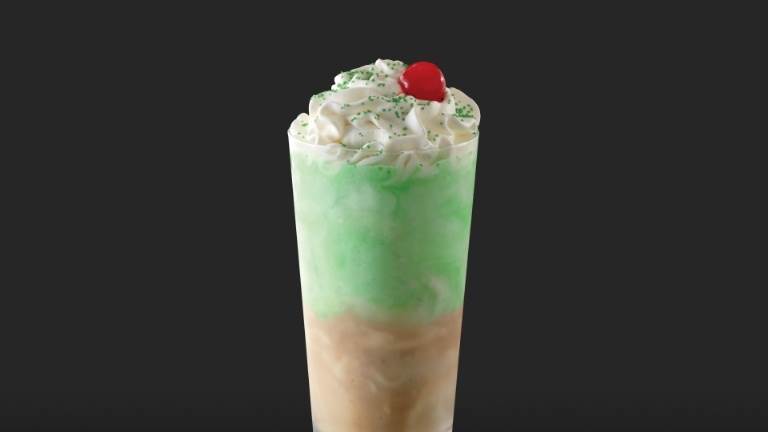 Credit: I know what you're thinking: But, Len … What am I supposed to do if I want to enjoy the mint and chocolate portions of the shake simultaneously? It's a reasonable question. Thankfully, a crack engineering team developed a special straw designed to precisely mix the chocolate shamrock shake's flavors. No, really.
Credit: Unfortunately, this year the Golden Arches only had 2000 of the "high-tech" straws available for sale. As a result, people who were lucky enough to get their hands on one have been able to sell them on eBay for as much as $205 each. Heh. And you thought the stock market is overpriced.
By the Numbers
Another St. Patrick's Day may have come and gone, but here are a few numbers on the popular holiday anyway:
10% Americans who claim Irish heritage; that's 33 million people.
4,738,896 Ireland's current population.
$62,141 Median household income of US homes headed by an Irish-American.
$51,759 Median income of all US households.
51% Adults who said they were going to celebrate St. Patrick's Day this year.
31% Americans who said they would celebrate the holiday with a festive dinner.
20% Americans who said they would celebrate by having a drink.
5,500,000 Pints of Guinness stout consumed daily around the world.
13,000,000 Pints of Guinness stout consumed on St. Patrick's Day.
Source: GoBankingRates
Last Week's Poll Result
Do you typically try to wear something green on St. Patrick's Day?
Did you wear green on St. Patty's Day this year? Almost 1300 people answered this week's survey question and a slight majority say they didn't make an effort to don any emerald for the holiday. I didn't either. I did cook up some corned beef and cabbage though!
The Question of the Week
Loading ...
Other Useless News
Here are the top — and bottom — five Canadian provinces and territories in terms of the average number of pages viewed per visit here at Len Penzo dot Com over the past 30 days:
1. Ontario (1.91 pages/visit)
2. Alberta (1.79)
3. Saskatchewan (1.73)
4. Manitoba (1.69)
5. Quebec (1.65)
9. Yukon Territory (1.50)
10. Newfoundland and Labrador (1.33)
11. British Columbia (1.25)
12. Prince Edward Island (1.20)
13. Northwest Territories (1.00)
Whether you happen to enjoy what you're reading (like those crazy canucks in Ontario, eh) — or not (ahem, you hosers living on the frozen Northwest Territories tundra) — please don't forget to:
1. Click on that Like button in the sidebar to your right and become a fan of Len Penzo dot Com on Facebook!
2. Make sure you follow me on Twitter!
3. Subscribe via email too!
And last, but not least …
4. Consider becoming a Len Penzo dot Com Insider! Thank you.
Letters, I Get Letters
Every week I feature the most interesting question or comment — assuming I get one, that is. And folks who are lucky enough to have the only question in the mailbag get their letter highlighted here whether it's interesting or not! You can reach me at: Len@LenPenzo.com
From Blondie:
I love your blog! I found it when I was Google-ing 'lending money to friends.'
Awesome, Blondie! Thank you. Hey … Does this mean I can borrow $100 from you now?
I'm Len Penzo and I approved this message.
Photo Credit: brendan-c