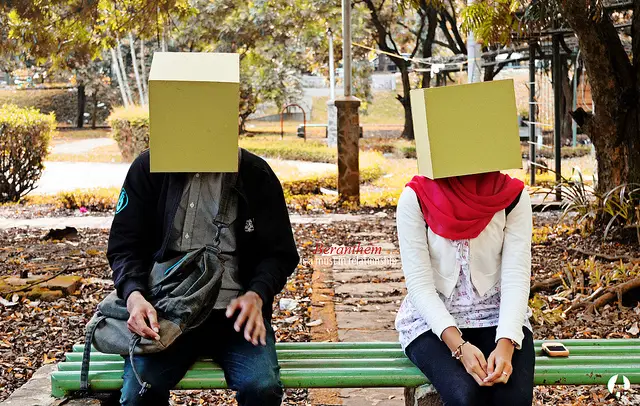 The eternal question for partners who settle down together is and always will be: Do we keep our money separate or open a joint account?
Personally, I'm against joint accounts — I don't want anybody micromanaging my cash flow.
There are arguments for and against both scenarios. So sit down, read this with your boo, and then have a conversation about what best suits your relationship — because this could make it or break it.
Joint Accounts
Pro: You both contribute funds to the account
If you have a savings goal as a couple, you'll reach it faster if you're both depositing money into shared account. Simple math: Two incomes are better than one.
Pro: You're both aware of what's coming and going
You each have access to the account so you can check in regularly to make sure everything is on the up-and-up. This also will keep both of you honest in terms of deposits and withdrawals.
Pro: It's easier to hold each other accountable
If, say, you're planning to buy a house, a joint account ensures both partners have a skin in the game. Saving large amounts of money becomes easier when you're working toward a common goal and holding each other accountable.
Pro: You can avoid probate to access the money if your partner dies
If your partner dies, and all his cash is in a separate account, then you're at the mercy of whatever your partner left for you in a will.
Con: You lose financial independence
Financial independence should be one of our proudest accomplishments. Joe Gladstone, an assistant professor at University College London, recently wrote an academic paper on the topic.
"The decision to hold a joint account with your partner may have unintended consequences," he says. "Joint account holders spend less on purchases that are fun, enjoyable or excite the senses. Instead, they spend more on utilitarian goods and functional purchases."
According to Gladstone, whether or not these differences are 'good' or 'bad' depends on the individual person. "One could imagine that someone who was prone to overspending might benefit from the reduced discretionary spending associated with a joint account. On the other hand, joint account holders may be denying themselves life's pleasures unnecessarily, and that may influence their ultimate happiness."
Con: It requires unwavering trust
If your relationship hits a rocky patch, your partner can withdraw every last penny from the account — and you can't do anything about it.
Con: Your vulnerable to your partner's legal problems
If collectors seize the bank account, they won't be concerned that you're also an owner. All they care about is that the money is owned by the person in debt.
Con: Your partner can use the funds to pay old debts
If the joint account was established to pay for your life together but your partner is using the money to pay old debts, it's probably going to leave a sour taste in your mouth if you haven't discussed the issue and OK'd it previously. And rightly so. Why should you front some of the bill for expenses that you didn't get to enjoy?
Separate Accounts
Pro: You maintain your financial independence
As long as the bills are getting paid on time, you won't have anyone breathing down your neck about what you're doing with your money with separate accounts. Nobody has access to it, nobody knows how much you have in it, and nobody can nag you about how much you're saving or not saving.
Pro: You don't need permission to splurge
I don't have many vices, but one of them is clothing. I like new threads, and I don't want to feel guilty about buying them with money I've earned. Family man Jim Jacobs agrees.
"My wife of 17 years is a pretty independent person, and we both insisted on separate bank accounts, even though we're very much partners in everything," he says. "The reason? I didn't want fights about money. If she wants a pair of $300 shoes and the money is coming from her account, then go ahead! It's a marriage saver when you don't need permission from your partner for every discretionary purchase."
Pro: You're less vulnerable to your partner's legal problems
If you keep separate accounts, your cash will be protected from your partner's debt if collectors come a-knockin' — although if you're married, it's not quite so cut-and-dried.
Con: There's a lack of financial transparency
Some partners really want to know what's going on with their significant other, and not being able to see what you're spending your money on can lead to trust issues — especially if they suspect that you're spending money on things you're probably not supposed to spend money on when you're in a relationship, like poker games and dancing ladies.
Con: They can foster resentment
You shouldn't be ashamed of your income if you make more than your partner, but it's also not nice to flaunt it by treating yourself to whatever you want. That causes problems.
Con: They're hard to access by others in an emergency
If you're in an accident — or faced with an emergency that leaves you unable to access your account — your partner can't do anything about it unless you previously designated a Power of Attorney to make decisions while you're incapacitated.
Con: It's harder to keep financial goals on track
Savings goals are tougher to keep on track when neither partner knows exactly how much is being put toward them. Are you saving twice as fast as your partner? Is your partner spending what they could be saving on frivolous things? You have no way of knowing, and if there's a discrepancy you can expect defensiveness and maybe a few lies, neither of which is good for a relationship.
Photo Credit: morningshadow