by Angie Picardo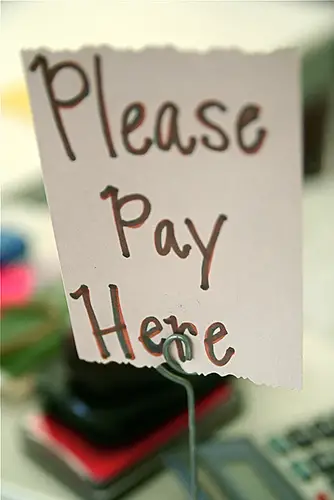 "If you apply for a [store name] credit card today you can get [arbitrary number]% off your purchase." I can't remember the last time I was able to go to a mall without being bombarded with pitches for store credit cards. I always manage to escape with a subtle "maybe next time," but it would be nice to leave a store in a little less awkward fashion.
With the end of HSBC's credit card business in sight, there doesn't seem to be much competition in the store credit card market. Big names like Gap, Banana Republic, Amazon.com, and Chevron, to name a few, are backed by GE Money, a financial subdivision of General Electric that issues credit cards and handles all the financing for their consumer products.
GE Money is a holding company, meaning it can issue and manage credit cards under another company's name, but is able to dodge some important regulations since it isn't an actual bank. If you suddenly find your credit limit has been reduced or there are some mysterious charges on your statement — common complaints among dissatisfied customers — don't expect Old Navy or Walmart to be on the other end of the line when you ring customer service.
GE Money has the power to raise interest rates, close accounts, and a million other things that can ruin consumers' credit scores, and they rarely get any heat for it. They hide behind companies, letting them take the fall, sometimes severely affecting their consumer base.
Customer (Dis)satisfaction Guaranteed
GE Money is notorious for allegedly "losing" customers' payments right before zero interest promos expire, and they are rumored to have stacks of identity fraud lawsuits to their name. Many of these issues supposedly arise due to miscommunication between GE Money, the store itself, and the consumer; sales associates will disclose information about their store credit card, but give some incorrect or insufficient information. Angry customers then come barging into the store, but come to find the stores are just as surprised and appalled.
If you're looking for a way to shop, save and earn rewards, you're better off with a regular bank credit card. Store credit cards usually have higher interest rates that are often subject to change (in their favor, not yours). A lot of the time, they offer better deals at a store than their own credit card.
Stick to the Basics
For example, the Citi Forward card gives 5% back on all purchases made on Amazon.com, while you'll only get 3% back with GE Money's Amazon.com card. If you frequent Gap, Old Navy or Banana Republic, you'll benefit more from an American Express Blue Cash Preferred card since its APR varies from 17.24%-21.24%, lower than the Gap credit card's across-the-board APR of 23.99% (variable, current as of June 2011).
So the next time someone tries to lure you into one of their "15% off the first purchase" traps, you now have a very good reason to avoid it.
Angie Picardo is a staff writer for NerdWallet, a credit card website dedicated to helping consumers find the best credit card.
Photo Credit: stevendepolo