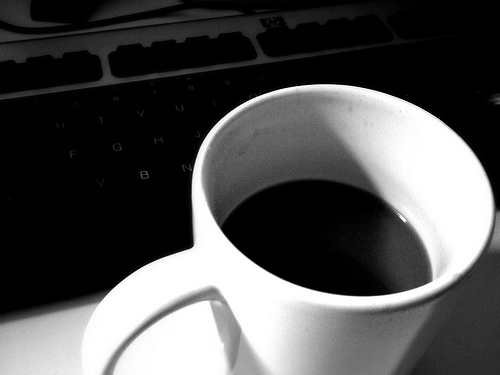 It's time to sit back, relax and enjoy a little joe …
Welcome to another rousing edition of Black Coffee, your off-beat weekly round-up of what's been going on in the world of money and personal finance.
Off we go …
Credits and Debits
Credit: Did you see this? Apparently, the musical artist known as Prince held 670 ounces of gold when he died. Good for him. As for stocks and bonds, well … he didn't have any.
Debit: At the current market price, Prince's gold holdings amounted to less than 1% of his total net worth — that's significantly lighter than the 10% minimum typically recommended by many financial advisors. Even so, Prince had infinitely more wealth insurance than most people have today. Literally.
Credit: What's that? You think an economic meltdown is highly unlikely? Maybe so … but if the German vice chancellor, Sigmar Gabriel, is now on record saying that a Eurozone break-up is no longer unthinkable — and with it, the euro itself — then what makes you think that the demise of the entire international monetary system is unthinkable too?
Credit: In other news, a recent post-election study found that millennial voters biggest concern was the economy. Mmm hmm. File that one under "D" … for "Duh!"
Debit: Millennials' concerns were validated by the Fed's recent Labor Market Conditions Index, which plunged to its lowest level since 2009. Economists say the depressed index suggests that a recession is imminent. I insist that it's already here.
Debit: Regardless, that news completely gainsays continuing mainstream media reports suggesting that the robust US economy is essentially now at full employment. What's really strange is Fed Chair Janet Yellen still maintains that the economy is nearing full employment too. Huh. Maybe she should starting reading her own reports.
Credit: Meanwhile, a nationwide building binge has led to a glut of luxury apartments — and nowhere is that more evident than in the People's Democratic Republic of San Francisco. To entice new tenants, desperate Bay Area landlords are offering up to six weeks of free rent, complementary on-site storage, four-figure monthly discounts, and even free bicycles. Woo-hoo!
Credit: By the way, because the luxury apartment glut is nationwide, economists are predicting it won't be long before the market impacts apartment rents for us little people too. Hey, that's great news for suffering renters everywhere. For landlords, however … eh, not so much.
Debit: Of course, renting a home in San Francisco is still preferable to owning one, as evidenced by the plentiful supply of million-dollar shacks in the City. Here's an 800 square-foot beauty that includes two bedrooms and a bathroom. Yes, California living at its finest! Heck … there's almost room for a picket fence. No, the car isn't included — but the trash cans are:
Debit: And if you think San Francisco's real estate is over-priced — check out the price of pizza in New York City. A Manhattan restaurant is now serving up a $2000 pie that includes caviar, truffles, foie gras, and topped with Stilton cheese and 24-karat gold flakes. Um … no, thanks.
Credit: For the same amount of cash you could buy 333 pepperoni pizzas from Little Caesers; frankly, I bet they'd taste a lot better too. I mean, really … aside from the cuckoo culinarian who thought of it, who honestly thinks a $2000 pizza slathered with fish eggs, duck liver, and forestial fungi is a good idea? Eating pizza is supposed to be one of life's simple pleasures — not a truth-or-dare stunt.
Insider Notes
In case you missed it, yesterday I posted for Len Penzo dot Com Insiders my annual State of the Household, Net Worth, and Expenses article. Check it out!
The Question of the Week
 Loading ...
Last Week's Poll Result
How do you prefer your bacon?
More than 1200 people participated in last week's poll and almost 2 out of 3 said they prefer crispy bacon. Not me. I love chewy, fatty bacon. Then again, there really is no such thing as bad bacon — it's all good! With that in mind, I guess there should have been three options to last week's question: "Chewy," "Crispy," and "Yes!"
By the Numbers
Bacon is so popular you can find it in ice cream, coffee, cupcakes, and chewing gum. There's also bacon-scented candles, bacon lip balm, and even a bacon deodorant. Here's a few more facts about the undisputed King of Meats:
3000 Years that man has been eating bacon, making it one of the world's oldest processed meats.
1770 Year the first bacon factory opened. (England)
366 Consecutive days married men in 12th Century England had to avoid arguing with their wives in order to earn a free side of bacon from their local church.
2 Pounds of bacon grease required to render enough glycerin to make 10 rapid-fire cannon shells — which is why households were encouraged to donate their leftover bacon grease during World War II.
18 Pounds of bacon the average American consumes each year.
13,000 Parishioners that make up the United Church of Bacon. No, really.
Source: Mental Floss
Other Useless News
Here are the top — and bottom — five states in terms of the average number of pages viewed per visit here at Len Penzo dot Com over the past 30 days:
1. North Dakota (2.24 pages/visit)
2. Montana (1.72)
3. Maine (1.69)
4. Wisconsin (1.68)
5. Alaska (1.61)

46. Louisiana (1.23)
47. Texas (1.22)
48. Minnesota (1.20)
49. Kentucky (1.19)
50. Massachusetts (1.15)
Whether you happen to enjoy what you're reading (like my friends in North Dakota) — or not (ahem, Massachusetts) — please don't forget to:
1. Click on that Like button in the sidebar to your right and become a fan of Len Penzo dot Com on Facebook!
2. Make sure you follow me on Twitter!
3. Subscribe via email too!
And last, but not least …
4. Consider becoming a Len Penzo dot Com Insider! Thank you.
Letters, I Get Letters
Every week I feature the most interesting question or comment — assuming I get one, that is. And folks who are lucky enough to have the only question in the mailbag get their letter highlighted here whether it's interesting or not! You can reach out to me at: Len@LenPenzo.com
After reading my 14 reasons why monitored home alarm systems are for suckers, Paul shared his preferred low-cost alternative:
I use (very loud) $10 door alarms, a dog, and a .357.
Me too. In that order — assuming I'm in a good mood.
I'm Len Penzo and I approved this message.
Photo Credit: brendan-c