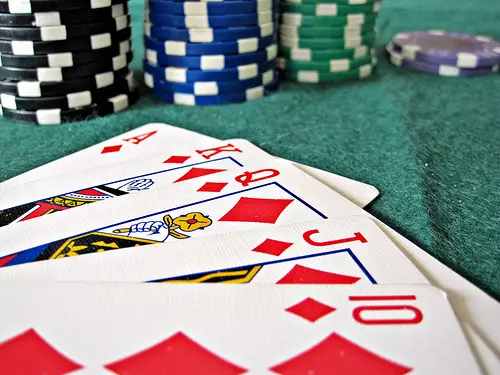 "The house always wins" is a famous saying in gambling; anyone who's ever been around the casino world knows this to be true.
And although the casino does indeed always win in the end — after all, they'd just go out of business otherwise — that's not to say that you can't stretch your gaming budget and maybe enjoy a little personal success along the way too.
So, how can highly-disciplined financially-responsible gamers in search of a little entertainment ever hope to get the most from their gaming budget?
Well, one secret is to follow some tried and tested strategies and, above all, quit when you're ahead.
Of course, deciding when to quit is up to you; but there are several poker, roulette and blackjack tips that you can take advantage of that will help give you an edge. Keep in mind that these tips and tricks won't be applicable to playing online unless you're playing an online live casino with real dealers, roulette tables and card shoes — in which case they'll still work just as well.
Poker
Be unpredictable: Sit around any poker table and you can bet your whole stack of chips that you're being carefully studied by your opponents to identify patterns of behavior. So watch your moves and make sure you're unpredictable and bold too. It's certainly a strategy that seems to have helped Qui Nguyen net an $8 million prize pot at the 2017 World Series of Poker Main Event.
Stay focused: It's a given that you know the ins and outs of classic poker strategy but these only work if you're at your mental best and at the top of your game. So, no matter how long you've been playing, it's vital that you stay sharp. That means making notes on the play, focusing on one opponent at a time, and constantly analyzing your own game after each hand.
Roulette
The magic number is 7: All experienced roulette players have their favorite lucky numbers and this is a way of using them strategically that's favored by many professionals. It's best played on a European table as the odds are tipped slightly more in your favor. The secret behind this strategy is to bet on seven separate numbers for each spin of the wheel. This will give you an 18.93% of winning. One thing to remember, though, is that you'll need a sizable bankroll to make this system work.
Watch the ball: It might seem like an impossible task but, with practice, you can perfect your skills at something called visual ballistics. This involves watching the ball closely and estimating when it's due to strike one of the diamonds on its final rotation. By seeing which numbers are underneath this point you can start to work out the pattern and, therefore, the probability of certain numbers coming up. It sounds complex but there are video tutorials online that show how this can be done.
Blackjack
Watch where you sit: Even some of the most experienced blackjack players ignore this simple piece of advice. By getting yourself in the anchor seat and being the last to be dealt you'll know what everyone else has already received — and be in a far stronger position to play.
Card counting pays dividends: There's no doubt about it; card counting's a hard skill to master, but it's well worth the effort. So even if it seems impossible at first, keep practicing because it's sure to pay off in the long run.
Now all that's left is for you to take your game up a notch and reap the rewards.
Just remember, if you're the type of person who has trouble staying financially disciplined, then you shouldn't play at all. But by following the strategies described above, and keeping to a strict entertainment budget for gaming, those who are financially responsible should be able to stretch their gaming bankroll whenever they want to enjoy a little gaming entertainment.
Photo Credit: Images_of_Money