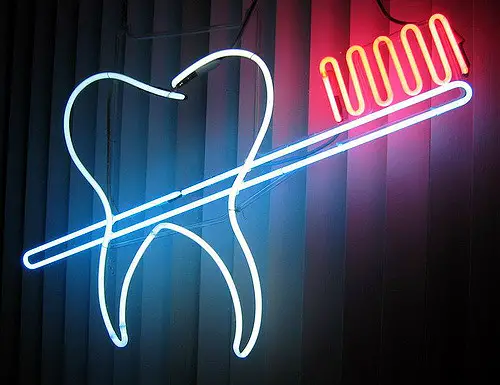 Do you need to get your grill fixed, but don't have dental insurance? You're not alone. More than 100 million US consumers — that's nearly one-third of the nation's population — are without access to dental care because of increased costs that don't show any signs of slowing.
If you're paying out-of-pocket at the dentist, you can keep your mouth clean and healthy with these savings tips:
Visit a Dental School
About a year after I graduated college, I was unemployed and without health insurance — which made that a terrible time for my wisdom teeth to act up. One of them was abscessed and painful, so I needed to have it treated. I visited a regular dentist who quoted me a price that was far more than I could afford, so I decided to take my grandmother's advice and visit a dental school where professionals supervise the work done by students. It certainly wasn't as convenient as going to a private practice — I had to get up very early in the morning to be first in line for an appointment — but I got the tooth pulled efficiently and inexpensively. For those who are interested, the American Dental Association provides a list of dental schools across the country.
Consider Community Health Clinics
Community health clinics allow sliding scale payments for patients without insurance based on income and family size.
'The sliding scale payment can include a reduced fee or a free service," says money-saving expert Andrea Woroch. "However, this option doesn't apply to everyone, and proof of annual household income is necessary when determining service cost."
Find a Charity
Several charities offer quality dental services at free or reduced costs depending on the service. As Woroch points out, "These services provide thorough dental care regardless of income or health insurance coverage, and websites like The National Association of Free Clinics provide a list of member free clinics in each state."
Ask About Cash Discounts and Other Payment Options
Woroch advises that many times you can avoid a lump-sum bill by working with your dentist's office to arrange a payment plan.
"Some dentists will consider a monthly payment plan, which may involve a fraction of the cost to be paid directly as a down payment," she says. "You should also ask your dentist if cash discounts are available. Oftentimes paying in cash saves your dentist money by avoiding third-party costs and processing fees, so it's a win-win situation for both you and your dentist."
Budget Wisely And Plan Ahead
There are a variety of resources available to help you create a budget, plan for routine teeth cleaning, or ensure you're prepared to cover any emergency dental issues that arise.
Look for Daily Deals
Sure, Groupon and LivingSocial are great for discounted meals and activities, but you can get real services on the daily deal sites, too. In fact, Groupon recently featured a voucher for 60% off a dental implant procedure at E-Dream Dental in Los Angeles.
"DentalPlans.com is another option where you can save up to 60% on dental services, with additional discounts available using promo codes from sites like CouponSherpa," adds Woroch.
Get a Discount Card
If you sign up for a Dental Solutions Discount Card at edentalsolutions.com, Woroch explains, you can save 20% or more on routine checkups including cleanings as well as advanced dental care such as teeth whitening and oral surgery. The dental plan is available to anyone and costs about $10 a month for you and your family.
Practice Healthy Dental Habits
Here's my secret for staying out of the dentist's chair as much as possible: take care of your teeth! Brush at least twice a day for as long as it takes to sing the Happy Birthday song two times — or so I hear, anyway — and floss before bed. Other great oral hygiene practices include cutting back on sugary foods and drinks, and replacing your toothbrush every six months. All of which cost mere pennies when compared to the price tag of fixing cavities and gum disease.
Photo Credit: get directly down