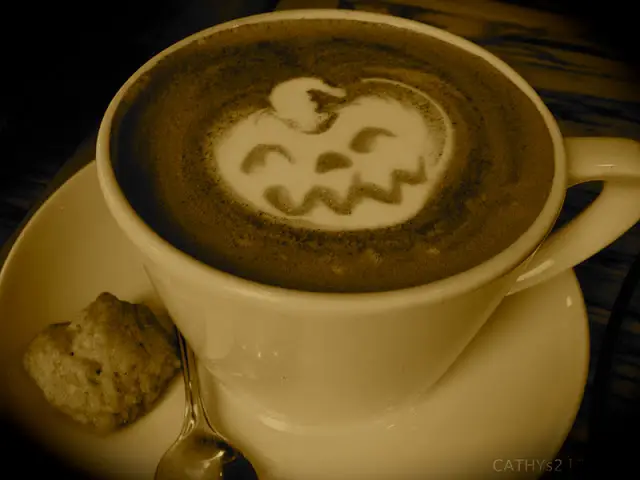 It's time to sit back, relax and enjoy a little joe …
Welcome to another rousing edition of Black Coffee, your off-beat weekly round-up of what's been going on in the world of money and personal finance.
Let's get right to it this week …
Economists create their own worlds. We're like little gods with our artificial economics, wanting to see what happens.
— Edward C. Prescott
An almost hysterical antagonism toward the gold standard is one issue which unites statists of all persuasions. They seem to sense that gold and economic freedom are inseparable.
— Alan Greenspan
Credits and Debits
Debit: The US is supposedly in its 90th straight month of economic expansion, which is quite a feat when you consider that core durable goods orders in September fell for the 21st consecutive month. That's the longest non-recessionary contraction streak ever. Strange, isn't it?
Credit: I'm sure there's a good explanation for the dichotomy between the economic data and the party line that says the economy is not in recession. Well … that is, if you consider fraud and deception "a good explanation."
Credit: For his part, financial analyst Andy Hoffman claims "everything's rigged and everyone knows it." You can bet the "smart money" knows it, Andy.
Credit: In the world of finance, the bond market is recognized as the "smart money" because it's almost always the first one to recognize changing economic reality. With that in mind, could rising interest rates be signaling the end of the 30-year bond bull market is finally coming to an end? I'm just askin'.
Debit: Something is afoot in the bond market. Bank of America Merrill Lynch said government bond funds saw their largest outflow of 2016 last month; it was the biggest in four years — although economist Stephen King of HSBC Bank doesn't believe this is the beginning of a large bond sell-off and follow-on bear market. He better hope not.
Debit: One thing is certain: Since 2009, the long-term government bond market has more than doubled, to about $6 trillion. So it should be no surprise that even a modest bond sell-off resulting in a measly one percentage point increase in interest rates would lead to $2.1 trillion in losses for global investors. Ouch.
Debit: Of course, those government bonds support the $20 trillion — and rising — US national debt. Unfortunately, the debt burden is now so large that it can never be paid back — at least not in dollars with today's purchasing power. Sadly, the only realistic ways out are either via outright default or hyperinflation.
Credit: It's no secret that the majority of economists who infest government and academia quickly dismiss anyone who advocates returning to the gold standard. Why? Because it's very hard for any nation to spend more than it earns when it anchors its currency to precious metals — and that keeps a yoke on government expansion. It's also bad for the economist job market.
Credit: Frankly, when the majority of a nation's wealth isn't being siphoned off to fund parasitic government bureaus, bureaucrats, and boondoggles, everyone is better off. In fact, the greatest period of US growth and prosperity occurred between 1870 and 1913 — a period when the US lacked a central bank and the US dollar was backed by gold and silver. No, really.
Debit: If the US was on a gold standard, you can bet financially-disastrous government endeavors such as Obamacare would never be possible. Just don't tell that to ivory tower academic and Obamacare architect, Jonathan Gruber — he said this week that the "Affordable" Care Act is working exactly as it was designed. Uh huh. That's what Germany said about the Hindenberg too.
Credit: Then again, maybe I'm being too hard on Mr. Gruber. Higher premiums. Absurd deductibles. Fewer choices. Compulsory participation. Hey … what's not to love about Obamacare? Forward!
Debit: By the way, while Mr. Gruber maintains that Obamacare doesn't need fixing, he did recommend an enhancement that would make it even, um, "better":
Credit: You know, with moron statist economists like Mr. Gruber architecting destroying the American healthcare system, it's really no wonder that your dog probably has better healthcare than you do.
By the Numbers
With Americans spending more on Halloween in 2016 than last year, here's a closer look at some of the numbers:
$82.93 Amount the average American will spend on Halloween this year.
13 Percentage increase in Americans' Halloween spending over last year.
171,000,000 Number of Americans who plan to partake in Halloween festivities this year.
30 Percentage of Halloween spending on candy this year.
37 Percentage of Halloween spending that is going to costumes in 2016.
2 Ranking for "pirate" among the year's most popular costumes. (Witch is ranked number one.)
32 Percentage of women's Halloween costumes in 2016 that are labeled as "sexy."
Source: USA Today
The Question of the Week
Loading ...
Last Week's Poll Results
How long have you been living at your current address?
More than 20 years (27%)
1 to 5 years (23%)
11 to 20 years (23%)
6 to 10 years (15%)
Less than 1 year (12%)
More than 1300 Len Penzo dot Com readers responded to last week's question and it turns out that half of them have been living in their current home for at least 11 years. I'm in that group as well. In fact, this December will be 20 years at my current address. Man … it seems like only yesterday that the Honeybee and I were watching our home being built from the ground up.
Other Useless News
While you're here, please don't forget to:
1. Click on that Like button in the sidebar to your right and become a fan of Len Penzo dot Com on Facebook!
2. Make sure you follow me on Twitter!
3. Subscribe via email too!
And last, but not least …
4. Consider becoming a Len Penzo dot Com Insider! Thank you.
Letters, I Get Letters
Every week I feature the most interesting question or comment — assuming I get one, that is. And folks who are lucky enough to have the only question in the mailbag get their letter highlighted here whether it's interesting or not! You can reach out to me at: Len@LenPenzo.com
This week's note is from Sara King:
Do you think this (letter) is good enough to get air time in this week's Black Coffee?
Not a chance, Sara.
I'm Len Penzo and I approved this message.
Photo Credit: brendan-