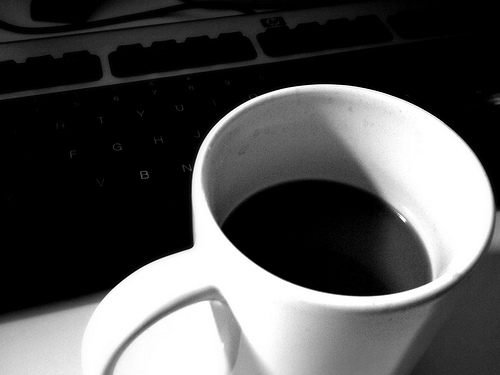 It's time to sit back, relax and enjoy a little joe …
Welcome to another rousing edition of Black Coffee, your off-beat weekly round-up of what's been going on in the world of money and personal finance.
Okay, off we go …
Credits and Debits
Credit: The economic rot within the People's Socialist ParadiseTM of Venezuela has become so widespread that it's now affecting their hospital morgues. Uh huh. Electricity shortages are making it hard to keep the coolers running — and that's led to a spate of exploding corpses. Hey … Just in time for Halloween!
Credit: Speaking of exploding socialist corpses, with only six of 23 exchanges still in business, and a majority of young healthy people unwilling to pay skyrocketing premiums with absurdly-high deductibles, it's obvious that Obamacare's death spiral will soon reach its inevitable conclusion. At least it is to all but the most rabid ideologues.
Debit: In fact, while everyone waits for their $2500 annual premium reduction, those in Arizona, Illinois, Montana, Oklahoma, Pennsylvania, Tennessee and New Mexico will see their 2017 premiums increase between 50% and 93% — and another 15 states will see increases between 20% and 49%. Don't yell at me — I warned everyone here six years ago that the Obamacare math was nonsense.
Debit: So … how onerous are those "Affordable" Healthcare Act premiums for working people? Well … they're so high that an increasing number of middle class families are now faced with a choice that was once unthinkable: buy a house or get health insurance. Forward!
Debit: Meanwhile, 35% of all Americans currently have debt in collections — in other words, at least six months past due. Wow. I can only imagine how many have debt that's more than a month or two in arrears.
Debit: Of course, the US government has debt trouble too. Yes, the debt situation was almost as bad at the end of World War II and we managed to pay down much of what we owed — but America was a manufacturing powerhouse then, with millions more wealth-creating factory workers than wealth-destroying government employees.
Debit: Today there are, incredibly, 10 million (!) more government employees than manufacturing workers in the US — and that makes it nearly impossible to retire even a fraction of the $20 trillion National Debt that is acting as a financial noose around our nation's neck.
Debit: For her part, Fed Chair Janet Yellen says that "high pressure" policy may be only way to kick start the economy back to what it was before the last crisis in 2008. In case you're wondering, "high pressure" means high inflation. Too bad she didn't explain how reducing everyone's purchasing power is good for what ails us. It's just more proof the lunatics are running the asylum.
Debit: By the way, the rest of the world is in dire financial straits too. Europe is so deep in debt that the architect of the euro currency is warning that the euro is a house of cards that is about to collapse. No, really. Say … you don't think he's covering his rear so he can tell everyone he told ya so after it happens, do you? Yeah, I do too.
Credit: The truth is, whether it's the euro — or the dollar, yen, yuan, or pound sterling — confidence in fiat cash is waning and the dollar-based international monetary system is breathing its last breaths. The good news is, a new monetary system will restore global economic growth. Frankly, it's the only solution now.
Credit: I'll give financial analyst Andy Hoffman the last word, as he summed things up perfectly this week: "No matter what schemes and frauds are perpetrated, or who is elected, the global economy is doomed. As history's largest, most destructive fiat Ponzi scheme unravels more rapidly with each passing day, the only possible resolutions are outright debt repudiation or hyperinflation." Believe it.
By the Numbers
With many middle class Americans trying to decide whether to purchase healthcare insurance or a new house next year, I thought we'd look at some data from last year on American homebuyers:
44 Average age of American homebuyers.
$86,100 The median household income of all homebuyers.
34 Percentage of homebuyers age 35 or younger.
24 Percentage of homebuyers older than 60.
32 Percentage of first-time homebuyers.
8 Percentage of homebuyers who moved because they were following a job relocation.
13 Percentage of homebuyers who bought a multi-generational home.
15 Percentage of multi-generational homebuyers who did so to save money.
Source: MoneyTips
The Question of the Week
 Loading ...
Last Week's Poll Results
How much will you spend on Halloween candy, costumes and decorations this year?
Less than $25 (78%)
$25 to $50 (15%)
More than $50 (7%)
More than 1300 people responded to last week's question and nearly 4 out of 5 of them will spend less than $25 this trick-or-treat season. I just hope what little they did spend went to Halloween candy — preferably Reese's Peanut Butter Cups. Bonus points for the dark chocolate variety.
Other Useless News
Here are the top 5 articles viewed by my 11,158 RSS feed, weekly email subscribers and followers over the past 30 days (excluding Black Coffee posts):
10 Unique Halloween Treats Kids Love — But Rarely Get!
Hey, while you're here, please don't forget to:
1. Click on that Like button in the sidebar to your right and become a fan of Len Penzo dot Com on Facebook!
2. Make sure you follow me on Twitter!
3. Subscribe via email too!
And last, but not least …
4. Consider becoming a Len Penzo dot Com Insider! Thank you.
Letters, I Get Letters
Every week I feature the most interesting question or comment — assuming I get one, that is. And folks who are lucky enough to have the only question in the mailbag get their letter highlighted here whether it's interesting or not! You can reach out to me at: Len@LenPenzo.com
Frank G. sent me an email this week that opened up with this:
At first I couldn't figure out if you were shoveling bullshit or fertilizer, but you finally won me over.
See … More proof that my blog is intended for manure audiences only.
I'm Len Penzo and I approved this message.
Photo Credit: brendan-