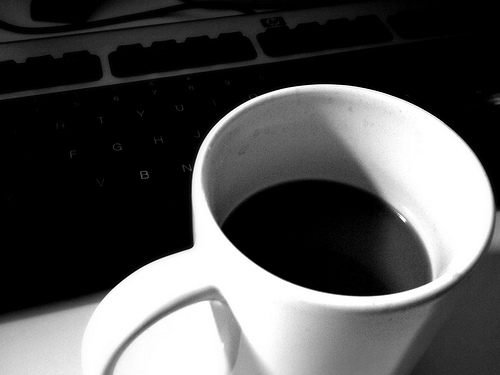 It's time to sit back, relax and enjoy a little joe …
Welcome to another rousing edition of Black Coffee, your off-beat weekly round-up of what's been going on in the world of money and personal finance.
Let's get right to it this week …
Credits and Debits
Credit: The latest government statistics indicate that US new-home sales in July surged to their highest level in nearly eight years. Wow. The economy is obviously doing much better than I thought.
Credit: Then again, as financial analyst Dave Kranzler points out, "Like everything else going on in the financial markets, the new home sales report is thoroughly inconsistent with all of the supporting data and bears absolutely no semblance to reality." Imagine that.
Debit: According to Kranzler, "The Government's numbers were 'driven' by an unexplainable 18% surge in new home sales in the South. Yet, according to Redfin's data, homes sales in the South's biggest population areas cratered: Atlanta -12.9%, Dallas/Ft Worth -13.3%, Miami -24.2%, and Orlando -16.1%." True — but that's close enough for government work.
Debit: It gets worse for the US housing market: Demographic data suggests a so-called "Home-ageddon" may be on the horizon, thanks to an impending nosedive in the growth of potential buyers and a surge in an elderly population that, naturally, is more likely to downsize or sell than buy. The good news is: this too shall pass … in 2035.
Debit: The terrible population statistics has Econimica's Chris Hamilton asking this simple question: "With so few new buyers, a growing quantity of new homes, and so many likely sellers … who will buy all those houses?" Call me crazy, but I'm guessing it will be the Fed — after all, they already own about 12% of US home mortgages. No, no; it's okay … they've got a printing press.
Debit: If you're among that rising demographic wave of elderly Americans over the coming two decades, you shouldn't count on Social Security as your sole source of income in retirement — at least if you believe David Stockman, who served as the Director of the Office of Management & Budget under President Reagan.
Debit: As Stockman warns: "Measured by the only thing that matters — hard cash income and outgo — Social Security has already gone bust. What's more, even under the White House's rosy forecasts, outlays will exceed revenues (excluding payroll taxes) by $8 trillion over the next 12 years — meaning there will be no general fund surplus to pay the shortfall." But other than that, it's all good.
Credit: Despite the shortfall, as long as the number of young workers paying into the system can grow faster than the number of elderly Americans who are cashing Social Security checks, the system should survive. So relax — the US demographic picture over the next 20 years will certainly help in that regard. Oh, wait …
Debit: In other news, John Cryan, CEO of the teetering Deutsche Bank, is warning of 'fatal consequences' for pension plans and savers if the current artificially-imposed negative interest rate environment continues. Psst. That's code-speak for: "If Deutsche Bank goes down, the whole system is coming with us."
Credit: Of course, what did you expect the guy to say? He's a CEO — they always sugarcoat bad news. Okay, almost always.
Debit: On the bright side, considering that 62% of all Americans don't even have $1000 in savings, Cryan's warning is pretty much irrelevant.
Debit: But seriously, I see that two more banks have begun charging select clients for their savings deposits. Madness. Frankly, after accounting for inflation, most Americans have been paying real negative interest on their savings for years. Yes, yes, I know — but I'm talking about the 38% of Americans who actually have appreciable savings.
Credit: Needless to say, today's negative interest rate environment is one of the biggest reasons why everyone needs to own gold and silver. True, their yield is zero — but zero is more than any number with a minus sign in front of it.
Credit: Speaking of precious metals, people are reporting that one ounce of silver will now buy six months of food in the People's Socialist ParadiseTM of Venezuela. Well … assuming Venezuelans can find six months of food. Think about that.
By the Numbers
Here is a quick update on the current international financial situation from Bank of America's Michael Hartnett:
667 Number of interest rate cuts by global central banks since 2008.
17 Collective years G7 central bank governors Yellen, Kuroda, Draghi, Carney and Poloz have been in their posts.
1 Number of current G7 central bank governors that have raised interest rates during their tenure. (Yellen)
1 Number of times Yellen has raised rates. (December 2015)
$25,000,000,000,000 Assets currently owned by the world's central banks. (Bought with currency created out of thin air.)
$12,000,000,000,000 Assets bought by the world's central banks since 2008 (with currency created out of thin air).
28 Percentage of global bonds currently offering a negative yield.
0 Chance that any of the world's currencies will come out of this alive. (That's my conclusion; not Hartnett's.)
Source: Zero Hedge
Last Week's Poll Results
Who handled the family's personal finances when you were growing up?
Your mother (41%)
Your father (26%)
Both parents (25%)
I'm not sure (8%)
More than 1100 people responded to last week's question and it turns out that, more often than not, dear old Mom was the one who paid the bills and balanced the checkbook every month when they were growing up. Surprised? I'm not.
The Question of the Week
 Loading ...
Other Useless News
Here are the top 5 articles viewed by my 10,800 RSS feed, weekly email subscribers and followers over the past 30 days (excluding Black Coffee posts):
Why I Run My Household Like a Business (and You Should Too)
My 8th Annual Cost Survey of 10 Popular Brown Bag Sandwiches
Why You Need a Household Strategic Plan — and How to Create One
Hey, while you're here, please don't forget to:
1. Click on that Like button in the sidebar to your right and become a fan of Len Penzo dot Com on Facebook!
2. Make sure you follow me on Twitter!
3. Subscribe via email too!
And last, but not least …
4. Consider becoming a Len Penzo dot Com Insider! Thank you.
Letters, I Get Letters
Every week I feature the most interesting question or comment — assuming I get one, that is. And folks who are lucky enough to have the only question in the mailbag get their letter highlighted here whether it's interesting or not! You can reach out to me at: Len@LenPenzo.com
I found this message in my inbox from Heather Madison:
I'm reaching out to you because I'm looking for a Bozo who is interested in taking on more clients.
I'll have to pass, Heather — the clown car is in the shop and my calendar is completely booked.
I'm Len Penzo and I approved this message.
Photo Credit: brendan-