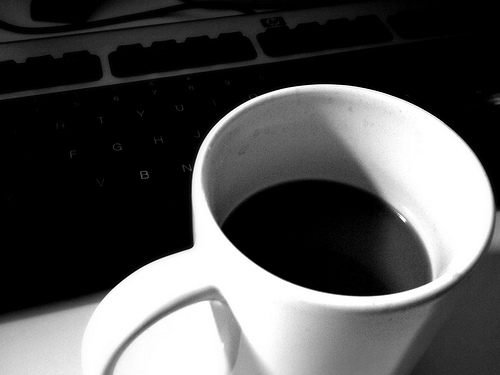 It's time to sit back, relax and enjoy a little joe …
Welcome to another rousing edition of Black Coffee, your off-beat weekly round-up of what's been going on in the world of money and personal finance.
Yes, I'm a day late delivering this very brief espresso edition to you. I have a good excuse though: the dog ate it!
Not buying it, huh?
Actually, I was on business travel all week and didn't get home until Saturday evening. And I was all over the place — I visited seven airports on this trip: ONT, DFW, HSV, CLT, MCH, BOS, and PHX — which is one reason why I didn't get home until Saturday evening. It was absolutely nuts!
In other news, I just checked my Len Penzo dot Com Facebook page and I see I'm stuck at 1999 likes … I'd be mighty grateful if somebody out there would take me to 2000!
Okay, here we go …
Credits and Debits
Debit: It was 45 years ago this week when Richard Nixon closed the gold window and, as Gary North points out, that fateful day "marked the end of America's uncontested economic domination." He's right. Today, the US economy is a hollowed-out shell of its former self.
Debit: By the way, it's also no coincidence that US money printing and price inflation took off in remarkable fashion immediately after the dollar's final tie to gold was broken. Notice how the curve took a decidedly-steeper path in 1972? Looky here: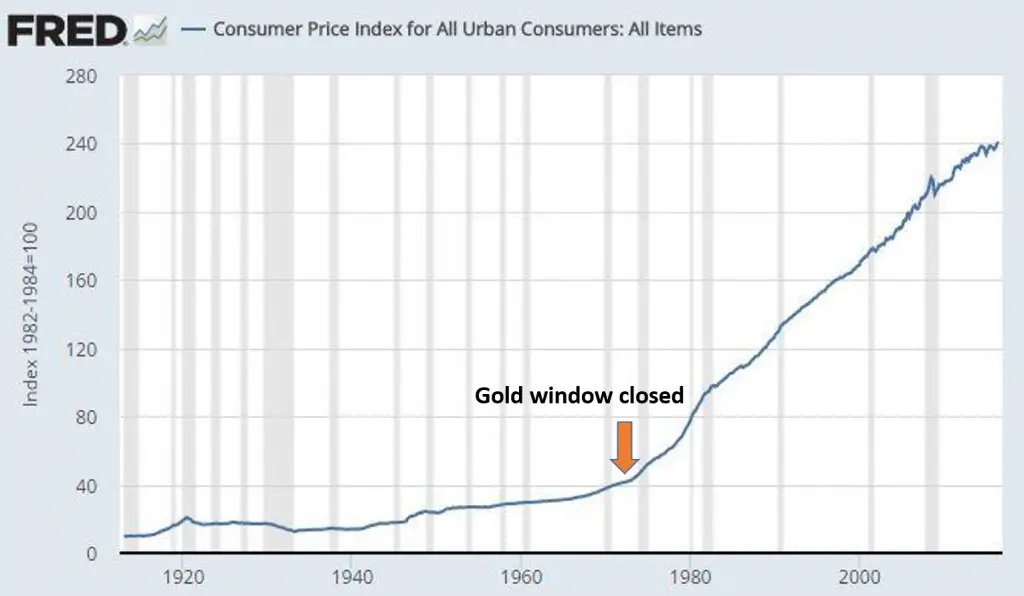 Debit: Breaking the dollar's tie to gold essentially removed the credit limit from the US Treasury's charge card — which is why it didn't take too long after that for the American economy to begin transitioning from manufacturing goods for export abroad to one based almost entirely upon unabashed consumerism that's dependent on cheap imports.
Credit: Unfortunately, as Simon Black reminds us, nations that fail to produce more than they consume are doomed to failure — and America's long-running addiction to debt tells you everything you need to know about her future.
Debit: Of course, America's official charge card bill is currently pushing $20 trillion. However, if you count the unfunded liabilities — like Social Security and Medicare — the bill is actually more than $127 trillion. That's a bit disconcerting when you consider US GDP is $16 trillion, at best.
Debit: Putting that in personal finance terms, the current US debt situation is equivalent to somebody who earns $50,000 annually having a $400,000 credit card bill. Does anybody else see a problem here?
Debit: Yes, yes … I know. "But, Len, the US can print its own currency!" True. But in case you haven't noticed, the world is losing faith in the US dollar — which has been nothing more than an IOU since its link to gold was officially broken. And you can be sure the time is fast-approaching when our trading partners will no longer want to exchange real goods for any more promissory notes.
Credit: Of course, after 45 years of unrestrained money printing, time is almost up. For his part, billionaire businessman Jim Rogers is warning that everyone needs to be prepared, "because what's coming is going to be mess." A mess, eh? Well … I guess that's one way to put it.
By the Numbers
I don't know about you, but it's hard for me to believe that 14 years have passed since these top 10 movies (US domestic gross) of 2002 originally debuted:
1. Spider-Man ($403 million)
2. The Lord of the Rings: The Two Towers ($340 million)

3. Star Wars: Episode II – Attack of the Clones ($311 million)
4. Harry Potter and the Chamber of Secrets ($262 million)
5. My Big Fat Greek Wedding ($241 million)
6. Signs ($228 million)
7. Austin Powers in Goldmember ($213 million)
8. Men in Black II ($190 million)
9. Ice Age ($176 million)
10. Chicago ($171 million)
Source: The Movie Times
The Question of the Week
 Loading ...
Last Week's Poll Result
Which of these ice cream flavors is your favorite?
Chocolate (45%)
Vanilla (41%)
Strawberry (14%)
More than 900 people answered this week's survey question and when it comes to the three most common ice cream flavors, it's a pretty even race between chocolate and vanilla. For me, I like all three flavors, but if you forced me to choose, I'm taking the chocolate.
Other Useless News
Here are the top — and bottom — five Canadian provinces and territories in terms of the average number of pages viewed per visit here at Len Penzo dot Com over the past 30 days:
1. British Columbia (2.25 pages/visit)
2. Saskatchewan (1.93)
3. Alberta (1.82)
4. Ontario (1.79)
5. Manitoba (1.54)
9. Nunavut (1.50)
10. New Brunswick (1.37)
11. Northwest Territories (1.25)
12. Nova Scotia (1.20)
13. Yukon Territory (1.13)
Whether you happen to enjoy what you're reading (like those crazy canucks in British Columbia, eh) — or not (you hosers living on the frozen Yukon tundra …) — please don't forget to:
1. Click on that Like button in the sidebar to your right and become a fan of Len Penzo dot Com on Facebook!
2. Make sure you follow me on Twitter!
3. Subscribe via email too!
And last, but not least …
4. Consider becoming a Len Penzo dot Com Insider! Thank you.
(The Best of) Letters, I Get Letters
Every week I feature the most interesting question or comment — assuming I get one, that is. And folks who are lucky enough to have the only question in the mailbag get their letter highlighted here whether it's interesting or not! You can reach me at: Len@LenPenzo.com
Tim Sanders left the following rebuttal on Len Penzo dot Com after he read my article explaining why corner lots are for suckers:
You are an idiot. I just wasted three minutes of my life reading this.
Make that four minutes of your life. I just deleted your comment.
I'm Len Penzo and I approved this message.
Photo Credit: brendan-c