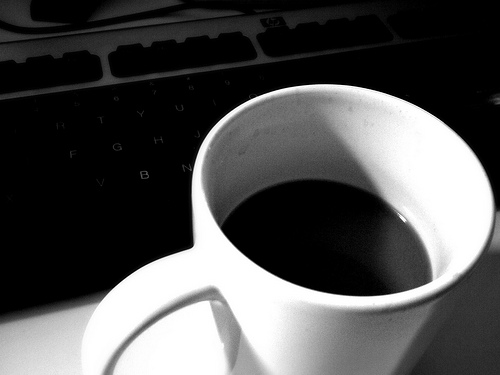 It's time to sit back, relax and enjoy a little joe …
The Honeybee has given me a long list of errands to run today, so I've got an espresso edition of Black Coffee for you this week.
And away we go …
Credits and Debits
Credit: This week the US Bureau of Labor reported that 255,000 new jobs were created in June. As a result, the US unemployment rate remained at a very impressive 4.9%. Hooray!
Debit: Unfortunately, as the Economic Cycle Research Institute notes, "The jobs recovery has been spearheaded by cheap labor, with gains going disproportionately to the least educated — and lowest-paid — workers, many of whom have to work multiple jobs to make ends meet." Hmmm.
Debit: So … just how bad has the so-called "recovery" been? This bad: Since 2014 the US has added a half-million bartenders and waiters — but zero net additional manufacturing jobs. Yes, zero.
Debit: Hey … You don't think the lack of high-paying manufacturing jobs is one big reason why 15% of Americans currently have a negative net worth, do ya? Naaaaaaaaaaah!!!!
Debit: One thing I am sure of: The lack of good jobs is a prime reason why the US is currently in the middle of the weakest economic recovery since 1949. Then again, perhaps I'm being too much of a party pooper. After all, 67 years isn't that long ago. It's not. Well … if you like the early bird specials at Denny's, it's not.
Credit: Of course, Wall Street certainly doesn't care about the woes on Main Street. Which partly explains why the S&P and Nasdaq both ended the week at all-time highs. The question is: Is the market rising based on fundamentals, or is it getting a little, um, "help." Uh huh. I'll take "dumb questions" for $500, Alex.
Credit: I see financial analyst Dave Kranzler just buzzed in with his answer: "The Fed is keeping the broad market indices from selling off, but underneath there's a whole world of stocks that are collapsing in price." Correct!
Credit: By the way, Dave also points out that stocks have been climbing despite deteriorating economic activity in the bellwether housing and automotive sectors — but that's piling on. Besides, nobody likes a show-off.
Debit: Truth be told, the stock market was hitting new highs last week too. Even so, Bank of America Merrill Lynch reported that the majority of its clients were net sellers that week — dumping $1.9 billion worth of stocks across eight of ten sectors. So, to recap: terrible economic data, massive net selling, and higher stock prices. Welcome to the new normal, folks.
By the Numbers
I can't believe I've only seen three of the top 10 movies of 2007. How many of these have you seen?
1. Spider-Man 3 (US domestic gross: $336 million)
2. Shrek the Third ($320 million)
3. Transformers ($319 million)
4. Pirates of the Caribbean: At World's End ($309 million)
5. Harry Potter and the Order of the Phoenix ($292 million)
6. I Am Legend ($256 million)
7. The Bourne Ultimatum ($227 million)
8. National Treasure: Book of Secrets ($220 million)
9. Alvin and the Chipmunks ($217 million)
10. 300 ($211 million)
Source: The Movie Times
Insider Notes: The Freegold Paradigm
Hey! You need to be an Insider to view this section! If you'd like to join, please click "Insider Membership" at the top of my blog page.
Last Week's Poll Results
Are you ready for summer to be over yet?
No (58%)
Yes (33%)
I'm torn (9%)
More than 1000 Len Penzo dot Com readers responded to last week's question and, although there are still almost seven weeks to go until we reach the fall equinox, more than 2 in 5 said they've had enough and want summer over. Not me. I love the heat. Well … as long as it's a dry heat.
The Question of the Week
Loading ...
Other Useless News
Programming note: Unlike most blogs, I'm always open for the weekend here at Len Penzo dot Com. There's a fresh new article waiting for you every Saturday afternoon. At least there should be. If not, somebody call 9-1-1.
Hey! If you happen to enjoy what you're reading — or not — please don't forget to:
1. Click on that Like button in the sidebar to your right and become a fan of Len Penzo dot Com on Facebook!
2. Make sure you follow me on Twitter!
3. Don't forget to subscribe via email too! Thank you.
And last, but not least …
4. Consider becoming a Len Penzo dot Com Insider!
Letters, I Get Letters
Every week I feature the most interesting question or comment — assuming I get one, that is. And folks who are lucky enough to have the only question in the mailbag get their letter highlighted here whether it's interesting or not! You can reach out to me at: Len@LenPenzo.com
Stacywrote in to ask this:
Are you ever going to do any more movie reviews with you and the Honeybee?
Thank you for asking, Stacy, but I doubt it. I alienate enough readers with these Black Coffee posts.
I'm Len Penzo and I approved this message.
Photo Credit: brendan-c