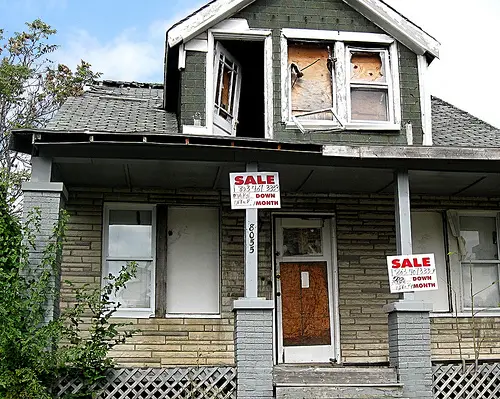 When a potential buyer walks through your front door, what do they see? First impressions are really important, and many buyers will know within seconds whether the place is right for them. However, there are certain things that'll put buyers off more than others, and rectifying them can help increase the likelihood you'll get the asking price on your home. Here are just a few things that could have potential buyers heading for the door:
Homes that are too bare
Everyone can benefit from a bit of decluttering before putting their home on the market, but a property that is bare and soulless is likely to put buyers off. Never remove furniture from a room. Buyers will want to know, for example, how much space is in a bedroom once the bed is in place. If a room is empty, it's hard to visualize what it'll look like once they've moved in.
Dirt
While you don't need your home to sparkle, it's worth doing a deep clean to show it in as good a light as possible. Dirty kitchens are a definite turn-off for buyers, and bathrooms that look grubby will seem dated and old. Have a deep clean, remove limescale, and scrub your grouting to instantly improve the look of these rooms.
Unpleasant smells
Properties should be welcoming and pleasant when you walk through the door. If buyers can smell pets, cigarettes, or cooking smells, they're likely to have a bad first impression. Make sure your home is aired out, bins have been emptied, and pets banished to the garden. If you can't get rid of certain smells, consider burning some scented candles, but avoid strong, chemical smells.
Poor condition
Whether it's dated decor, neglected DIY projects, cracks in the walls, or a home in poor condition will put off certain buyers. That's why some people with houses in poor condition sell through places like Quick Move Now, who'll buy properties in any condition. Spending some time fixing up the property is an option, but it's worth considering whether you'll make a return on the money you're putting into fixing up the house.
Too many pets
People who don't have their own pets will be especially put off by houses full of animals. This can be because of hair, fleas, and lingering smells that can be left in properties where pets have lived. Consider having big dogs or caged animals stay with relatives during viewings.
Smoke
If you smoke in the house, and you're planning to sell, it might be worth limiting your smoking to outdoors for a few months. During this time, you can air out the house, clean carpets and curtains, and limit the smell as much as possible. Smoking odors could knock thousands off your house price, so it's worth trying to limit the damage as much as possible.
There are lots of things that might be turning off buyers, some of which you really can't control, such as the location or layout. However, there are lots of things you do have control over, from your homes dcor to the animals you live in your home. Just small changes could avoid big issues, and stop you missing out on a sale.
Photo Credit: gallerily.com