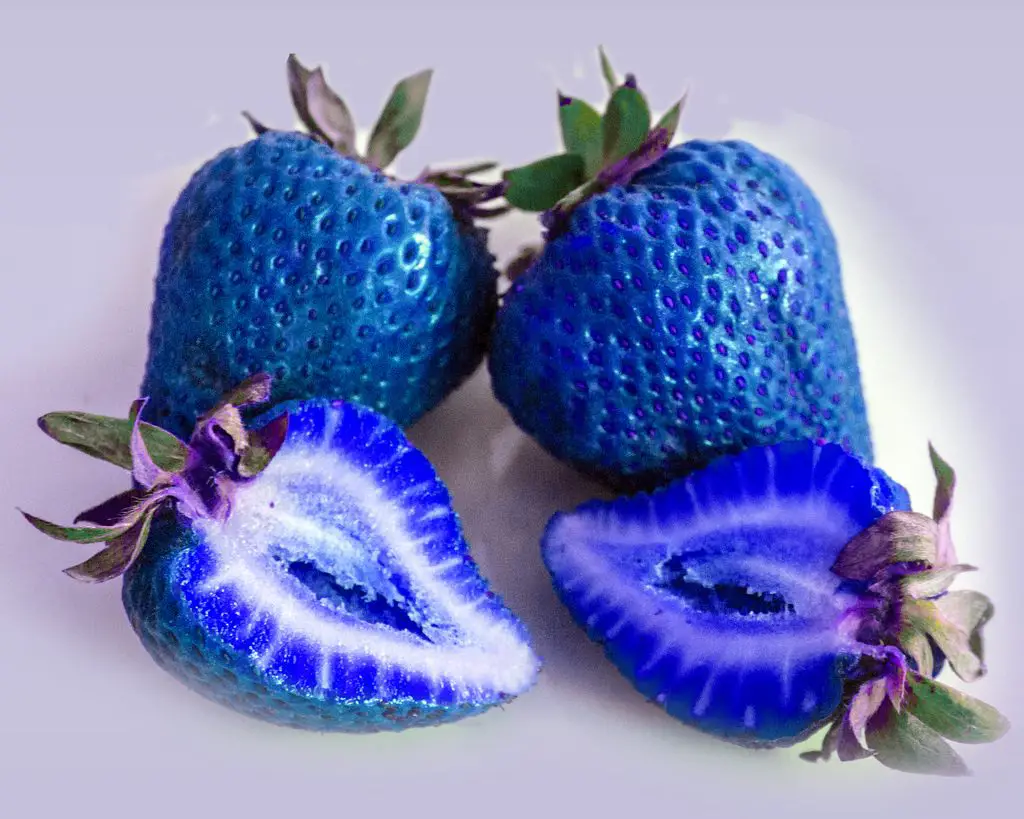 Have you ever wondered why there aren't very many blue fruits or vegetables in nature? I know I have. In fact, most fruits and vegetables that people usually offer as examples of azure produce are actually purple.
And, no, blueberries aren't blue; they're purple too. Sorry.
Okay … the strawberries you see in the photo that accompanies this article really are blue but, according to DailyBuzzy, they're genetically modified.
That's right; the only reason they're blue is because a couple of mad scientists injected genes from a fish called the Arctic Flounder Fish into the fruit.
That's cheating, folks.
With that in mind, do you notice anything out of the ordinary in this picture?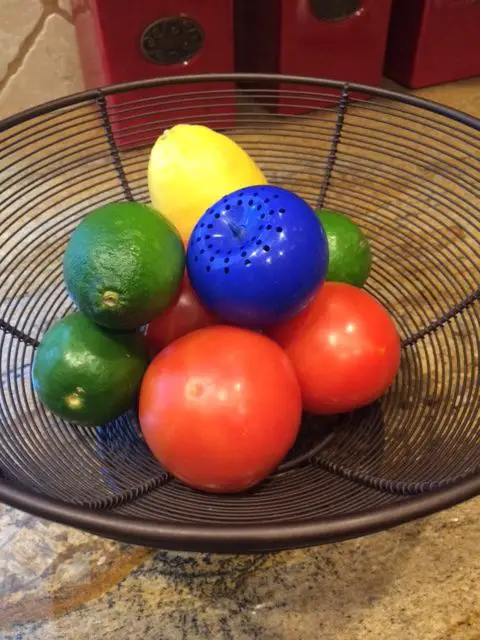 Yes, that's a miniature blue apple sitting in my kitchen fruit basket — and, obviously, it isn't real. It's actually a product called the Bluapple and it serves a very valuable purpose: it extends the shelf life of the the real fruit in that basket by at least a week. No, really.
So … how does it work? Well, according to the folks at Bluapple, ethylene gas is given off naturally by fruits and vegetables as a signaling mechanism in order to coordinate uniform ripening. The downside is that ethylene gas builds up when you store your produce in fruit bowls or your refrigerator's crisper — and that speeds up the ripening process and hastens spoilage. This is where the Bluapple can help: It's designed to absorb that ethylene gas for three months in the typical home refrigerator produce bin or storage container.
Trust me: it works. Before I started using the Bluapple, my family was constantly tossing overly-ripened fruit and veggies into the trash. The prime culprits for us were tomatoes — which I refuse to refrigerate because they become mealy when stored there — as well as bananas, avocados, limes and strawberries (no, not blue; the red ones).
Thankfully, those days are gone.
We now keep one Bluapple in the fruit bowl and a second one in our refrigerator's crisper; as a result, the shelf life of our fruits and vegetables is much longer than it used to be. In fact, I estimate that, by reducing waste, our household easily now saves about $25 every month — yes, that's $300 annually. Not too shabby!
The only trick is in remembering to replace the ethylene absorption packets every few months to ensure that your Bluapple is working at peak efficiency — but that's no big deal at all if you're looking for an easy way to reduce your grocery bill.
If you're interested, I recommend trying a Bluapple One-Year Combo Pack
(affiliate link). The combo pack is approximately $15 but, if you buy one, I'm certain you'll be utterly amazed with how good the Bluapple is at prolonging the life of your fruits and veggies.
Best of all, it will reduce your grocery bill too — and who could ever be blue about that?
Photo Credits: (strawberries) DailyBuzzy; (fruit bowl) the Honeybee