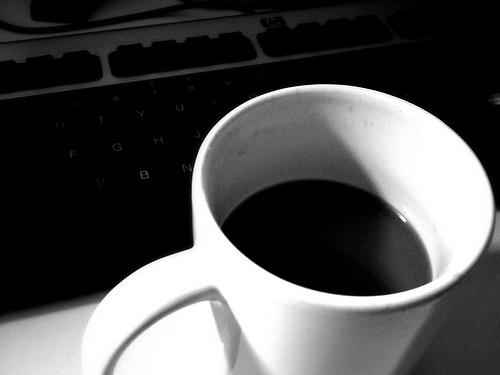 It's time to sit back, relax and enjoy a little joe …
Welcome to another rousing edition of Black Coffee, your off-beat weekly round-up of what's been going on in the world of money and personal finance.
There's a lot to discuss this week, so let's get right to it …
Credits and Debits
Debit: The same clueless officials in Zimbabwe who collapsed their economy by printing too much currency are doubling down on stupid. Instead of cutting spending and returning to sound money, they're consuming what's left of their meager financial reserves — which, ironically, is essentially nothing more than foreign fiat currency. You know … just like Canada's reserves.
Debit: In case you're wondering, a decade ago, Zimbabwe was forced to put her printing presses into overdrive because, at its most basic level, the nation fell into an economic trap where it began consuming significantly more than it was producing every year. Yes, like the US — the only difference is Zimbabwe didn't have the luxury of owning the world's reserve currency.
Debit: As for Zimbabwe's comrades in the People's Socialist Paradise of VenezuelaTM, they just increased the minimum wage by 30% and moved up Daylight Savings time by a half-hour. The trouble is, that won't return food to the supermarket shelves — or stop the now-daily rolling blackouts. Forward!
Credit: Like Zimbabwe, Venezuela ran out of other people's money awhile ago — and the South American nation is so broke now that they no longer have enough money to even pay for … wait for it … printing more (worthless) currency.
Debit: Meanwhile, here in the United States, an openly-Socialist candidate for president has won 20 Democrat state primary contests. So far. And although he's a dunderhead when it comes to macroeconomics, at least the man is honest enough to admit he's a socialist.
Debit: Did you see this? According to the Washington Post, you can blame the faltering US economy on an abundance of "disciplined savers." Funny … I thought capitalism requires something called capital to function properly. Not any more, apparently. Welcome to the rabbit hole.
Credit: Needless to say, capitalism also requires the emotionless financial fortitude to allow the failure of inefficient banks and corporations — or at least it used to — but that's another story. Just don't look for it in the Washington Post.
Debit: Frankly, the WaPo set a very low bar when defining a "disciplined saver" — and their math doesn't add up either. Especially when you consider that 62% of all Americans have less than $1000 in their savings account. No, I didn't forget any zeros.
Debit: Oh, I get it; I really do — unless you're very rich, saving takes time. In fact, the average worker would need one million years to accumulate Bill Gates' wealth. Give or take a century. Er, assuming they didn't spend much along the way.
Debit: By the way, saving is even more difficult when you're unemployed or incarcerated. Unfortunately, that's bad news for the one in six Americans between 18 and 34 who are currently looking for a job or sitting in jail right now.
Credit: I guess the silver lining for felons hoping to save enough cash to become as wealthy as Bill Gates is that, over a million years, a 20-year stint in the state pen is just fly poop in the pepper.
Debit: On a related note, the Fed's criminal eight-year zero-interest rate campaign has led to an absurd level of malinvestment that's only served to expand the government leviathan, and prop up unprofitable zombie banks and corporations. That's the real reason the US economy is in dire straits — not disciplined savers.
Debit: In a scene straight out of Atlas Shrugged, America's productive economy continues to wither on the vine, as falling rail traffic has forced Union Pacific to idle 292 locomotives on a three-mile long siding in the Arizona desert. No, really.
Credit: Of course, as Charles Hugh Smith points out, the system is now hopelessly rigged to benefit an ever-growing number of government bureaucrats and their crony capitalist brethren — which is why the corruption will continue until the system implodes. We shouldn't have to wait too much longer. Well … relatively speaking.
Debit: How else can you explain central bankers' decision to try and revive the world economy with financially-absurd negative interest rates — despite the obvious and utter failure of their zero-interest rate policy? Anyone? Bueller?
Debit: The only way out of the mess we find ourselves in is via a new monetary system which will necessitate a very steep and painful devaluation of the US dollar, if not a brand new American currency. Until then, we'll continue to see a growing number of once-unthinkable events like the recent default of Puerto Rico.
Debit: I know what you're thinking — and you're right: the US will never default because it owns a printing press. Instead, by necessity, it will eventually choose to travel down the same road as Zimbabwe and kill its currency via hyperinflation. Yes, yes … I know. I'm a glass half-full kind of guy.
Credit: If you don't believe me, maybe you'll believe hedge fund legend Stan Druckenmiller, who recently hinted that an economic end game is rapidly approaching. For what it's worth, he also suggested there's wisdom in now owning a certain yellow metal that Wall Street abhors … That is, unless you think negative rates really are the answer.
By the Numbers
Here are some numbers highlighting America's crazy obsession with the smartphone:
216 Minutes per day that the average person spends on their device.
50% Teens who say they are addicted to their smartphone.
70% Parents and teens who say they have argued about data usage.
35 Times per day the average user checks their smartphone.
44% Smartphone users who say they would feel "a great deal of anxiety" if their phone went missing for a week.
61% Smartphone users who regularly sleep with it turned on under their pillow.
Source: End of the American Dream
The Question of the Week
Loading ...
Last Week's Poll Result
Does your primary car have a bumper sticker on it?
More than 1000 people participated in last week's poll and, not surprisingly, only 1 in 9 display a bumper sticker on their primary vehicle — yes, even during the political season. I'd say that seems about right, judging by the traffic I see on the road every day. How about you?
Other Useless News
Here are the top — and bottom — five states in terms of the average number of pages viewed per visit here at Len Penzo dot Com over the past 30 days:
1. Wyoming (2.54 pages/visit)
2. Minnesota (1.99)
3. Mississippi (1.97)
4. Maryland (1.96)
5. Vermont (1.91)

46. Virginia (1.43)
47. South Dakota (1.40)
48. Rhode Island (1.38)
49. Delaware (1.37)
50. Maine (1.35)
Whether you happen to enjoy what you're reading (like my friends in Wyoming) — or not (ahem, Maine) — please don't forget to:
1. Click on that Like button in the sidebar to your right and become a fan of Len Penzo dot Com on Facebook!
2. Make sure you follow me on Twitter!
3. Subscribe via email too!
And last, but not least …
4. Consider becoming a Len Penzo dot Com Insider! Thank you.
Letters, I Get Letters
Every week I feature the most interesting question or comment — assuming I get one, that is. And folks who are lucky enough to have the only question in the mailbag get their letter highlighted here whether it's interesting or not! You can reach out to me at: Len@LenPenzo.com
After reading my article on 36 amazing uses for plastic grocery bags, Felicia Luburich shared a clever, if unrelated, tip of her own:
To pick up dog poo, use shiny coupon pages.
Great idea! I'll use two-for-one coupons so I can pick it up twice as fast.
I'm Len Penzo and I approved this message.
Photo Credit: brendan-c