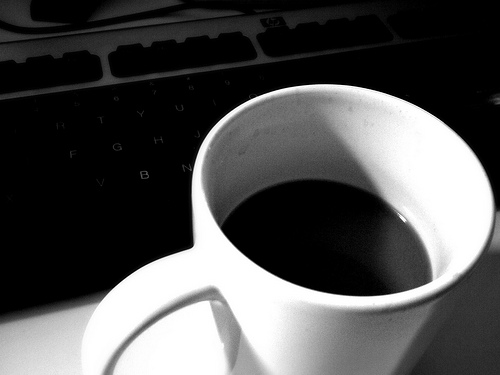 It's time to sit back, relax and enjoy a little joe …
Welcome to another rousing edition of Black Coffee, your off-beat weekly round-up of what's been going on in the world of money and personal finance.
Let's get right to it this week …
Credits and Debits
Credit: On St. Patty's Day, an armored truck spilled multiple bags of $20 bills across a New Jersey highway, stopping traffic in its tracks as people congregated to collect the booty. No, there were no leprechauns spotted at the scene; after all, they prefer gold.
Credit: The luck of the Irish seems to be gracing the financial markets too. Despite corporate earnings hitting an 11-month low, this week the Dow managed to wipe out the last of its 2016 losses. I know. Yes, the venerable stock index is now positive for the year. No, really.
Credit: Believe it or not, this is the Dow's biggest quarterly comeback since 1933 — which has some people convinced happy days are here again. Sure they are.
Debit: On the other hand, there is plenty of evidence to suggest that the only thing keeping the current bull market in stocks going is corporate buybacks; they're at their highest point since 2007. Contrast that with recent massive stock sell-offs by mutual and exchange-traded funds and something has to give. Eventually.
Debit: In fact, CNBC's Jim Cramer thinks the recent uptick in stocks suggests a massive rally may be coming — or it may not. "Remember, we're in both rolling bear market territory and rolling bull market territory," he says. Uh … that kind of insightful analysis is why Mr. Cramer gets paid the big bucks. I think.
Debit: Another CNBC cheerleader for Wall Street reporter issued a suggestion of her own: "Before it's too late, sell gold as fast as you can." Oy vey. Too late for what? Looks like someone needs a lesson on the difference between "paper" gold and the real thing.
Credit: Of course, CNBC's recommendation to sell gold "before it's too late" is why the world's second-largest reinsurer, Munich Re, is now adding gold to its portfolio. Okay, you got me: The real reason was for protection from idiotic negative interest rates imposed by the world's central banks — but you can bet CNBC's advice sealed the deal.
Debit: Meanwhile, Fed credibility is sinking faster than a submarine with a screen door. As David Stockman notes: How can Janet Yellen say she's worried about "upside risks" to global growth when there's a depression underway in global energy, mining, shipbuilding, steel, aluminum and most other heavy industrial sectors? Good question, David.
Debit: Did you see this? A decade after nationalizing its power companies, the People's Socialist Paradise of VenezuelaTM is running out of electricity. The electrical engineers insist Venezuela's failing electric grid is due to years of government neglect, while President Maduro blames … El Nino. Uh huh.
Credit: Psst. Comrade Maduro: Methinks somebody is peddling fiction — and it's not the guys wearing the pocket protectors.
Credit: I'm sure El Presidente has a good explanation why El Nino hasn't obliterated the hydroelectric generation capability of neighboring countries. It probably has something to do with those evil capitalists (is there any other kind?) working behind the scenes to sabotage the People's Revolution.TM Forward!TM
By the Numbers
St. Patrick's Day may be over, but it's never too late for a few fun facts on the popular holiday:
39% Percentage of Americans who say they celebrate St. Patrick's Day.
83% Percentage of Americans who wear something green on March 17th.
34,700,000 Americans who claim to have at least some Irish ancestry.
2 States that have more than 20% of their population with Irish ancestry. (Massachusetts, New Hampshire)
1 States west of the Mississippi River that have more than 15% of their population with Irish ancestry. (Montana)
1 States with less than 5% of their population having Irish ancestry. (Hawaii)
650,000 The number of American babies who have been named Patrick since 1916.
Source: History.com
The Question of the Week
Loading ...
Last Week's Poll Result
Which of these estate planning documents do you have?
Neither (52%)
Will (27%)
Both (13%)
Trust (8%)
More than 800 people answered this week's survey question and a slight majority said they have neither a will or a trust in place to handle the transfer of their estate if they pass away. I have both a will and a trust in place — although I need to update them. That only makes sense since life continues to go on after you complete your will and/or trust — and so your estate planning documents need to keep up with life too. If it has been five years or more since you last updated your will and/or trust, consider reviewing and updating it to account for additional wealth gains, marital status changes, and other life events.
Other Useless News
Here are the top — and bottom — five Canadian provinces and territories in terms of the average number of pages viewed per visit here at Len Penzo dot Com over the past 30 days:
1. Nunavut (2.25 pages/visit)
2. Saskatchewan (1.96)
3. British Columbia (1.88)
4. Manitoba (1.84)
5. New Brunswick (1.75)
9. Newfoundland and Labrador (1.42)
10. Nova Scotia (1.28)
11. Northwest Territories (1.25)
12. Prince Edward Island (1.20)
13. Yukon Territory (1.00)
Whether you happen to enjoy what you're reading (like those crazy canucks in Nunavut, eh) — or not (you hosers living on the frozen Yukon tundra … for the third month in a row!) — please don't forget to:
1. Click on that Like button in the sidebar to your right and become a fan of Len Penzo dot Com on Facebook!
2. Make sure you follow me on Twitter!
3. Subscribe via email too!
And last, but not least …
4. Consider becoming a Len Penzo dot Com Insider! Thank you.
Letters, I Get Letters
Every week I feature the most interesting question or comment — assuming I get one, that is. And folks who are lucky enough to have the only question in the mailbag get their letter highlighted here whether it's interesting or not! You can reach me at: Len@LenPenzo.com
Lea left me a note this week complaining about some poor customer service she recently received:
… I spoke to three managers and each one said, "I'm sorry there is nothing I can do for you."
That's why they're managers, Lea.
I'm Len Penzo and I approved this message.
Photo Credit: brendan-c