Today I want to share a primer with you on the gold standard, as well as a fun hypothetical example of how a potential gold revaluation would work.
With nearly $200 trillion in funded and unfunded liabilities on its books, the US government has accrued so much debt that it can no longer be paid back without destroying the US dollar. As such, the only reasonable way out from under the tremendous debt overhang that the US – and the entire world, for that matter – finds itself in today is by reliquifying the system with real money: gold and silver.
And that day is a lot closer than most people realize.
Unlike today's dollar-based paradigm that gives de facto control of the world monetary system to the United States via the Fed, a monetary system backed by gold ensures a level playing field by removing the ability of any one nation to affect monetary policy. This is because when there isn't a single, verifiable standard by which a country's wealth – and subsequently its money supply – can be measured (i.e., gold and/or silver), then everyone is at the mercy of the nation or central bank that controls the commodity and currency markets.
And, unfortunately, politics only serves to raise the ruthlessness of those manipulations to an even higher level, as recent events have made crystal clear to all of the world's nations.
Measuring Gold's True Value
The claim that there is not enough gold in the world to support a gold standard or gold-exchange standard is specious, to say the least. In fact, there will always be enough circulating gold to support a gold standard at the right price. The easiest way to ensure this is by allowing the gold price to float freely in the free market.
And in a more rigid system where gold is artificially pegged to a static price, any liquidity shortages can be alleviated by simply revaluing the yellow metal to a higher price. After all, that's exactly what Franklin Roosevelt did when he revalued gold back in 1933 from $20.67 to $35 per troy ounce (actually, Roosevelt devalued the dollar by 70%, but why quibble?). No matter which way you choose to look at it, FDR instantly expanded the money supply by 70% in order to put more dollars into people's pockets.
So when an economy runs too hot, a nation can reduce the amount of paper currency in circulation, and the gold price drops in turn.
On the other hand, when an economy is in the doldrums and expansionary credit is required, a nation can increase the price of gold which increases the paper currency supply.
Regardless, gold's relative purchasing remains virtually unchanged in both cases.
An Gold Revaluation Example
Here is an overly-simplified example:
Let's assume I am the emperor of my own tiny island and I want to have a gold-backed currency. Let's assume I have a modest stash of 100 troy ounces of the yellow metal in my Treasury. Let's also assume the gold price for one troy ounce is fixed at $1.
So … how much fiat can I create?
Well, for a fully-backed 100% reserve requirement, the answer is $100. For a 20% gold reserve ratio, five times more currency can be created: $500. See how that works?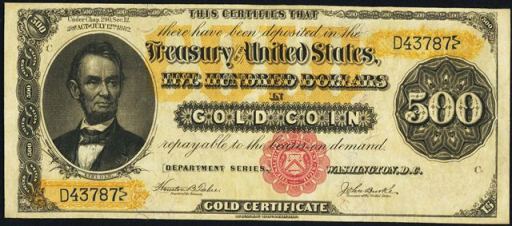 Now … How do I expand my currency supply if my island economy starts to lag? Of course, I can reduce the reserve ratio, but that may cause some people to lose confidence in my currency. The wiser solution would be to increase the dollar-price of gold.
So, with a 20% gold reserve ratio, and 100 troy ounces of gold in my Treasury priced at $10 per ounce, I can now expand my currency supply to $5000 (i.e., $1000 worth of gold in the Treasury times 5 equals $5000).
Stay with me now — we're almost finished!
If you held $5 in cash on a Friday when a single troy ounce of gold was selling for $1, but on Saturday morning you wake up to discover that I revalued the price to $10 per troy ounce, then your claim on the gold in my Treasury would have fallen from five troy ounces to 0.5 troy ounces.
As emperor of the island, I know that whenever there happens to be a rush to redeem my currency for gold because the people are losing faith in my funny money, then I can always increase the price of gold to essentially deflate the value of their cash.
By the way, back here in the real world, even though today's US dollar is an unbacked fiat currency, the Fed will eventually be forced to do the exact same thing when confidence in their debt-based monetary system finally collapses; they really have no other choice. The only way out of our current fiscal mess is to devalue the fiat US dollar by revaluing gold to a much higher price than it is selling for today.
In fact, I think it's safe to say that, 50 years and $30 trillion of debt after Richard Nixon officially broke the US dollar's anchor to gold, we're almost there.
And that, my friends, is why gold (and silver) are the premier holdings for both an overheating economy (i.e., inflationary times) and economic depressions (i.e., deflationary periods). Make sure you have some before the revaluation comes.
If you don't, you'll be wishing you did.
Photo Credit: US Treasury