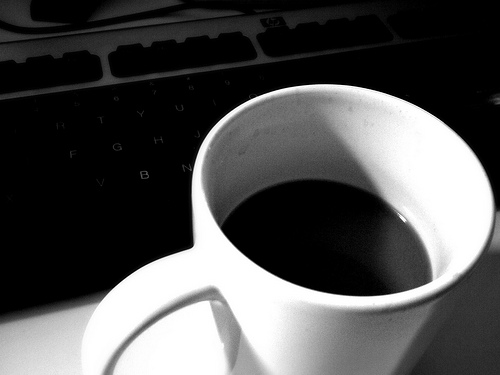 It's time to sit back, relax and enjoy a little joe …
Welcome to another rousing edition of Black Coffee, your off-beat weekly round-up of what's been going on in the world of money and personal finance.
I'm still recovering from a business trip I took this week. Long story short: It took 22 hours to complete my 2000 mile journey from Huntsville, Alabama to my home in Los Angeles with all of that time spent either in the air or waiting in airport terminals in Alabama, Texas and Arizona — including an overnight stay at George Bush Intercontinental Airport in Houston (yes, that was me waiting at Gate 29 at 2:30 a.m. for a 5:45 a.m. flight to another connecting city).
You know, it's amazing how empty and peaceful a major airport terminal can be after the clock strikes midnight.
Oh well, off we go …
Credits and Debits
Credit: I'm sure you've heard by now that Janet Yellen has been strongly hinting that the Fed is finally going to raise rates in December. That's after seven long years of holding them at the zero-bound. I know — but just play along.
Debit: Then again, the chance that the Fed will raise rates is a lot less likely now after the latest data released this week showed significantly weaker than expected retail sales in October. Oops.
Debit: Meanwhile, poor sales figures for places like Nordstrom and Macy's suddenly has analysts fretting that the economy may not be as healthy as they originally thought. Welcome to reality, folks.
Debit: The truth is, the last two times that reported retail sales figures were this poor, the US was in a recession. (Psst. Back then the US debt load was also $10 trillion lighter. Yes, I'm talking about the debt the US officially admits to.)
Debit: Needless to say, Nordstrom's stock was punished for its recent poor performance — and they're not alone.
Debit: Disappointing GoPro sales — you know, the "camera-on-a-stick" company — suggests it's a flash in the pan; after falling more than 72% since last year, GoPro stock is below its IPO price. Say "cheese!"
Credit: Then there are those profitless companies with dubious business models that are probably surviving only because of the Fed's zero-interest policy. I'm talking about companies like Twitter: its stock is currently less than its IPO price too. Again.
Debit: Did you see this? The largest Obamacare co-op in the nation, New York's Health Republic Insurance, has failed. And if that wasn't bad enough, the company misled state and federal officials about its finances. You know, just like state and federal officials misled voters about Obamacare. Forward!
Credit: Frankly, Obamacare only worked in the Utopian minds of its ivory-tower advocates. Here in the real world, Obamacare is such an unsustainable disaster that 11 of the 24 Obamacare co-ops originally funded with federal dollars have closed their doors. So far.
Credit: Of course, socialism's apologists love to use Sweden as "proof" of the nanny-state's success. However, Sweden's negative interest rates, swelling debt and rising workplace absenteeism — made possible through generous government sick pay "incentives" — proves the exact opposite.
Credit: The truth is, the socialist experiment going on in Sweden — or here in the US — is no different than the failed "workers' paradise" in Venezuela. The latter is just further down the road to failure, where a large order of McDonald's french fries is now $126. No, really.
Credit: By the way, I know what you're thinking: Unfortunately, Venezuelans still have to pay $79 for even a small order of Mickey D's fries. But, hey … at least their healthcare is "free."
By the Numbers
While 11/11 is Veterans Day in the USA, it's Singles Day in China — get it? — a celebration for the "lonely" that offers a chance for unattached shoppers to buy presents for themselves. Here are some statistics from this year's event:
1993 Year that Singles Day originated. (Nanjing University)
94,000,000 Number of shoppers who purchased Singles Day presents for themselves on their mobile phone.
72 Percentage of all Singles Day sales generated from mobile phones.
$9,800,000,000 Singles Day revenue just from mobile phones.
$14,300,000,000 Total value of all Singles Day merchandise sold by Alibaba, which is China's version of Amazon.
8 Minutes it took Alibaba to sell the first $1 billion in merchandise on this year's Singles Day.
The Question of the Week
Loading ...
Last Week's Poll Result
Do you think you could be doing something better with your life right now?
Yes (68%)
No (22%)
I'm not sure. (10%)
Almost 700 people chimed in for this week's question and slightly more than 2 in 3 say that when it comes to the status quo and how it applies to their life, there is definitely room for improvement. On the other hand, 22% say their life is as good as it can be. Good for them!
Other Useless News
Here are the top — and bottom — five states in terms of the average number of pages viewed per visit here at Len Penzo dot Com over the past 30 days:
1. South Dakota (2.10 pages/visit)
2. North Dakota (2.07)
3. Arizona (1.93)
4. New Hampshire (1.89)
5. Alabama (1.74)
46. Oklahoma (1.38)
47. Rhoda Island (1.35)
48. Montana (1.33)
49. District of Columbia (1.31)
50. Delaware (1.26)
Whether you happen to enjoy what you're reading (like my friends in South Dakota) — or not (ahem, Delaware) — please don't forget to:
1. Click on that Like button in the sidebar to your right and become a fan of Len Penzo dot Com on Facebook!
2. Make sure you follow me on Twitter!
3. Subscribe via email too!
And last, but not least …
4. Consider becoming a Len Penzo dot Com Insider! Thank you.
Letters, I Get Letters
Every week I feature the most interesting question or comment — assuming I get one, that is. And folks who are lucky enough to have the only question in the mailbag get their letter highlighted here whether it's interesting or not! You can reach out to me at: Len@LenPenzo.com
After reading my article explaining why whirlpool tubs are for suckers, Addey Hammel passed along her thoughts on the matter:
Your advice is bad.
That's what the Honeybee tells me too — over and over and over again.
I'm Len Penzo and I approved this message.
Photo Credits: brendan-c