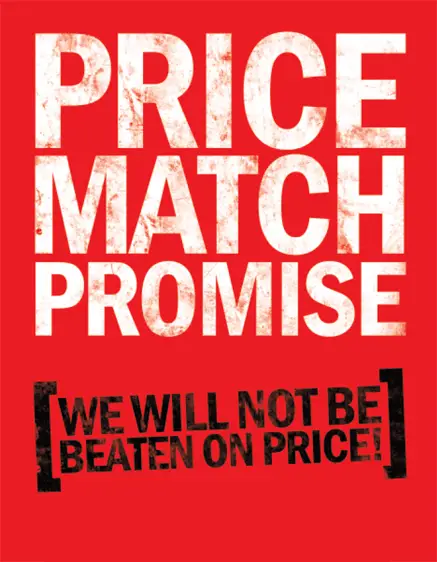 We all want the lowest prices on gifts and presents during the holidays, but not all stores are created equal. To save as much cash as you can this season, take a look at this big list of your favorite stores' price-matching policies and plan your festive shopping offensive accordingly.
Walmart
If you find a lower advertised price on an identical product at a Walmart competitor, the discount department store giant will match it right at the register. It also price matches BOGO (buy one, get one) ads; loyalty card prices for specific items in a printed ad; and Internet prices, but you'll need to check Walmart's online price-match policy for specifics. Customers aren't required to have the opposing ad with them, but it will help if you want to avoid being held up if management decides to verify the claim.
Target
Target is somewhat specific about which retailers' prices it will match. If you find an identical item for less in the store's current or following week's Target circular or within seven days at Target.com, Amazon.com, Walmart.com, BestBuy.com, ToysRUs.com, BabiesRUs, or in a local competitors current ad, Target will match the price. Youll have to go to the guest services desk for the adjustment, and unlike Walmart, Target requires proof of the lower price.
The Home Depot
If you find a lower price on an identical, in-stock item from any local retailer, The Home Dept will not only match it but beat it by 10%. There are a few exclusions — like special orders, bid pricing, volume discounts, and more — but it's certainly one of the more generous price-matching policies out there.
Lowes
Not to be outdone by The Home Depot, Lowes has a similar price-matching policy: The same 10% off discount applies, and if a competitor is offering a percent-off discount, Lowes will match the final net price of the competitor. A few exclusions apply, including discontinued clearance, liquidation, and damaged items.
Best Buy
Best Buy says it will price match all local retail competitors, including their online prices, and it will price match products shipped from and sold by Amazon.com, Bhphotovideo.com, Crutchfield.com, Dell.com, HP.com, Newegg.com, and TigerDirect.com. BestBuy will also match in-store prices to those that are on BestBuy.com, so be sure to check the website on your in-store purchases before checkout. If the electronics retailer lowers its price during the return and exchange period, it will match the lower price upon request. It's important to note, however, that Best Buy will not price-match items for sale Thanksgiving Day through the Monday after Thanksgiving, whether offered by Best Buy or a competitor.
Sears
If you find an identical item at a local competitor's retail store, Sears will match it, but you'll need to bring the opposing ad to the store with you to claim the discount. While this is likely true for most price-matching policies, Sears' policy explicitly states that the competitor price must be offered on the same date as the date of your Sears purchase, and it's only available on that day; no retroactive discount will be given.
J.C. Penney
JCP will match any similar local competitor's current advertised price on identical items that it carries in store, and you'll need to bring the opposing ad in for proof. Price matching doesn't apply to Sephora brand items or some services that JCP offers, including salon, optical, portrait, and custom decorating.
Nordstrom
Nordstrom will match items — same color, same size — that are available at similar retailers, but it sounds like that may apply only to online orders because the policy provides a number to call to place the order. Otherwise, the department store will make sales adjustments within two weeks of a purchased item, but designer goods originally purchased on sale are usually excluded.
Advance Auto Parts
Like most retailers' price-matching policies, Advance Auto Parts requires that the items in question be identical — size, weight, color, quantity, part and manufacturer number, and warranty. If the advertised price appears in a print ad, the ad is required at the time of the adjustment. If it's an online price, the customer much show their mobile device or a printout from the qualifying competitor's website. The sale price must be valid on the day of the price-match request.
Staples
Staples will match prices at its brick-and-mortars and its website on identical items, and it will price match prices at select competitors, including Amazon, Best Buy, Costco, Dell, Hewlett Packard, Office Depot, Office Max, Quill, Medical Arts Press, Reliable, Sam's Club, Walmart, WB Mason, and Xerox. For wireless phones and other items with a service — a biggie at holiday time — only in-store purchases will qualify for a price match.
Office Depot
Office Depot and Office Max will match prices on new identical items sold by any retailer that sells products in both brick-and-mortars and online under the same brand name. They will also match prices on items from Amazon and Reliable, but only if they're sold by the retailer themselves; third-party vendors selling on the sites do not qualifying for Office Depot or Office Max price matching.
Dick's Sporting Goods
This sporting goods behemoth will match identical items priced lower at a local retailer store when you bring in the opposing retailer's ad at the time of purchase. Price matching excludes competitor's rebates, coupons, bonus offers, clearance, limited-quantity or out-of-stock items, prices advertised as only a percent off or dollar off, or another retailer's pricing error.
Sports Authority
Sports Authority will price match identical items at the time of purchase when the opposing advertisement with valid dates is presented. If online items are in question, customers should present their mobile device or a printout from the competitor's website.
PetSmart
PetSmart will match the prices of its competitors' retail stores on identical products in stock at its brick-and-mortars with proof of the lower price;online and catalogs are excluded from the policy. Price matching excludes items advertised as clearance, liquidation, or other special events, like Black Friday. Price-matching also is not available on pets, because that's just weird.
Toys "R" Us
Price matching at Toys "R" Us is valid in-store only, and the policy applies at time of purchase or within seven days of purchase, which is much more generous than most retailers. Price matching applies to local competitors' print advertisements and select online competitors, including Walmart.com, Target.com, BestBuy.com, Sears.com, Kmart.com, buybuyBaby.com, Meijer.com, FredMeyer.com, diapers.com, BabyDepot.com, LEGO.com, and Amazon.com — although third-party sellers are excluded. Toys "R" Us will also match its own online pricing except for online-only prices.Price matching does not apply to printed advertisements on Thanksgiving or Black Friday or online prices starting four days before Thanksgiving through Cyber Monday.
Photo Credit: public domain