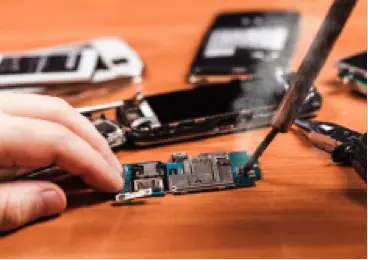 However big the damage on your iPhone, it's definitely frustrating to see your prized possession a little worse for wear. Usually, people worry about the financial burden of damaging their iPhones, or that it will need to be sent off to the manufacturers for repair, leaving you without a phone for weeks. And what if you lose your iPhone apps, or precious data?
They're all consequences that are difficult to come to terms with — but don't worry! There are several ways you can repair your iPhone without the cost or hassle:
Scenario #1: Your screen is cracked
A cracked screen is one of the most common issues with iPhone. Drop one onto a hard surface and chances are you'll damage your screen. It's wise to address a cracked screen as quickly as possible because it can worsen over time. Of course, you can either pay for an expensive repair, or put up with it. Then there is a third option: consider repairing the screen yourself. And, hey, it's not as tricky as it sounds.
The first thing you'll want to do is get a decent iPhone screen to replace the broken one. There are lots of manufacturers online that offer iPhone screens, but you'll want a reputable iPhone screen repair company; otherwise, you could end up with a screen with a few dead pixels. Don't just pick the first one you see — do your research. It's probably easier to buy a replacement display assembly that comes with the front camera and home button. If you don't, you may have to find your old ones.
There are lots of YouTube videos that provide step-by-step instructions on how to replace your specific iPhone screen. Best of all, they're an easy and simple way to understand what you need to do, because you can pause and replay steps, which makes it easier to learn.
Before you replace the screen, prepare your workplace. You'll be removing lots of tiny screws from your iPhone, so never work on your carpet! Find a big table instead, where you can spread out and work systematically.
As a basic guide, you'll then do the following:
Remove two screws on either side of the charging port. You may need a pentalobe screwdriver. With the iPhone 5, 5c, and 5, you'll need a suction cup. Place it above the 'Home' button, then pull the suction cup to separate the front panel assembly.
Remove the display. Open the phone with tweezers, and pry the connector up, then lift up the front end of the display. Locate the metal bracket and remove the four screws that fix it in, then disconnect the cables underneath.
Install your new display, then make sure you reconnect the cables and put the phone back together carefully.
Scenario #2: Your 'Home' button is broken
There are many interesting blog posts on the Internet telling you how to get around a broken Home button. But what about when you've just had enough, and want to replace that broken button properly? Rather than send it off to Apple, why not try and replace it yourself?
First, there's a potential software solution you should consider trying: to get to this feature, go to Settings > General > Accessibility. Once you're there you can then scroll down to click "AssistiveTouch" and slide it until it appears green.
If it's more of a hardware problem you're struggling with, this great guide will show you other ways to replace the Home button. Watch out though: this is very fiddly and needs expert attention — but it can be done.
Scenario #3: The battery is broken
If you've had your iPhone for a number of years, the battery may start cutting out on you; this problem may start slowly and then gradually get worse.
Apple claims that, "A properly maintained iPhone battery is designed to retain up to 80% of its original capacity at 500 full charge and discharge cycles."
The good news is that you can replace the battery yourself. You can pick up reliable but cheap iPhone battery replacements from various online suppliers. You can find detailed guides online from ifixit.com too. Although they classify the level of difficulty as moderate, with patience and the ability to follow instructions well, it's a task that can be completed in just 15 minutes.
Scenario #4: Your phone has water damage
Dropped your phone down a toilet? Ever lean over with the phone in your pocket as you're doing the kids' bath? We've all been there: that horror when your phone sinks to the bottom, glugging with water.
When this happens, you'll need to act quickly. Don't try and turn the phone on. Instead, get a plastic bag and fill it up with uncooked rice; then put the iPhone in the bag and make sure the device is fully immersed. Be sure to remove as much air as possible from the bag, and then leave it in a warm cupboard for 24 hours.
You may not know that iPhones have a Liquid Contact Indicator (LCI) which is activated in case water gets into the circuit board. If the iPhone is ever damaged by water, the indicator will glow red. So, once you take out the iPhone from the bag of rice, check to see if the indicator is red. If it's white or silver, you've managed to get away with it. If not, you'll need some damage control; this involves retrieving your data, assuming you backed up everything on iCloud. In this case, you may also have to break down and take your phone to a local Apple store where they can attempt to repair it for you.
One final note: Always keep your phone in a case — in many instances this can delay water entry for several precious seconds. True, that's not a long time, but it could be enough time to protect your phone, assuming you act quickly.
Photo Credit: istockphoto.com