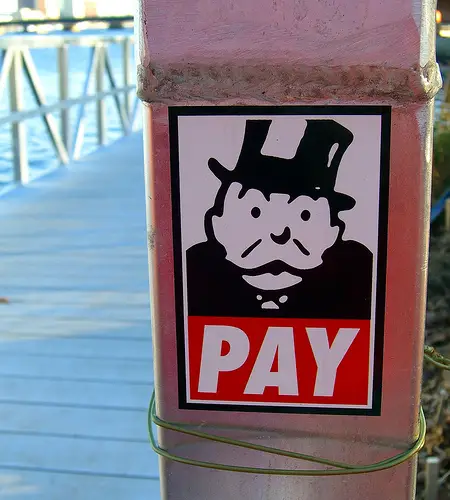 I bought my first home in 1990 at the top of the Southern California real estate market and promptly found myself with an "underwater" mortgage. And although I owed more than the home was worth over the next seven long years, I never walked away from that loan — even though I wanted to — because I felt I had a moral obligation to myself and society as a whole to continue paying it as long as I was financially able to do so.
Perhaps that shouldn't be surprising, considering I am the proprietor of a blog that promotes itself as "the personal finance blog for responsible people."
However, I'm now beginning to rethink that philosophy. That's right; maybe this whole strategic default thing ain't so bad after all.
The reason for the change of heart has a lot to do with a recent Chicago Tribune story on strategic defaults that featured a gentleman with an annual household income of $150,000 who decided to walk away from his underwater mortgage even though he described his financial situation as "manageable." According to this gentleman, he considered his promise to repay his lender as purely a financial obligation. In other words, it's just business. And while that may seem a little too convenient to a lot of folks, perhaps this guy is on to something.
Think about it. When people lose their jobs, or suffer other financial hardships beyond their control that result in a catastrophic loss of income, and then exhaust their emergency savings, nobody considers the act of walking away from their home and giving the keys to the bank as dishonorable or immoral — and that's exactly how it should be.
So why should it be any different for people who choose to walk away, even though they can still afford to make their mortgage payments?
I mean, I'm all for personal responsibility, but when it comes to making the decision to strategically default, you can't blame it all on the homeowners; the lenders knew the risks involved. And I don't remember many lenders warning folks before they signed on the dotted line that there was a risk of home prices falling. Do you? How were the borrowers supposed to know that?
True, some people will argue that folks who choose to strategically default selfishly undermine their neighbors' home values in the process, but nobody is stopping those neighbors from strategically defaulting too if their home prices eventually fall further. Right?
To be honest, I'm surprised the whole strategic default thing isn't spreading beyond the housing market. In fact, the more I think about it, the more obvious it seems that if everyone were allowed to walk away from any type of debt obligation or other IOU whenever the end-results didn't turn out as expected — even though we had the means to pay — we'd all be a lot better off.
For example, consider people who find themselves saddled with massive college loan debt. In many of those cases, people not only overpaid for college degrees, but they also failed to realize until it was too late that their chosen major simply didn't make the best career choice from a purely dollars-and-cents perspective. So why shouldn't they be able to strategically default? Especially if the only jobs they can find with their new degree pay much less than they anticipated.
On second thought, why limit strategic defaults to loans? Why should anyone ever have to pay for any type of investment that goes sour?
I guarantee you life would be a whole lot easier if we could all go to our broker and demand a refund every time we bought a stock that lost money for us. Hey, it's only fair. You can't reasonably expect otherwise decent, hard-working, well-intentioned, responsible people to know when they're investing in things that are overvalued. You just can't.
Yep. The more I ponder it all, the more I like the logic behind strategic defaults. I bet if more people started to think like this, then all our financial troubles would vanish into thin air. Poof! Just like that.
If we all begin to fully embrace the notion that strategic defaults are honorable, then doesn't it follow that every financial "inconvenience" that happens to spring from a civil society's dependence on our sense of personal responsibility, integrity and strong moral character will disappear too? Best of all, won't those dreaded financial losses for us little guys eventually become a distant memory — the personal finance equivalent of everyone getting a trophy in Little League?
So go ahead, people. The next time you feel like defaulting on a loan you have no trouble paying simply because you realize you misread the market, take the plunge. After all, what's the harm? It's only business.
Photo Credit: walknboston