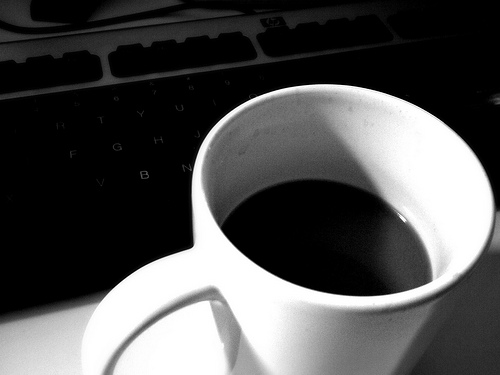 It's time to sit back, relax and enjoy a little joe …
Welcome to another rousing edition of Black Coffee, your off-beat weekly round-up of what's been going on in the world of money and personal finance.
Here we go …
Credits and Debits
Debit: The International Monetary Fund (IMF) is warning that a "day of reckoning" is near, thanks in part to the accumulation of more than $3 trillion in corporate debt during the past decade. That, folks, is called "covering your backside."
Credit: On a related note, a new report led by the former head of the ECB warns that the world's central banks will be unable to save the global financial system when that day of reckoning finally gets here. Yet more candor from those who know what's coming — and want to be able to say "I told you so."
Debit: What the report didn't say is that it's central bankers — led by the Fed — who enabled the dot com bubble at the end of the last century, the last two housing bubbles, and the current debt bubble which, when it finally pops, will annihilate the wealth of most people.
Debit: Speaking of big debtors, I see the US federal budget deficit for the 2015 fiscal year was "just" $439 billion. Psst. It would have been more if not for all of the accounting tricks that have been employed since springtime to keep from exceeding the statutory debt limit.
Credit: The fact that the US has any deficit at all is quite remarkable considering that the IRS collected a record $3.2 trillion in taxes during the same period — that's almost $22,000 for every American worker. If you're lucky.
Credit: Keep that in mind the next time your typical money-grubbing politician tells you that we need to raise tax rates; clearly, the already-bloated federal government has a spending problem — not a revenue problem.
Debit: By the way, it turns out the Fed recently found another $2.7 trillion in debt that it hadn't accounted for. As a result, they just revised their records showing total US debt from 330% to 350% of GDP. I know. The good news is nobody in the US seems to care.
Credit: Unfortunately for us Americans, our international trading partners do care. In fact, it's plain to see that they're tired of subsidizing our artificially-high standard of living; and when they stop for good, the almighty dollar will buy far less than it does today.
Credit: In other news, I see that the German government is investigating Volkswagen's ex-CEO, Martin Winterkom, for fraud allegations stemming from the recent emissions scandal. Hey, I'm sure it was all a just big misunderstanding.
Credit: As financial analyst John Rubino notes, "The fact that Germany is considering criminal charges for actual VW executives illustrates the difference between car makers and banks." That's going to change, John. And when it does, for some bankers, jail may be the least of their worries.
Debit: Did you see this? Teenagers and even kids as young as seven are becoming hunchbacks due to all of the hours they spend bent over their handheld electronic devices. I sure hope Obamacare covers that.
Credit: Then again, that may be a moot point for you hunchbacks in Colorado; this week the Centennial State's largest Obamacare insurer collapsed into a steaming pile of, well … let's just use the proper term "insolvency" and call it a day.
By the Numbers
With Halloween coming in a couple of weeks, I thought I'd share the results of the latest US survey on scary things:
7% Americans who are scared of clowns.
9% Those who say they worry about zombies.
10% Americans who are afraid of ghosts.
27% Those who said they are afraid of heights.
32% People who worry about tornados.
33% Americans who fear snakes.
34% Those who worry about a nuclear weapons attack.
59% Americans who are afraid of spiders, bees or other insects.
Source: Discover Magazine
Last Week's Poll Result
What would you rather find?
$10 million (61%)
True love (39%)
More than 600 people answered this week's survey question and the results should settle once and for all that it isn't love that makes the world go 'round; it's money.
The Question of the Week
Loading ...
Other Useless News
Here are the top — and bottom — five Canadian provinces and territories in terms of the average number of pages viewed per visit here at Len Penzo dot Com over the past 30 days:
1. Manitoba (2.08 pages/visit)
2. Quebec (1.86)
3. Nunavut (1.77)
4. Prince Edward Island (1.75)
5. Saskatchewan (1.70)
9. Alberta (1.50)
10. New Brunswick (1.46)
11. Nova Scotia (1.21)
12. Northwest Territories (1.20)
13. Yukon Territory (1.13)
Whether you happen to enjoy what you're reading (like those crazy Canucks in Manitoba, eh) — or not (you hosers living on the frozen Yukon tundra … for the second month in a row!) — please don't forget to:
1. Click on that Like button in the sidebar to your right and become a fan of Len Penzo dot Com on Facebook!
2. Make sure you follow me on Twitter!
3. Subscribe via email too!
And last, but not least …
4. Consider becoming a Len Penzo dot Com Insider! Thank you.
Letters, I Get Letters
Every week I feature the most interesting question or comment — assuming I get one, that is. And folks who are lucky enough to have the only question in the mailbag get their letter highlighted here whether it's interesting or not! You can reach me at: Len@LenPenzo.com
I want to thank John, who took some time to drop the following comment in my inbox about my weekly Black Coffee column:
I'm an addict. To me, you're words read like Shakespeare.
Thanks, John, but I really think you're making much ado about nothing.
I'm Len Penzo and I approved this message.
Photo Credit: brendan-c