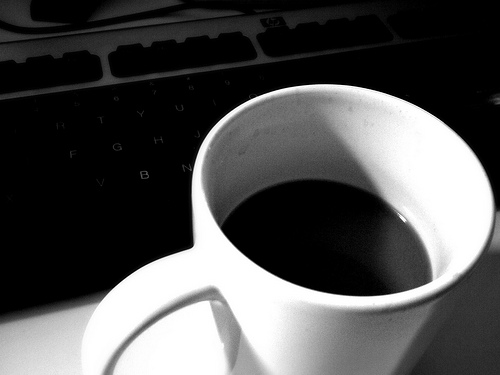 It's time to sit back, relax and enjoy a little joe …
Welcome to another rousing edition of Black Coffee, your off-beat weekly round-up of what's been going on in the world of money and personal finance.
Let's get right to it this week …
Credits and Debits
Credit: Last week, after trying to use a counterfeit $5 bill at a Tennessee grocery store, a woman reportedly explained to police that she was printing her own cash because President Obama told her it was okay to do so. I know … but I'm willing to keep an open mind here.
Credit: If you've been putting off buying a car because you've got lousy credit, you'll be glad to know that it's never been easier to get an auto loan. In fact, it's so easy now, only 1 in 30 auto loan applications are rejected today.
Debit: Then again, being able to get a loan just because you can fog a mirror doesn't mean you should. After all, those are the same kind of loose lending standards that led to the last housing bust and the follow-on financial crisis in 2008.
Debit: Speaking of cars, I'm still trying to figure out why gas prices in California jumped more than 70 cents over a three-day period last week. Last Friday, the pump price at my corner station was $3.41 — and by Sunday morning it was $4.29. No, really.
Debit: According to GasBuddy, on July 17th the average price for a gallon of regular unleaded in California was $3.90 per gallon; that's $1.52 more than the average fuel price in South Carolina.
Debit: Gas prices in California are so ridiculously expensive right now that they're currently 56 cents higher, on average, than the gasoline that's sold in Hawaii. Yes, that Hawaii.
Debit: Meanwhile, over in the Sea of Red Ink, the folks in Greece who wisely voted last week against further EU bailouts (read: more debt that can't be paid back) were promptly sold out by their gutless politicians. On Wednesday, Greece's Parliament decided to side with the bankers and keep the euro Ponzi scheme going anyway. Unbelievable.
Debit: Even worse, anyone who is holding additional cash, gold and silver in any Greek banking system "safe" deposit box is now prohibited from accessing their valuables. Uh huh. There's a lesson there for anyone who cares to pay attention.
Credit: Were you caught up in Amazon's worldwide "Prime Day" marketing hoopla this week? The 24-hour sale was promised to be bigger than Black Friday and, for the most part, it was — assuming you believe Amazon's press release.
Credit: Of course, every silver lining has a cloud. Detractors quickly took to Twitter with lots of #PrimeDayFail complaints, including Amazon's decision to put a 55-gallon drum of sex lube on sale as part of their big celebration. On the plus side, you can't say Amazon doesn't know how to throw a party!
Credit: By the way, according to at least one report, at $1361.80, that 55-gallon drum of lube turned out to be the biggest deal on Amazon that day. Well, assuming you decided to buy it.
Credit: Yes, yes … I know what you're thinking, but you're wrong: You see, I may be a prepper — but I'm also a realist, folks. And I have no delusions about my limitations.
By the Numbers
Here's a closer look at the final figures for Amazon's first-ever Prime Day:
$99 The cost of an annual Amazon Prime membership.
47,000 Number of televisions Amazon sold on its US website during Prime Day.
1300% Amazon's increase in television sales on Prime Day compared to the same day last year.
93% Amazon's overall increase in total US sales on Prime Day compared to same time last year.
41,000 Number of Bose headsets Amazon sold on Prime Day.
8 Bose headsets that Amazon sold on the previous Wednesday.
0 The number of Amazon products that outsold "The Lord of the Rings: The Motion Picture Trilogy" DVD on Prime Day in the US.
0 Amazon products that outsold Croc sandals on Prime Day in Germany and Austria.
0 The number of Amazon products that outsold green smoothie mix on Prime Day in Japan.
Source: New York Times
The Question of the Week
Loading ...
Last Week's Poll Result
On average, how many personal checks do you write per month?
Between 1 and 10 (74%)
None (19%)
More than 10 (7%)
More than 500 people answered this week's survey question and it turns out that almost 1 in 5 Len Penzo dot Com readers handle their personal finances without checks. I'm not that good … at least not yet. For what it's worth, on average my household writes about eight checks per month.
Other Useless News
Here are the top — and bottom — five Canadian provinces and territories in terms of the average number of pages viewed per visit here at Len Penzo dot Com over the past 30 days:
1. Prince Edward Island (2.05 pages/visit)
2. Manitoba (1.99)
3. Alberta (1.92)
4. New Brunswick (1.88)
5. Newfoundland and Labrador (1.83)
9. Ontario (1.61)
10. Nunavut (1.50)
11. Quebec (1.47)
12. Northwest Territories (1.33)
13. Yukon Territory (1.25)
Whether you happen to enjoy what you're reading (like those crazy Canucks on Prince Edward Island, eh) — or not (you hosers living on the frozen Yukon tundra) — please don't forget to:
1. Click on that Like button in the sidebar to your right and become a fan of Len Penzo dot Com on Facebook!
2. Make sure you follow me on Twitter!
3. Subscribe via email too!
And last, but not least …
4. Consider becoming a Len Penzo dot Com Insider! Thank you.
Letters, I Get Letters
Every week I feature the most interesting question or comment — assuming I get one, that is. And folks who are lucky enough to have the only question in the mailbag get their letter highlighted here whether it's interesting or not! You can reach me at: Len@LenPenzo.com
My article explaining why college isn't for everyone sparked a nice discussion among my readers. It included this confession from Mindimoo:
I was in high school in the '80s — and I'm not ashamed to admit it!
Me too, Mindimoo! Three cheers for big hair, skinny ties and popped collars!
I'm Len Penzo and I approved this message.
Photo Credit: brendan-c