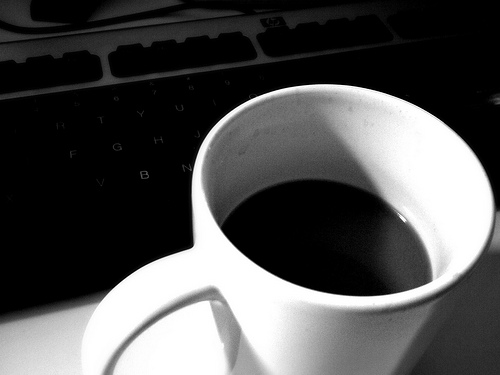 It's time to sit back, relax and enjoy a little joe …
Welcome to another rousing edition of Black Coffee, your off-beat weekly round-up of what's been going on in the world of money and personal finance.
Summer is finally here and it's Father's Day weekend — so I'm taking it easy this week. I hope all you Dad's out there are able to do the same!
Okay, off we go …
Credits and Debits
Credit: For all you savers on a fixed income out there who are looking for bigger returns, you may want to consider Greek bonds. This week the yield on Greece's two-year debt soared to more than 29%. No, I didn't forget a decimal point.
Debit: Then again, Greece's central bank is also warning that a financial collapse is in the cards if they can't come to a debt-restructuring agreement with their creditors — so those bonds may eventually not be worth the paper they're printed on.
Credit: That's not the only warning. More and more mainstream fund managers in Britain are finally waking up and recommending that their clients prepare for a "systemic event" by holding gold and silver, and even keeping physical cash in the mattress. Miracles never cease.
Credit: Meanwhile, here in America, where everything is rainbows and unicorns, major US stock indices ended a four-day winning streak on Friday — but not before the Nasdaq hit another all-time high on Thursday.
Credit: For his part, former-Representative Ron Paul — one of the few politicians who really understands how our financial system works — is also warning that a "day of reckoning" is near … for both the stock and bond markets.
Debit: Unlike Greece, the US devised a clever solution to ensure its own day of reckoning never arrives: stop tracking the National Debt. Yep. Treasury records show the federal debt has been officially frozen at $18,112,975,000,000 for more than 90 days now.
Debit: Um, speaking of not tracking data, Obamacare bureaucrats have no idea who they recently distributed $2.8 billion in Obamacare subsidies to. See? That kind of critical attention to detail is why government does things cheaper than the private sector. Or not.
Credit: It's official: The Lone Star State officially enacted a law this week to repatriate $1 billion in gold from the New York Fed's vault — and it includes an additional provision that prevents US government seizure of their metal. In other words: "Hey, feds … don't mess with Texas."
Credit: Gee, if I didn't know any better, I'd say the folks in the Lone Star State believe that America's unconstrained debt problem now has the US dollar on a very shaky foundation — if not its death bed. I know … that's probably just crazy talk.
Debit: Yes, this is the same Texas where city officials in a town called Overton shut down a lemonade stand being run by two little girls because they didn't have a $150 business permit. Sadly, even in the Lone Star State, government is far too big for its britches.
Debit: Just when you thought the fee-happy airline industry couldn't get any more annoying, they did it again. This week, Frontier Airlines announced that they'll be charging passengers $1.99 for soft drinks, coffee, tea and juice. The good news is: the lavatories are still free. For now.
Credit: Maybe Frontier Airlines should take a lesson from Air India. This week The Independent reported that Air India is now providing lizards as an in-flight meal service accompaniment for no additional charge. Well … at least for one lucky traveler. Mmm. Lizards.
By the Numbers
Speaking of air travel, when it comes to travel delays, here are the five best — and five worst — US hub airports to fly into or out of, based on data accrued during the past 12 months:
1 Honolulu
2 Portland, OR
3 San Diego
4 Tampa
5 Salt Lake City
26 Philadelphia
27 Chicago (O'Hare)
28 Newark, NJ
29 New York (JFK)
30 New York (LaGuardia)
Source: fivethirtyeight
The Question of the Week
Loading ...
Last Week's Poll Result
How much spare change do you typically keep in your primary car?
Between $1 and $5 (42%)
Less than $1 (41%)
More than $5 (17%)
Almost 500 people answered this week's survey question and it turns out that almost 1 in 5 of you out there have cars that are capable of doubling as an ATM machine. Well … almost.
Other Useless News
Here are the top — and bottom — five Canadian provinces and territories in terms of the average number of pages viewed per visit here at Len Penzo dot Com over the past 30 days:
1. Alberta (2.18 pages/visit)
2. Newfoundland and Labrador (2.10)
3. Manitoba (1.93)
4. Prince Edward Island (1.82)
5. Saskatchewan (1.73)
9. Quebec (1.59)
10. New Brunswick (1.43)
11. Nunavut (1.33)
12. Northwest Territories (1.25)
13. Yukon Territory (1.00)
Whether you happen to enjoy what you're reading (like those crazy Canucks in Alberta, eh) — or not (you hosers living on the frozen Yukon tundra) — please don't forget to:
1. Click on that Like button in the sidebar to your right and become a fan of Len Penzo dot Com on Facebook!
2. Make sure you follow me on Twitter!
3. Subscribe via email too!
And last, but not least …
4. Consider becoming a Len Penzo dot Com Insider! Thank you.
Letters, I Get Letters
Every week I feature the most interesting question or comment — assuming I get one, that is. And folks who are lucky enough to have the only question in the mailbag get their letter highlighted here whether it's interesting or not! You can reach me at: Len@LenPenzo.com
After reading my blog post on why some people have such messy finances — and my complaint about my kids' messy bedrooms — Jennifer Oke had this to say:
Don't feel bad. My kids never clean their rooms either. Maybe it's time to change their habit.
Here's the trouble with that: Whenever they have a clean room they can never find what they're looking for.
I'm Len Penzo and I approved this message.
Photo Credit: brendan-c