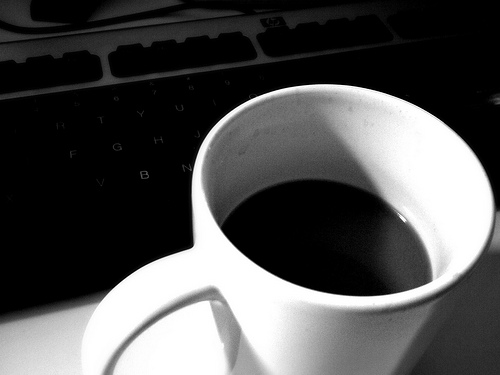 It's time to sit back, relax and enjoy a little joe …
Welcome to another rousing edition of Black Coffee, your off-beat weekly round-up of what's been going on in the world of money and personal finance.
Let's get right to it this week …
Credits and Debits
Debit: Today, a growing number of people around the world want their country to take care of their every need from cradle to grave — which works fine until Big Government and its something-for-nothing supporters eventually run out of other people's money.
Debit: Unfortunately, we're almost there and something has to give. Heck, even Goldman Sachs is now openly warning that the world is drowning in a sea of debt so large that it can't be sustained. Ya think?
Debit: In theory we could grow ourselves out of trouble; but with such a massive debt overhang, existing government obligations, and — short of dropping "free" cash from helicopters — the world's central banks out of ammunition to juice economies, that's all but impossible now.
Debit: Yes, so-called "helicopter money" from the Fed would temporarily perk things up — but that also risks destroying the dollar. As a result, a growing number of economists believe the US will eventually seize 401(k) accounts first.
Debit: For their part, debt-ravaged Greece is mulling a levy on undeclared deposits in a desperate attempt to raise more cash. The truth is, like the US, Greece is already bankrupt — it's just not official yet.
Credit: Then again, "bail-ins" for all Greek depositors are certainly being considered right now too — so financially savvy Greeks are withdrawing cash at a record pace. After all, why keep cash in the bank when it's safer in a mattress? Especially when interest rates are zero — or less.
Credit: Did you see this? A Hollywood producer is building a 100,000 square-foot mega-mansion in Los Angeles — with a 5000 square-foot master bedroom — and he's going to try to sell the place for $500 million. Who says the housing market isn't in a bubble?
Debit: Considering that he's a Hollywood producer, I don't think it's a stretch to assume he buys into the climate change climate disruption global warming hoax too. Hopefully, I'm wrong.
Debit: Speaking of bubbles, how about the stock market? We all know about the S&P 500, but it has nothing on China's bourse. In five short months the Shenzhen Composite index is already up 100%. No, I didn't add an extra zero.
Debit: Then there's the People's Socialist Paradise of Venezuela: Its national currency, the Bolivar, is now officially in a state of hyperinflation with year-over-year prices rising 100.7%. No, I didn't add an extra zero there either.
Debit: Of course, this is the same country that's been plagued by toilet paper shortages for years — only now they extend to everything else, as Venezuelans are exchanging Bolivars as quickly as possible for whatever they can before the currency becomes totally worthless.
Credit: Ah, but there is a silver lining: As Zero Hedge reports, the good news is, with Venezuela's currency now in the crapper, its politicians inadvertently found a way to finally solve their national toilet paper problem.
By the Numbers
Here are a few more details on the million mega-mansion being built in Los Angeles with the crazy $500 million asking-price:
30 Cars that will fit in the estate's garage.
74,000 Size, in square feet, of the main residence.
20,000 Size, in square feet, of the lawn.
5 Pools in the original plan.
4 Pools in the actual plan, including one in the basement.
1 Pools on the mansion's second floor.
20 Estimated number of months required to build the estate.
$147,000,000 Highest price ever paid for a residential property in the US. (East Hampton, New York, in 2014.)
Sources: Curbed Los Angeles
The Question of the Week
Loading ...
Last Week's Poll Results
What is an appropriate cash gift for a graduating high school senior?
$51 to $100 (39%)
$26 to $50 (35%)
$25 or less (16%)
More than $100 (10%)
More than 500 people responded to last week's question and the results were evenly split: 51% feels the appropriate gift for a graduating high school senior is $50 or less, while the other 49% think the number should be more than $50. The convention at our house has been $50 for quite a few years now, which is why I'm leaning toward raising it to $75 next year.
Insider Notes: The Greatest Wealth Transfer of All Time
Hey! You need to be an Insider to view this section! If you'd like to join, please click "Insider Membership" at the top of my blog page.
Other Useless News
While you're here, please don't forget to:
1. Click on that Like button in the sidebar to your right and become a fan of Len Penzo dot Com on Facebook!
2. Make sure you follow me on Twitter!
3. Subscribe via email too!
And last, but not least …
4. Consider becoming a Len Penzo dot Com Insider! Thank you.
Letters, I Get Letters
Every week I feature the most interesting question or comment — assuming I get one, that is. And folks who are lucky enough to have the only question in the mailbag get their letter highlighted here whether it's interesting or not! You can reach out to me at: Len@LenPenzo.com
After reading my recent article explaining why expensive luxury cars don't impress smart people, pete d, who drives a brand new Mercedes, had this to say:
I don't understand why people crow about driving a 30 year (old) Golf.
Why? Because they aren't driving a brand new Mercedes.
I'm Len Penzo and I approved this message.
Photo Credit: brendan-c