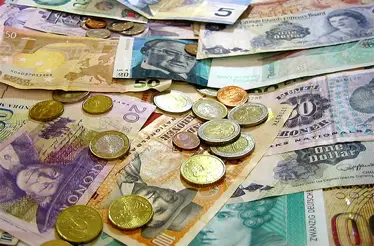 Sending money to people or accounts held in foreign countries comes with its own set of complications and costs. Whether you're doing business with a foreign contractor or vendor, sending money to a relative living abroad, or just making sure that you have enough in your pocket during an extended vacation, you'll want to know how to move funds safely and cheaply across borders. Here are some ways to avoid big fees while keeping your money secure during international transfers.
PayPal
PayPal is among the fastest and easiest methods for international money transfer, though it comes with a double dose of fees. For transactions to foreign accounts exchanging to a different currency, the recipient may be charged as much as four percent of the transfer amount, though the transaction fee drops a bit for larger transfers. Additionally, there's an exchange rate fee that depends on the starting and ending currencies. There are several free, online calculators to help you figure out how much you need to send in order for the recipient to receive the desired amount.
Your Bank
Nearly every bank or credit union offers transfer service, though the process may be more complex and pricey depending on your financial institution's policies. It's easiest when you can transfer funds to a different account in the same institution, so if you plan on making several transfers to a foreign account over a given period of time, try to find a bank that operates in both your country and the destination country. Making transfers to a different institution abroad requires more information about the institution, including the name and address of the receiving party, as well as the IBAN (international banking account number) and/or SWIFT (Society for Worldwide Interbank Financial Telecommunication) information for the institution.
Dedicated Transfer Services
There are a number of dedicated international money transfer services that operate online, by phone, or by money order desk. Not all transfer services operate at the same speed, though. Some can get your money where it needs to go in the space of a day, while others can take as long as a week. The general rule is that a shorter transfer wait will result in higher fees. If you need money fast, expect to see either a flat fee or the hidden cost of a less favorable exchange rate. Also note that many services require a minimum transfer amount. Finding services that match your requirements isn't always easy to do. There are informative websites that can assist you with that.
Cash
Depending on how the money itself travels to the destination country, cash may be the fastest and cheapest option, though it often isn't the safest. If the transfer is for your own use abroad, simply carrying cash will allow you to exchange it for foreign currency immediately upon arrival. Almost all currency exchanges charge fees, though they tend to be lower than electronic or wire transfers. This comes with the standard risks of carrying cash, though. If lost or stolen, cash is unlikely to be recovered.
Check
Whether mailed or carried on your person, a check is always safer than cash because checks can be canceled and often require proper identification to cash. For international transfers, you need to make sure that the foreign financial institution you plan to use allows cashing or deposits of checks from your country. There may also be fees and a waiting period before the funds are available, so get to know the institution's policies before you attempt a check transfer.
Physical Orders
Many banks and post offices offer services for physical transfer orders, often for lower fees than wire transfer services. These tend to take longer to process, but they're very secure and entirely traceable. There are two main varieties:
Money orders are best for smaller amounts and can be purchased in the currency of the destination country.
Bank drafts typically aren't available at post offices and cost more, but they're highly secure and very efficient for larger amounts because a bank won't issue a draft unless the account is confirmed to have sufficient funds.
When choosing the international transfer method that's right for you, make sure to balance fees, security, and speed. No one method is perfect but you'll get your money's worth when you have the know-how.
Photo Credit: bradipo