This is a sponsored post written by me on behalf of Chase Mortgage Banking. All opinions are 100% mine.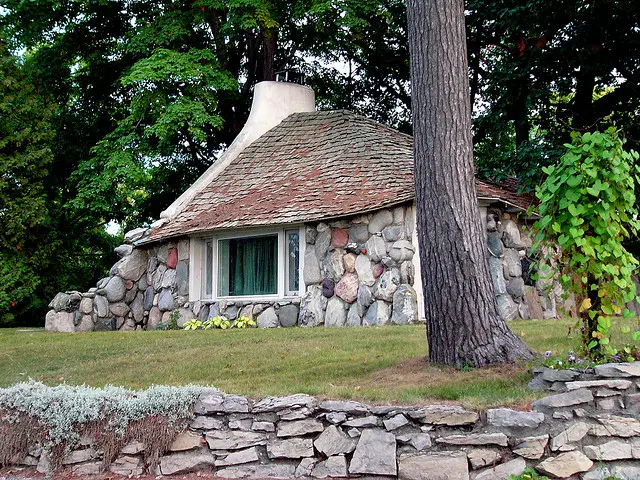 Owning a home has always been a big part of the American Dream. In fact, with the wide variety of homes on the market and interest rates still near historic all-time lows, it's no wonder that so many people remain seriously interested in taking steps to purchase their own home.
And although the real estate market ended last year with arguably mixed results — despite data showing continued expansion throughout the broader economy — a nationwide consumer survey recently commissioned by Chase Mortgage Banking regarding home buying attitudes found that there is an increased sense of optimism, especially with the competitive spring buying season finally upon us.
Among the most encouraging highlights from the Chase survey:
30% of Americans say they plan to buy a home sometime during the next 18 months
43% feel that getting a mortgage loan will be easier this year compared to last year
A major incentive that is encouraging previous fence-sitters to now jump into the game and begin actively looking for a home is the rising cost of rental properties. In fact, the survey revealed that 20% of respondents said increasing rental costs was their number one reason for getting off the home buying sideline.
As for those who are already homeowners, 2 in 10 said their top reason for buying was to upgrade from their current home. Then again, it's not all about high rents — interest rates are still extremely important for homebuyers:
Almost 1 in 3 homebuyers say they want to buy as soon as possible in order to take advantage of the current low-rate environment
35% say that 30-year fixed mortgage interest rates rising above 4% would delay their decision to buy
Of course, the Chase survey found that, although potential homebuyers are optimistic, many were expecting a few challenges along the way. In fact, nearly 7 in 10 prospective homebuyers said they worry that rising home prices mean they may have already missed their best chance to buy.
Another key finding from the survey revealed the different way that men and women consider the importance of sticking to a budget when buying a home. For example, 49% of women considered themselves to be more conservative than their partner and didn't want to exceed their budget. On the other hand, 39% of men said they were less conservative than their partner and willing to push budget limits. As a result, it's no wonder that 1 in 3 couples said they end up arguing at some point during the home buying process!
By the way, it turns out that homebuyers are plagued by plenty of misperceptions too. Just 1 in 4 interested buyers correctly answered home buying questions on annual percentage rates, down payments, and lenders. Even so, 42% of survey respondents said they were not concerned about completely understanding the mortgage process — although such misperceptions could ultimately cost them a lot of money.
Here is an infographic that neatly sums up the results of the Chase Mortgage Banking survey: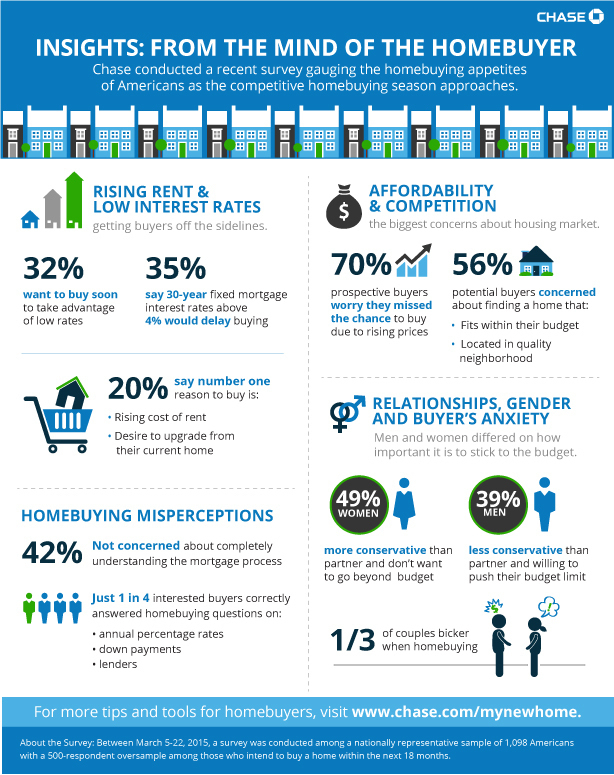 For most people, buying a home can be an overwhelming process — but the good news is there are plenty of helpful resources available to help you get through it. For instance, the My New Home YouTube channel offers helpful tips from real homebuyers as well as expert advice on everything you need to find and finance a home. You can also find valuable tips and guidance from Chase Mortgage Banking, which provides a bunch of helpful home buyer tools including information about buying a home and a handy mortgage rate calculator. Simply visit Chase Mortgage Banking for more details.
Photo Credit: Kathleen Tyler Conklin