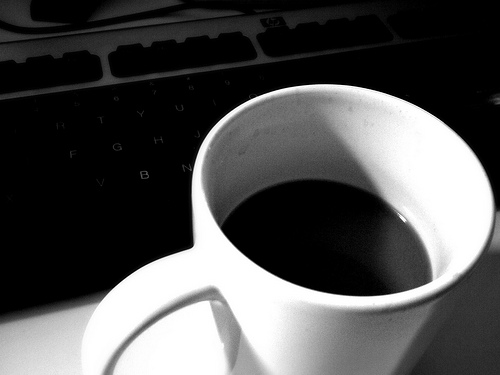 It's time to sit back, relax and enjoy a little joe …
Happy Easter everyone! Because of the holiday, this week I have an espresso edition of Black Coffee. I promise I'll be back next week with an entire carafe for you.
And with that, let's go hopping through the bunny patch …
Credits and Debits
Credit: If you listen to Janet Yellen and read the official statistics, price inflation continues to be held in check — so much so that the Fed Chair believes it poses a potential threat to the economy.
Credit: Of course, it's only in the Bizarro financial world we find ourselves mired in today where low or falling prices can somehow be a bad thing for the economy and consumers trying to make ends meet. Falling prices are a good thing — as long as you aren't a debtor.
Debit: Then again, if ground beef is any indication — the price has doubled in six short years — those of us living in the real world know that the low inflation meme being propagated by the mainstream media and the government is completely bogus.
Debit: In fact, until six months ago, the government's own statistics showed that the rolling five-year inflation rate for rent, food, fuel and healthcare in the US was higher than the Consumer Price Index (CPI).
Debit: High inflation is also affecting the taxes required to support expanding government. For instance, in some parts of the San Francisco Bay Area, sales taxes have now reached double-digit territory. Unbelievable.
Debit: It's not just sales taxes. Higher taxes across the board for almost everyone mean that this year Americans will have to work from January 1st through April 24th just to cover all of their federal, state and local taxes. Who thinks they're getting their money's worth?
Debit: Unfortunately, wages aren't rising to offset higher taxes. Last year US wages actually fell an average of 0.9%. Well, they did unless you were among the richest 20% of all Americans; their wages increased — albeit barely.
Debit: Wages aren't keeping pace with housing prices either. From 2012 to 2014, median home prices in the US climbed 17.3% while median weekly wages rose just 1.3%. In other words: the housing bubble is back.
Debit: Needless to say, if your house is worth significantly more than it was a few years ago, you can probably thank the Fed's continuing reckless monetary policies (see: near-zero interest rates and quantitative easing), which only serve to encourage speculation and malinvestment.
Credit: The Financial Times was even more blunt, saying these misguided policies are: "Likely to permanently impair living standards for generations to come, while creating a false perception of reviving prosperity." Frankly, I say it's all but certain now.
By the Numbers
With Easter here, I thought I'd share a few stats on this springtime holiday:
80 Percentage of Americans who will celebrate Easter this year.
$140.62 Amount the average American will spend in 2015.
$15,900,000,000 Total amount spent on Easter last year.
51% Americans who will attend church this Easter.
87% American parents who will prepare an Easter basket for their kids this year.
66% Americans who prefer hollow chocolate bunnies over the solid ones.
89% Americans who say the correct way to eat a chocolate bunny is ears first.
Source: Forbes
The Question of the Week
Loading ...
Last Week's Poll Results
What is an acceptable weekly allowance for kids 10 years and older?
$10 to $20 (52%)
Less than $10 (29%)
Kids shouldn't get an allowance. (14%)
More than $20 (5%)
More than 400 Len Penzo dot Com readers weighed in on the topic of kids' allowances. Just over half of those responding said a proper allowance today is somewhere between $10 and $20. I have to agree with that — although my preference is closer to the lower end of that range. Another 14% believe kids shouldn't get an allowance at all.
Other Useless News
Programming note: Unlike most blogs, I'm always open for the weekend here at Len Penzo dot Com. There's a fresh new article waiting for you every Saturday afternoon. At least there should be. If not, somebody call 9-1-1.
Hey! If you happen to enjoy what you're reading — or not — please don't forget to:
1. Click on that Like button in the sidebar to your right and become a fan of Len Penzo dot Com on Facebook!
2. Make sure you follow me on Twitter!
3. Don't forget to subscribe via email too! Thank you.
And last, but not least …
4. Consider becoming a Len Penzo dot Com Insider!
Insider Notes
Hey! You need to be an Insider to view this section! If you'd like to join, please click "Insider Membership" at the top of my blog page.
Letters, I Get Letters
Every week I feature the most interesting question or comment — assuming I get one, that is. And folks who are lucky enough to have the only question in the mailbag get their letter highlighted here whether it's interesting or not! You can reach out to me at: Len@LenPenzo.com
After reading a dubious story I posted on April 1 about an ex-Chippendales stripper from Las Vegas who moved to the Big Apple so he could work as a street performer while earning just $6000 annually, CB had this burning question on his mind:
Who moves to NYC to leave the rat race?
Obviously, CB, ex-Chippendales strippers from Sin City do.
I'm Len Penzo and I approved this message.
Photo Credit: brendan-c