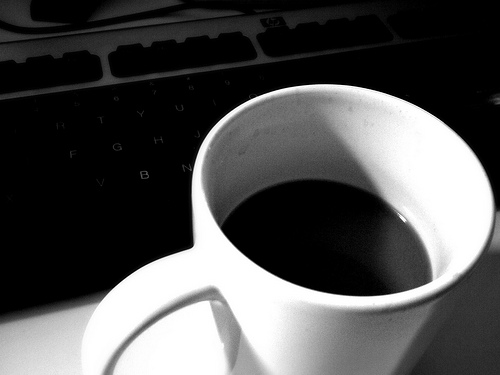 It's time to sit back, relax and enjoy a little joe …
Welcome to another rousing edition of Black Coffee, your off-beat weekly round-up of what's been going on in the world of money and personal finance.
Let's get right to it this week …
Credits and Debits
Debit: According to the latest data from the US Census Bureau, by the end of 2012, a stunning 34.5% of all Americans — almost 110 million people — were living in households that received federal welfare benefits.
Debit: It doesn't help that, as John Titus points out, today 85% of the working age population entering the workforce for the first time either can't find a job or stopped looking for work. Compare that to only 46% in October 2008 — and just 21% in February 2000.
Debit: By the way, if you include non-welfare payouts such as Social Security, Medicare, unemployment and veteran's benefits, the total number of Americans in households receiving a government check climbs to 49.5%. Who thinks that is sustainable? Well, besides stock market investors.
Credit: To be fair, everyone can't earn a living by simply being a world champion competitive eater like Matt Stonie. Last week, the 120-pound phenom from San Jose, California, downed seven Shamrock shakes from McDonald's — five full quarts, topped with whipped cream and cherries — in 4 minutes 41 seconds. Then he had a cheeseburger for dessert. No, really.
Debit: In case you're wondering, Mr. Stonie says those Shamrock shakes he consumed contained 5740 calories and 805 grams of sugar. I wonder if his doctor knows about this.
Debit: It's a good thing this guy doesn't live in rural America, where Obamacare regulations have led to the closure of 48 rural hospitals since the law passed in 2010. And another 283 rural clinics are on the ropes.
Debit: I know. I know. "If you like your doctor, you can keep your doctor."
Credit: Hey, Obamacare ain't all bad — at least I have more money in my wallet now thanks to that $2500 drop in my annual healthcare premiums. Oh wait …
Debit: Meanwhile, I see the law — which Obamacare advocates told us had to pass so everyone would have "affordable" health insurance — will reach only 65% of the CBO's original coverage projection for 2015. On second thought, that's probably a good thing.
Debit: More signs that the world financial system is breaking down: On Wednesday, there were plenty of utterly breathtaking moves in the currency markets, led by the euro surging more than 4% against the dollar within a couple of hours.
Debit: Yes, by Thursday morning the "strong" dollar recouped all of its losses — but the world's two biggest currencies shouldn't behave like the dubious fiat issued by two-bit banana republics. Something's amiss.
Debit: Then again, with negative interest rates on the scene now, that should be obvious. It's truly a Bizarro world we're living in when banks are punishing savers and rewarding borrowers. Unfortunately, no civil society can withstand that kind of monetary policy for long.
Debit: Speaking of negative numbers, Zillow is now forecasting that the number of homeowners with negative equity — read: stuck with an underwater mortgage — will not be decreasing any time soon. That's news you don't expect to hear in a healthy economy.
Credit: Ah, there I go again: Giving another one of my patented "doom and gloom" sermons that always seem to take more than a few folks out of their comfort zone. Surely, things aren't that bad. Maybe they're not.
Credit: After all, US sales of so-called "luxury" toilet paper outsold all other types for the first time in ten years; in fact, Americans — led by Mr. Stonie, no doubt — bought $1.4 billion worth of those extra-soft, really-thick, super-absorbent rolls last year. Yep. America's back, baby!
Credit: There; I know I feel better now. Cue the perma-bulls explaining why stocks are still woefully undervalued in five, four, three, two …
By the Numbers
You may want to think twice before inviting champion eater Matt Stonie to dinner. Here are some of his previous gastronomical feats:
6 Pounds of bacon he consumed in five minutes. (That's a world record.)
182 Slices of bacon it takes to make six pounds.
8 Minutes it took Stonie to gobble up a 14.5 pound birthday cake.
101 Number of traditional tacos Matt recently put away during an 8-minute span.
20.8 Pounds of pumpkin pie he devoured in 8 minutes.
10 Minutes it took Stonie to dispatch 24 gyros.
10.5 Pounds of frozen yogurt he swallowed in a 6-minute period.
Source: Major League Eating
The Question of the Week
Loading ...
Last Week's Poll Result
How long have you been with your current employer?
1 to 10 years (36%)
11 to 25 years (31%)
More than 25 years (12%)
I'm retired (8%)
Less than 1 year (6%)
I'm currently unemployed (6%)
Almost 500 people answered this week's survey question. Based upon the responses, more than two in five people have worked with their current employer for more than a decade. On the other hand, only 6% are currently working with a new company. Although this poll is far from scientific, the number of people who said they are unemployed does closely track the current U-3 unemployment rate.
Other Useless News

Here are the top — and bottom — five Canadian provinces and territories in terms of the average number of pages viewed per visit here at Len Penzo dot Com over the past 30 days:
1. Alberta (2.29 pages/visit)
2. British Columbia (2.20)
3. Newfoundland (2.15)
4. Ontario (2.13)
5. Saskatchewan (1.98)
9. Prince Edward Island (1.95)
10. Manitoba (1.89)
11. Yukon Territory (1.50)
12. Northwest Territories (1.33)
13. Nunavut (1.33)
Whether you happen to enjoy what you're reading (like those crazy Canucks in Alberta, eh) — or not (you hosers living on the frozen Nunavut tundra) — please don't forget to:
1. Click on that Like button in the sidebar to your right and become a fan of Len Penzo dot Com on Facebook!
2. Make sure you follow me on Twitter!
3. Subscribe via email too!
And last, but not least …
4. Consider becoming a Len Penzo dot Com Insider! Thank you.
Letters, I Get Letters
Every week I feature the most interesting question or comment — assuming I get one, that is. And folks who are lucky enough to have the only question in the mailbag get their letter highlighted here whether it's interesting or not! You can reach me at: Len@LenPenzo.com
After reading my article on why smart people aren't usually impressed by those who drive luxury cars, Anonymous left a comment to brag about the new $167,000 2015 BMW Alpina B6 Gran Coupe sitting in his driveway (thanks to his in-laws, who had to cosign his car loan). Here's an excerpt:
Cars tell people who you are! I wish I could afford a Bentley Flying Spur but it costs about $80,000 more.
You mean you wish your mother-in-law could afford the Bentley.
I'm Len Penzo and I approved this message.
Photo Credit: brendan-c