It's time to sit back, relax and enjoy a little joe…
Welcome to another rousing edition of Black Coffee, your off-beat weekly round-up of what's been going on in the world of money and personal finance. Here's what caught my attention over the past week…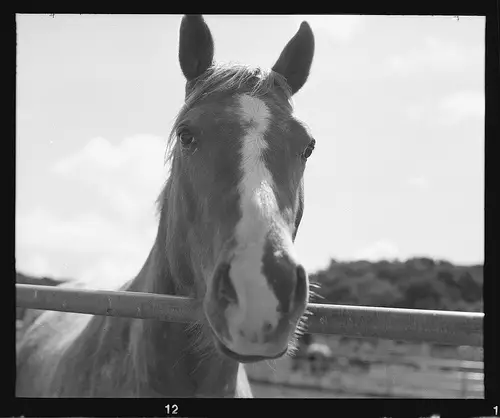 I am a big lover of horses. I've always been fascinated by them, and I think they are one of the most beautiful animals on the planet. When I retire I hope to own a horse or two of my own.
Yes, some guys long to own sports cars. I dream of owning a horse.
Blogs I've Been Following This Week
Wisebread – How Your Last Name Affects Your Spending Habits. Apparently there is this study out that says people with end-of-alphabet last names tend to be more impulsive with respect to their shopping habits. Oh brother. Even so, I'm seriously considering changing my family name to Benzo — just to be safe. In other news, the same group also concluded that, when given a choice, people born on Fridays tend to prefer fava beans to The Oprah Winfrey Show.
Bible Money Matters – How NOT to Save Money on Gasoline. Khaleef does a good job dispelling some old wives' tales regarding how to improve your gas mileage. That didn't stop one reader from suggesting a dubious idea of his own: jack up the rear of the car so you'll always be going downhill.
Out of Your Rut – How Frugality Becomes Counterproductive. This is quite simply the best article I have ever read on the shortcomings of frugality — and I've read a lot of them.
Millionaire Nurse Blog – 6 Money-Saving Wedding-Attending Tips! The first tip: "Don't go." Works for me, Dr. Dean.
Little House in the Valley – Can Debt Consolidation Lead to a Happy Ending? Heh. To be honest, I thought happy endings were usually limited to fairy tales and the massage industry.
And Here's Some Other Posts You Might Enjoy…
Credit Card Processing – How Near Field Communication Will Change The Payment Processing Industry
Personal Finance by the Book – 7 Alternatives to Cable TV
Fiscal Fizzle – Americans and Money: 3 Reasons We're In Trouble
Live Richly – A House of Cards, Part 2
Couple Money – Dealing with Irregular Household Chores
Small Biz Big Dreams – Watch the Fine Print When Paying Down Car Loans
Wealth Pilgrim – Landing a Great Job During A Recession Made Easy
Free From Broke – ING Direct Electric Orange Saves the Day — Sending Paper Checks
Money Crush – What's Your Spending Limit?
Doable Finance – The Secret to Financial Success Is Within You
The (Not-So) Way-Back Machine: Past Posts Of Mine You May Have Missed
From July 2010:
Your Big Fat Expensive Wedding: Stupid Is As Stupid Does – Obviously, the recent wedding of Kate Middleton and Prince William confirms what I suspected all along: Britain's royal family doesn't read my blog.
Credits and Debits
Debit: As the price of gas seemingly continues its relentless march to $5 per gallon and beyond, a South Carolina legislator introduced a bill this past week that would cap gas prices there at whatever the average wholesale price is on June 1.
Debit: Apparently the legislator, Sen. Dick Elliott (D-North Myrtle Beach), doesn't realize that mandated price caps on anything result in drastic shortages.
Debit: By the way, those long and insufferable gas lines of the 1970s were a direct result of federal price caps.
Debit: Elliot's bill would place any excess charges by retailers above the wholesale gas price into a trust fund. As for how that money would be spent, Elliot's bill would empower the South Carolina Legislature to decide the best way to use that confiscated money. Heh. (Insert your own obvious joke here.)
Debit: I assume they'd spend that money on government bureaucrats who will be responsible for keeping the ensuing gas lines manageable by regulating when and where we can buy our gas.
Debit: Or maybe they'll hire more government health care workers like the ones in New York who recently abandoned their attempt to regulate kids' games like tag, wiffle ball, Red Rover and kickball because they presented a "significant risk of injury." I know. But I've come to expect that kind of nonsense from New York legislators and government regulators now.
Credit: How did I ever survive playing over 10,000 games of lawn darts without a nanny-government regulator to keep me safe? (For those of you in the New York Health Department vigorously nodding your heads up and down in agreement, I was being sarcastic.)
Credit: Finally, the Associated Press reported that a robbery suspect escaped from a Buffalo police station this week by slipping out a back door while handcuffed to a chair. Authorities claimed the suspect was able to make an abnormally quick getaway because he had four extra legs.
The Question of the Week
Sorry, there are no polls available at the moment.
By the Numbers
If you think tag, wiffle ball, Red Rover and lawn darts are dangerous, check out the fatality rates of the top ten most dangerous occupations (deaths in 2007 per 100,000 workers):
112 Fishermen.
86 Lumberjacks.
71 Aircraft pilots.
46 Steel workers.
40 Farmers and ranchers.
29 Electrical workers.
29 Roofers.
28 Motor vehicle operators.
23 Trash collectors.
22 Policemen.
Other Useless News — Kodiak, Alaska

Looking at my blog statistics for the month I couldn't help but notice that I have a fan or two in Kodiak, Alaska. In fact, I had 17 visits this month from folk(s) in Kodiak who averaged over 5 minutes and almost three page views each time they stopped by. I'd like to thank everyone who takes a minute or two out of their day to read this little ol' blog — whether you come from Kodiak, Alaska or somewhere else!
By the way, if you happen to enjoy what you're reading — or not — please don't forget to:
1. Click on that "Like" button in the sidebar to your right and become a fan of Len Penzo dot Com on Facebook!
2. Make sure you follow me on Twitter!
And last, but not least…
3. Don't forget to subscribe to my RSS feed too! Thank you. 🙂
Letters, I Get Letters
Every week I feature the most interesting question or comment — assuming I get one, that is. And folks who are lucky enough to have the only question in the mailbag get their letter highlighted here whether it's interesting or not!
Unfortunately readers, this week there was only one letter in the mailbag. (Otherwise this email message would never have seen the light of day.)
Jessica wrote: "Hello Man, I don't know how to say it. I've tried for a long time to send you these photos, but I thought that you weren't interested to see me."
How in the world do you… oh, never mind. That was very, um, thoughtful — but I'm a happily married man. Hey, here's one of my photos for you…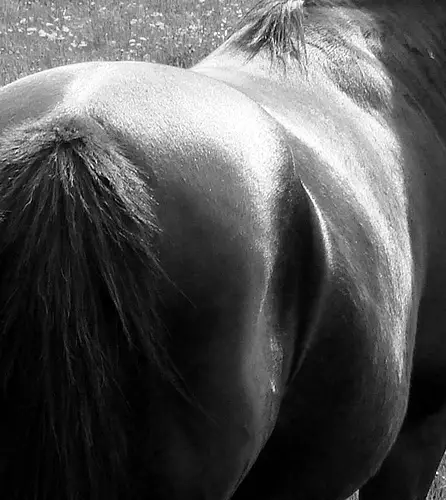 Carnival News
This week I had articles featured at the following carnivals:
The Carnival of Personal Finance @ Upside of Money

I'm Len Penzo and I approved this message.
Photo Credit (horse's frontside): M I T C H ÆŽ L L
Photo Credit (horse's backside): jenny downing