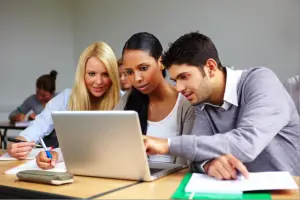 So you're thinking about getting your master's degree in education, but you're not sure where to start. Well, there are so many things to consider: For example, should your college experience be on campus or online? Should you stay in your current concentration or should you try something new? Will you complete a program with a thesis or a research component?
Frankly, when researching masters of education programs with a multitude of options, it's common to feel a bit overwhelmed. The good news is it's a road that many students have already taken. In fact, according to the National Center for Education and Statistics, more master's degrees are awarded in education than in any other field aside from business.
With that in mind, here are seven questions everyone should ask before choosing a masters of education program:
How many credit hours will it take?
Master's programs typically require anywhere from 36-60 credit hours. Because many programs bill students by credit, knowing this number in advance will help you budget efficiently and create a timetable for completion. Of course, some students prefer longer timeframes to accommodate job and family obligations. Thankfully, most higher education programs have options for part time students with such needs.
What is the school's underlying mission?
Because you'll most likely be spending at least three semesters completing your degree, it's important to ensure the school's mission aligns with your goals and needs. For instance, if you're interested in independent research, focus your search on applicable research institutions. On the other hand, if you'd rather be part of a school where, say, the athletic achievement is lauded, your list will probably look quite different.
What resources are in place to help me succeed?
At a minimum, your chosen program should offer you an advisor to plan out your class schedule, as well as access to a well-stocked library. Some institutions have exceptional perks to attract top talent. Some schools will even take that a step further: For example, Concordia University – Portland offers a $2,000 peer-mentor scholarship, an Apple iPad, and free textbooks for all new students. They also offer online access to their library and databases.
Is there an emphasis on technology?
It's no longer adequate to show a PowerPoint presentation to your class and have that be the extent of your technology usage in the classroom. Will you be exposed to the practical uses of technology in your masters of education program? Will you learn from educators who leverage digital tools to accomplish daily objectives? Even if you end up working in a district without extensive access to newer technologies, your future school might have a Bring Your Own Device (BYOD) policy. It's a policy that's more common than you might think: Edudemic reports that one in nine teachers have a BYOD policy in place.
What kind of research will I be expected to complete?
In many programs, you will not be required to perform original research and write a thesis. Instead, upon completion of your final semester, you may have to present what is commonly referred to as a "capstone project" or an "action research project" that prepares you for any number of situations or issues you may encounter professionally.
What areas of concentration are available?
Not every school offers all concentrations; smaller schools may offer a limited selection of concentrations. When considering which one you'll choose, take your path's job outlook into consideration. For example, if you're an elementary school teacher, it's harder to transition into teaching high school history than in a higher-need area like math or science. You might also consider a career in special education, as jobs are available at preschools, elementary schools, middle schools, and high schools. It is also possible to find employment outside of the school system in this industry. If you choose to go in this direction, you'll need a Master of Science in Education in Special Education, since specific training is necessary to work with special needs children. It's expected that the industry will grow 6% by 2022, so there could be significant job opportunities if you choose special education as your concentration.
How long do courses last and how many am I expected to take at a time?
Some schools offer traditional semester-based calendars while others operate in five- or eight-week sessions. Each model has its benefits; so you'll need to decide which is the most accommodating to your life and schedule.
In Conclusion …
There is an abundance of masters of education programs. Although choosing the right one for you may seem daunting, it's mainly a matter of preference.
Once you choose between an online or an on-campus program and narrow down your concentration, you'll discover that the list of potential options will become surprisingly manageable. Only then will you be able to pick the best fit for your lifestyle, goals, and expectations.
Photo Credit: stock photo