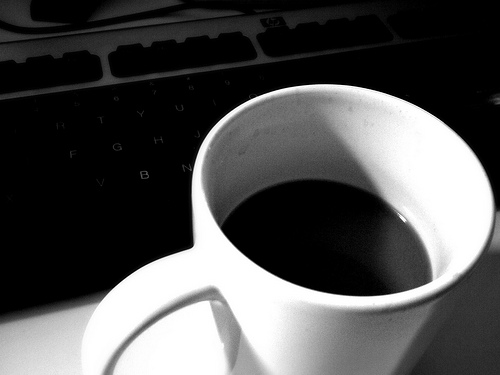 It's time to sit back, relax and enjoy a little joe …
In case you're wondering, there are less than 18 shopping days left until Christmas. I'm not trying to rush you. I'm just sayin'.
Okay, off we go …
Credits and Debits
Debit: At the close of November, total public debt in the US passed the $18 trillion mark. That's an increase of 70% since January 2009 when the National Debt was "just" $10.6 trillion. Add unfunded liabilities and its closer to $100 trillion.
Debit: If you think that money will ever be paid back, you're fooling yourself. The math proves that it can never be paid back without destroying the dollar in the process. In fact, so much of our future earnings have already been spent, that the US is essentially bankrupt.
Debit: The US is in so deep now that $1 trillion in new debt has been issued over the past eight weeks just to pay off maturing short-term Treasury securities and cover additional federal spending. As CNS observed, an increasingly desperate Treasury has now "taken out what amounts to an adjustable-rate mortgage on (the) national debt."
Credit: The US isn't the only big debtor; Europe is too. The top dog at the European Central Bank, Mario Draghi, was asked what sort of purchases his fiat-money minions were considering for quantitative easing (QE). His reply: "We discussed all assets but gold." Heh. Right.
Credit: You know the central bankers are also getting increasingly desperate when they publicly acknowledge their arch nemesis, gold — if only to deny that they have any interest in the yellow metal. In reality, they collectively hoard 30,000 tons of it.
Debit: Over the years, government economic statistics have become so … let's say, "nuanced" … that they should usually be taken with a generous serving of salt. The data we're fed today obfuscate facts — just like central bankers do — but I'm sure most of you already know that.
Credit: For example, many people are celebrating the recently-released November US jobs report showing an increase of 321,000 new positions; that's the biggest job surge in three years. On the other hand, the number of full-time jobs actually fell by 150,000. See what I mean?
Debit: Want more proof? Despite the large number of new jobs reported by the Bureau of Labor Statistics, there were only 4000 more employed American households last month. Meanwhile, the labor participation rate remained at a 35-year low.
Debit: For what it's worth, the number of new jobs created since 2009 is, worst case, only equivalent to the number of illegal aliens who were unlawfully granted amnesty last month; at best, the number of jobs created since 2009 is just double. I know.
Debit: On a related note … In the People's Socialist Paradise of California, the psychos have been running the asylum for more than two decades now. Case in point: That current gas pump windfall will be erased on January 1 by state-mandated cap-and-trade taxes designed to thwart (snicker) global warming — er, climate change. Forward!
Debit: Of course, when gasoline prices rise again, those cap and trade taxes will still remain. I just hope this magical utopia that the Golden State's pie-in-the-sky politicians are aiming to create through their ridiculous taxes and business-stifling regulations comes to fruition some day — especially since I'm paying for it.
By the Numbers
It wasn't always this way. Tyrannical government regulations and onerous taxes are making my native state of California more and more unaffordable for almost everyone:
6 California's rank in 2009 among states with the heaviest average state and local tax burden.
4 The Golden State's rank in 2013 among states with the heaviest average state and local tax burden.
4 California's rank (per capita) among all states for government spending.
6 California's 2014 ranking in terms of states with the highest electricity costs.
2 California's rank among states with the most expensive gasoline prices. (Hawaii is first.)
48 California's business climate rank for 2015. (Only New Jersey and New York are worse.)
5 Number of businesses that leave California for another state each week.
10,000,000 California's population growth between 1985 and 2005.
7,000,000 Number of new Medicare recipients in California between 1985 and 2005.
150,000 Number of additional tax filers in California between 1985 and 2005.
12 Percentage of Americans who currently live in California.
33 Percentage of all US welfare recipients who live in California.
Sources: Hot Air; USA Today; Tax Foundation; Utility Dive
The Question of the Week
Loading ...
Last Week's Poll Results
How much do you plan to spend on holiday gifts this year?
$1000 or more (28%)
$100 – $499 (26%)
$500 – $999 (25%)
Less than $100 (21%)
More than 400 Len Penzo dot Com readers weighed in for this week's survey and the results were well-distributed. Slightly more than half of you will spend $500 or more on holiday gift-giving this year. That being said, one in five will get through the holidays on less than $100. I think that's great! As for my household … by the time everything is tallied up, I believe we'll be over $1000 this year. Hey, don't blame me for the inflated gift budget — I'll be getting my usual endowment of socks and underwear.
Other Useless News
Programming note: Unlike most blogs, I'm always open for the weekend here at Len Penzo dot Com. There's a fresh new article waiting for you every Saturday afternoon. At least there should be. If not, somebody call 9-1-1.
Hey! If you happen to enjoy what you're reading — or not — please don't forget to:
1. Click on that Like button in the sidebar to your right and become a fan of Len Penzo dot Com on Facebook!
2. Make sure you follow me on Twitter!
3. Subscribe via email too!
And last, but not least …
4. Consider becoming a Len Penzo dot Com Insider! Thank you.
Letters, I Get Letters
Every week I feature the most interesting question or comment — assuming I get one, that is. And folks who are lucky enough to have the only question in the mailbag get their letter highlighted here whether it's interesting or not! You can reach out to me at: Len@LenPenzo.com
After reading my post on the folly of buying US Savings bonds, Paul N piled on by adding this:
What is the point of putting money away for (many) years with a 1% return?
As Jim Grant says: Those low rates don't provide risk-free returns — they only offer return-free risk.

I'm Len Penzo and I approved this message.
Photo Credit: brendan-c