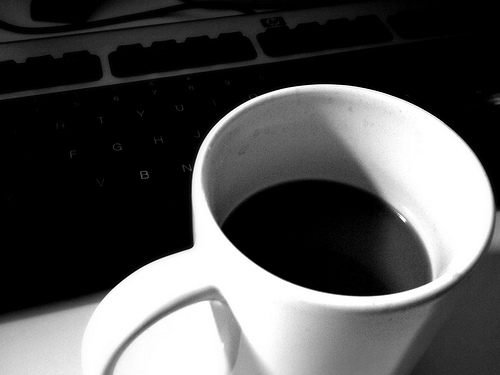 It's time to sit back, relax and enjoy a little joe …
Wow. Can you believe it's November already? Christmas will be here before we know it.
I once read that the passage of time is like a roll of toilet paper — the closer you get to the end, the faster it goes. I think that's true.
In other news, some of you may have noticed that I've been a bit detached from the blog this week. That's because our family dog, Major, passed away on Wednesday. He was 11. Needless to say, it's been a tough week here in the Penzo household.
Okay, enough babbling. On to the credits and debits …
Credits and Debits
Debit: There are 893,851 active professional physicians in the United States — and 214,000 of them have chosen to not be a part of Obamacare. So far. That means, despite promises to the contrary, it's getting harder to keep your doctor — no matter how much you like him. Or her.
Debit: Meanwhile, USA Today reports that the housing market is "waking up to a hangover." It doesn't help that home mortgage applications in the US have fallen to their lowest level in eight months while the number of homes now going onto the market is increasing markedly.
Credit: The pain hasn't been limited to Main Street. Earlier this month, Wall Street suffered its worst slump in more than two years as it anticipated the end of the Fed's third market-pumping quantitative easing program; thankfully, QE finally concluded this week.
Credit: You'd think that, with the headwinds facing the housing market, the high cost of Obamacare, and the end of QE, ailing stocks would continue tanking — but the market made a miraculous comeback instead, finishing off a wild week with record gains and the Dow and S&P 500 at all-time highs. Yes, again.
Debit: No, the markets didn't rise on the strength of the underlying world and domestic economies. The markets rose on Friday only because they found a new financial drug dealer to replace the Fed and keep the easy money flowing: the Bank of Japan.
Debit: The Wall Street Journal notes that the BoJ is tripling the pace of its stock market and property fund buys, thereby increasing its asset purchases from $550 billion to $730 billion per year. Hey, folks — keeping the illusion of a healthy economy alive isn't cheap.
Debit: As Zero Hedge points out, the BoJ will be buying most, if not all, of the new bonds that the Japanese government issues now. That's on top of the additional stock purchases — even though the BoJ already owns 2% of the entire Nikkei. Talk about a market fantasy land.
Credit: Speaking of the Nikkei, after the BoJ announced it would be ramping up the dosage of its financial stimulus, Japan's addicted stock market rose 1000 points in seven hours; it finished at a seven-year high. No — there's no addiction here.
Debit: Unfortunately, as this chart from ZeroHedge points out, stock market performance — whether it is the Nikkei, the Dow, or the S&P 500 — no longer has anything to do with fundamentals and everything to do with central bank policy: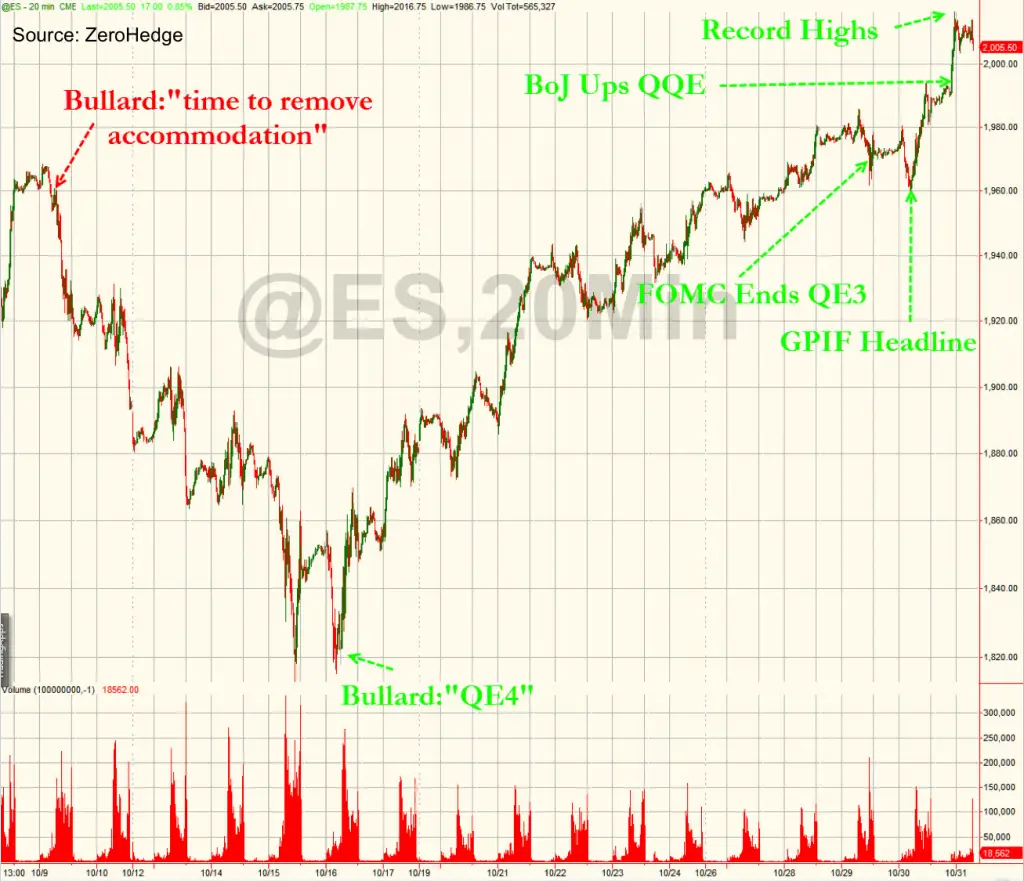 Debit: The markets are dead. What we're witnessing are the impacts of a currency war in its final stages. The world's central banks cannot operate in a deflationary environment, which is why they're artificially propping up prices — and debasing their currencies in the process.
Debit: Of course, the central banks have been forced into this war because world debt is now more than $223 trillion and the ever-increasing cost of servicing that debt has the world economy in a stranglehold. We are living in historic times — although most people have no idea. They will.
Debit: After decades of reckless deficit spending, the math is finally catching up to us. And here's the rub: Our debt-based monetary system ensures that the only way out of this mess is via hyperinflation — or a preemptive reset — but not before the current bout of deflation that has enveloped the world markets reaches a crisis point. So hedge accordingly.
Credit: Speaking of financial hedges, in July a prospector found a gold nugget in Northern California weighing — get this — six pounds! Yep. Although the spot market price for that much gold is currently $100,000, he sold the rock for $400,000.
Credit: And if you think that gold hunter was fortunate, consider this: A Chicago woman recently received two Illinois lottery scratch-off tickets from her Dad for her 19th birthday — and one of them revealed a $4 million prize. I wonder how her dad plans on topping that next year.
By the Numbers
With Halloween officially behind us, let's take a look at the financial impacts, as well as a few other fast facts about one of the biggest holidays of the year:
148 million Estimated number of Americans who celebrated Halloween this year.
$840 million Amount spent this year on Halloween decorations.
$66.28 Amount the average American spent on Halloween in 2014.
40 Percentage of Americans who dressed up this year.
12 Percentage of Americans who dressed up their pets.
$23.37 The average expenditure for a Halloween costume.
$20.29 The average amount spent on Halloween candy this year.
15,000 Number of Halloween "pop-up" stores in 2014.
34 Percentage of Americans who believe in ghosts.
Source: Local10
The Question of the Week
Sorry, there are no polls available at the moment.
Last Week's Poll Results
Lawyer jokes: well-deserved or unfair?
Well deserved. (78%)
I'm not sure. (19%)
Unfair. (3%)
More than 300 Len Penzo dot Com readers weighed in for this week's survey — and as you might expect, four out of five respondents say those mean-spirited lawyer jokes are well deserved. I agree. Just 3% of those polled believe the jokes are totally unfair. (I'm assuming most of them are probably lawyers.)
Other Useless News
Programming note: Unlike most blogs, I'm always open for the weekend here at Len Penzo dot Com. There's a fresh new article waiting for you every Saturday afternoon. At least there should be. If not, somebody call 9-1-1.
Hey! If you happen to enjoy what you're reading — or not — please don't forget to:
1. Click on that Like button in the sidebar to your right and become a fan of Len Penzo dot Com on Facebook!
2. Make sure you follow me on Twitter!
And last, but not least…
3. Don't forget to subscribe via email too! Thank you.
Top 25 Referrers for October
It's the first weekend of the month, which means it's time once again to thank the top 25 referring websites to Len Penzo dot Com.
1. Creative Home Ideas
2. Business Insider
3. Kiplinger
4. Rockstar Finance
5. Facebook
6. MSN
7. The Globe and Mail
8. LifeHacker
9. Budgets Are Sexy
10. Deseret News
11. Art of Manliness
12. Wisebread
13. Modest Money
14. Ready for Zero
15. Forum: Mr. Money Mustache
16. Save Outside the Box
17. Money Crashers
18. The Apartment Prepper
19. Getting a Rich Life
20. Coin Thrill
21. Stacking Benjamins
22. Escaping Dodge
23. Money Talks News
24. Don't Quit Your Day Job
25. Frugal Fringe
Thank you to everyone who refers their readers to this little ol' blog! It's much appreciated.
(The Best of) Letters, I Get Letters
Every week I feature the most interesting question or comment — assuming I get one, that is. And folks who are lucky enough to have the only question in the mailbag get their letter highlighted here whether it's interesting or not! You can reach out to me at: Len@LenPenzo.com
For some reason, way back in 2011, Louie felt an overwhelming need to deposit this question in the Len Penzo dot Com mailbox:
Hey Len! How many calories are there in a booger?
Heh. You don't really expect me to bite on that one, do you?
I'm Len Penzo and I approved this message.
Photo Credit: brendan-c