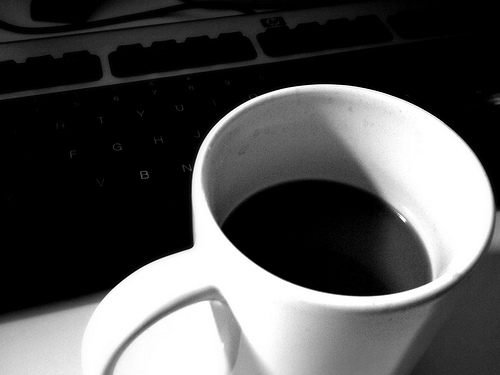 It's time to sit back, relax and enjoy a little joe …
Welcome to another rousing edition of Black Coffee, your off-beat weekly round-up of what's been going on in the world of money and personal finance.
Let's get right to it …
Credits and Debits
Debit: Stocks took it on the chin this week. As a result, the Dow is negative for the year, and the Russell 2000 is now at a 52-week low. As for the S&P, it was down 3% for the week.
Debit: Meanwhile, the Nasdaq suffered its worst week since May 2012. You know things are getting serious when a stock market darling like electric car company, Tesla, loses more than 9% for the week — including a big 7.8% decline on Friday. No, really.
Debit: The damage wasn't limited to US stocks; fear of a global economic contraction had markets around the world struggling this week, including Germany and France, which saw their bourses fall 2.4% and 1.6%, respectively.
Credit: It's no coincidence that stocks are dropping as the Fed wraps up its market-backstopping quantitative easing (QE) program. That means the stock market bulls — who until recently considered all news as good news — can finally test their convictions.
Credit: This week Zero Hedge highlighted the cost of living in 1938; back then the average annual US income was "only" $1731. Of course, that's when a dollar was still worth something.
Credit: So, how valuable was a dollar way back in 1938? Well, take the annual tuition at Harvard, for example: it was $420 — or just 24% of average annual income.
Debit: Today, the typical US household income is approximately $51,000 per year. As for Harvard tuition, it's $58,600 per year — that's 112% of household income. I know.
Credit: All else being equal, at 24% of today's household income, Harvard tuition should run the typical family about $46,000 less per year. Don't tell that to the faculty and administrators though.
Debit: Then again, the negative financial impact of exploding university tuitions on the typical family is even more onerous considering that in 1938 most American households had one breadwinner; today, it's usually two.
Debit: The reason for skyrocketing tuition costs since 1978 is no mystery: It's due to federal spending on higher education, including "low-cost" student loans and the expansion of Pell Grants in 1978 to middle-class families. Yes, yet another example of government meddling run amok.
Debit: You'd think the high cost of a college education would deter a lot of folks from getting one — especially considering the large number of university grads who end up earning the minimum wage — but it doesn't. At least not yet.
Debit: In fact, there are currently 40 million Americans who have student loan debt on the books. Incredible. I hope all of those grads have a science, technology, engineering, math, medical or law degree — otherwise, they may never see a return on their, um, "investment."
Debit: Heck, today many Americans are burdened with so much student loan debt that they're delaying marriage, postponing a home purchase, and — worst of all — refusing to set aside any money for their retirement.
Debit: By the way, I'm sure those unfortunate Ivy League grads who paid $200,000 for a degree in underwater basket weaving will be interested to know that Walmart just stopped providing healthcare benefits to employees who work less than 30 hours per week. Yep. Obamacare strikes again.
Credit: In the old days, people with a college degree had much better odds of earning enough money to buy a Ferrari. Not any more.
Credit: Speaking of Ferrari, the company debuted their latest model this week in Beverly Hills. The price tag: $2.5 million. Hey … If you think that's expensive, just imagine how much more those super-cars would cost if the government started offering loans for them.
By the Numbers
More facts on the incredibly high costs of a college education, and where those government subsidies are being spent:
$8,900 Average annual resident tuition cost for a four-year college in the US in 2013.
$13,400 Average annual college student expenditures in 2013 for room, board, books, transportation, and other expenses.
147% Increase in the typical family income since 1982.
115% Increase in the consumer price index since 1985.
500% Increase in the cost of a college education since 1985.
15% Increase in college student enrollment between 1993 and 2007.
40% Growth in number of college administrators per 100 students between 1993 and 2007.
66% Increase on administration spending per student between 1993 and 2007.
Source: Forbes; Lumina Foundation

The Question of the Week
Sorry, there are no polls available at the moment.
Last Week's Poll Result
What was the hourly pay rate of your first 'real' job?
$3 – $4.99 (30%)
$1 – $2.99 (25%)
$5 – $7.99 (24%)
$10 or more (8%)
$1 or less (7%)
$8.99 – $9.99 (5%)
More than 300 people answered last week's question, and it turns out that most of those who responded collected somewhere between $3 and $4.99 per hour for their first "real" job. Aside from the jobs I had mowing my neighbors' lawns and taking care of their pets when they were away on vacation, I got my first "real" job as a grocery store box boy in 1981 making the princely sum of $3.64 per hour. Hey, don't laugh — that was actually worth something back then!
Other Useless News
Here are the top — and bottom — five states in terms of the average number of pages viewed per visit here at Len Penzo dot Com over the past 30 days:
1. Wyoming (2.57 pages/visit)
2. District of Columbia (2.18)
3. Ohio (2.06)
4. Utah (2.04)
5. Tennessee (1.98)
46. South Dakota (1.57)
47. New Hampshire (1.56)
48. Rhode Island (1.48)
49. Alaska (1.47)
50. Oregon (1.09)
Whether you happen to enjoy what you're reading (like all of my friends in Wyoming) — or not (ahem, Oregon) — please don't forget to:
1. Click on that Like button in the sidebar to your right and become a fan of Len Penzo dot Com on Facebook!
2. Make sure you follow me on Twitter!
And last, but not least…
3. Don't forget to subscribe via email too! Thank you.
Letters, I Get Letters
Every week I feature the most interesting question or comment — assuming I get one, that is. And folks who are lucky enough to have the only question in the mailbag get their letter highlighted here whether it's interesting or not! You can reach out to me at: Len@LenPenzo.com
Lauren left this comment after reading my article on the parable of the fisherman and the investment banker:
There's a word that seems rather lacking in today's world: "ENOUGH."
Then you need to come to my house, Lauren. I'm always shouting that to my teenage kids.
I'm Len Penzo and I approved this message.
Photo Credit: brendan-c