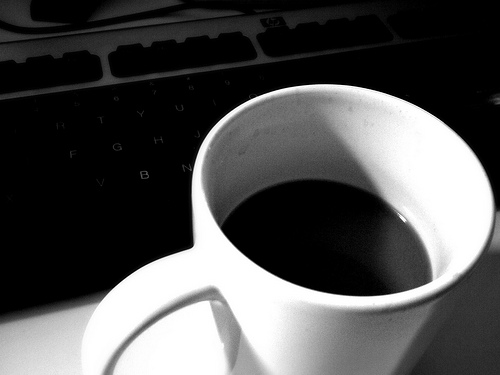 It's time to sit back, relax and enjoy a little joe …
Welcome to another rousing edition of Black Coffee, your off-beat weekly round-up of what's been going on in the world of money and personal finance.
And away we go …
Credits and Debits
Credit: I know it's old news, but I just heard that former Fed Chairman Ben Bernanke, after refinancing in September 2011, still owed $672,000 on his 2100 square foot, 3-bedroom townhome near the Capitol. He paid $839,000 for the townhome in 2004.
Debit: I also learned that Mr. Bernanke's son will most likely have $400,000 in student loan debt after graduating from medical school. Wow.
Credit: You'd think that the former Fed Chairman would try to retire his mortgage debt as quickly as possible if he truly believed the US dollar was an effective store of monetary value. I refuse to pay off my mortgage early because I think the US dollar is anything but.
Credit: In other news, a recent survey by the Physicians Foundation reveals that 46% of doctors give Obamacare a 'D' or 'F.' I see grade inflation is alive and well in the medical profession.
Credit: I wonder if that's one reason why Organizing for Action is now having a fire sale on Obama merchandise. The gear is now 40% off. I know.
Debit: On a related note, last week a Walmart shopper in Michigan decided to take a "five-finger" discount on $600 worth of merchandise. The woman then used one of the store's motorized wheelchairs as her getaway car. Cops caught her — two miles from the scene of the crime.
Credit: Meanwhile, the stock market continues its relentless ascent to new heights. With a world awash in excess liquidity provided by the world's central banks, both the Dow and S&P 500 finished at new highs this week. This market is so crazy, even the pigs are making money.
Debit: Heck, it's almost as if the stock market is oblivious to the fact that Caterpillar, one of the biggest bellwethers for the world economy, is in the midst of 21 consecutive months of declining worldwide sales. That's longer than the 19 month decline it endured after the last market crash in 2008.
Debit: Let's face it, the stock market bulls have got to be wearing their rose-colored glasses if they believe the market is still a good buy, despite an ailing economy that has caused more than 46 million Americans to become dependent on food stamps.
Debit: How can the stock market bulls — let alone anyone else — be optimistic about the future of America when 70% of US households receive more from the government than they pay in? If you are, I have a perpetual motion machine I'd love to sell you.
Credit: By the way, the stock market may be at an all-time high, but the Telegraph reports that super-wealthy folks are suddenly buying up 400-oz gold bars wherever they can find them. Say … you don't think those silly billionaires are afraid that … Nahhhh.
Credit: Speaking of gold, here's a nugget from Zero Hedge: "Retail trade employment growth since the start of the year is notably slower for 'minimum-wage-hiking' states than 'non-minimum-wage-hiking' states." Heh. Imagine that.
By the Numbers
As we say goodbye to summer, here are a few fun weather facts to amaze your family with at dinner tonight:
136 The world's highest recorded temperature (deg. F). (Al Aziziyah, Libya; September 13, 1922. Hopefully, it was a dry heat.)
134 Highest recorded temp (deg. F) in the United States. (Death Valley, California on July 10, 1913)
59 Highest temperature (deg. F) ever recorded in Antarctica.
71.9 Inches of rain that fell in Foc-Foc, Reunion, on January 8, 1966. (That is the record for a single 24-hour period.)
301 Speed, in miles per hour, of the biggest wind gust ever recorded. (Oklahoma City; May 3, 1999)
2.25 Weight, in pounds, of the heaviest recorded hail stone. (Bangladesh; April 14, 1986)
Source: Science Kidz

The Question of the Week
Loading ...
Last Week's Poll Result
How much money do you think you'll need to retire comfortably?
More than $1,000,000 (57%)
$500,001 – $1,000,000 (28%)
$250,001 – $500,000 (8%)
$100,000 or less (5%)
$100,001 – $250,000 (2%)
More than 300 people answered this week's survey question — and more than half the respondents say they need more than $1 million to retire comfortably. I just wonder how many of those folks who answered are actually going to get there.
Other Useless News

Here are the top — and bottom — five Canadian provinces and territories in terms of the average number of pages viewed per visit here at Len Penzo dot Com over the past 30 days:
1. Yukon Territory (1.80 pages/visit)
2. Saskatchewan (1.61)
3. Manitoba (1.58)
4. Nova Scotia (1.56)
5. Quebec (1.53)
9. New Brunswick (1.21)
10. Newfoundland (1.19)
11. Prince Edward Island (1.08)
12. Northwest Territories (1.00)
13. Nunavut (1.00)
Whether you happen to enjoy what you're reading (like those crazy canucks in the Yukon, eh) — or not (you hosers living on the frozen Nunavut tundra) — please don't forget to:
1. Click on that Like button in the sidebar to your right and become a fan of Len Penzo dot Com on Facebook!
2. Make sure you follow me on Twitter! And last, but not least…
3. Don't forget to subscribe via email too! Thank you.
Letters, I Get Letters
Every week I feature the most interesting question or comment — assuming I get one, that is. And folks who are lucky enough to have the only question in the mailbag get their letter highlighted here whether it's interesting or not! You can reach me at: Len@LenPenzo.com
After reading my post highlighting one way to reduce your grocery bill by thousands of dollars, Ray shared this:
I enjoy eating at home since I have the uncanny knack of finding the worst meal at restaurants.
The Honeybee has a similar problem: Unfortunately for me, she has an uncanny knack of always finding the most expensive meal at restaurants.

I'm Len Penzo and I approved this message.
Photo Credit: brendan-c