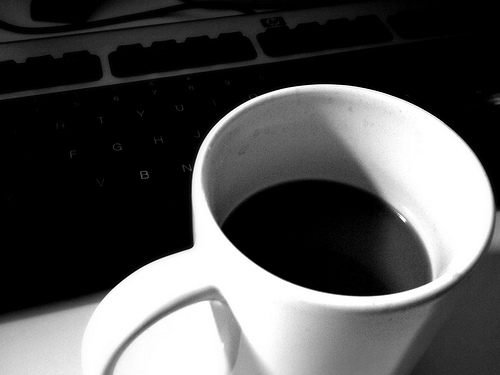 It's time to sit back, relax and enjoy a little joe …
Welcome to another rousing edition of Black Coffee, your off-beat weekly round-up of what's been going on in the world of money and personal finance.
Let's get right to it this week …
Credits and Debits
Credit: Wanna getaway — in style? A first class seat on Singapore Airlines runs $13,325 for a round trip ticket between Los Angeles and Singapore. Wow. No wonder a growing number of airlines are phasing out first class seats from their planes.
Debit: Speaking of high prices, the next time somebody tells you there's no price inflation, point them towards a grocery store. Last week, US ground beef prices hit an all-time high. This week, the dairy section was affected. That's because butter futures reached a record $2.55 per pound.
Debit: More inflation news; this time from Forbes: "A new analysis from PricewaterhouseCoopers projects that average premiums for (Obamacare) policies will increase 7.5% in 2015. In nearly one-third of the 29 states that PwC investigated, premiums will rise by double digits." I know.
Credit: Looking for more evidence of inflation? Pull up a chart of the S&P 500; the stock market index made another all-time high this week after topping 2000 for the first time ever; less than three years ago it was 1100. Apparently, the economy is really booming. Somewhere.
Debit: Unfortunately, as Goldsqueeze points out, there is strong evidence suggesting that five years of unprecedented money printing by the Fed has completely decoupled the S&P 500's performance from economic activity. Take a look at this chart, which uses a green circle to indicate the start of the Fed's quantitative easing (QE) programs, and see if you don't agree: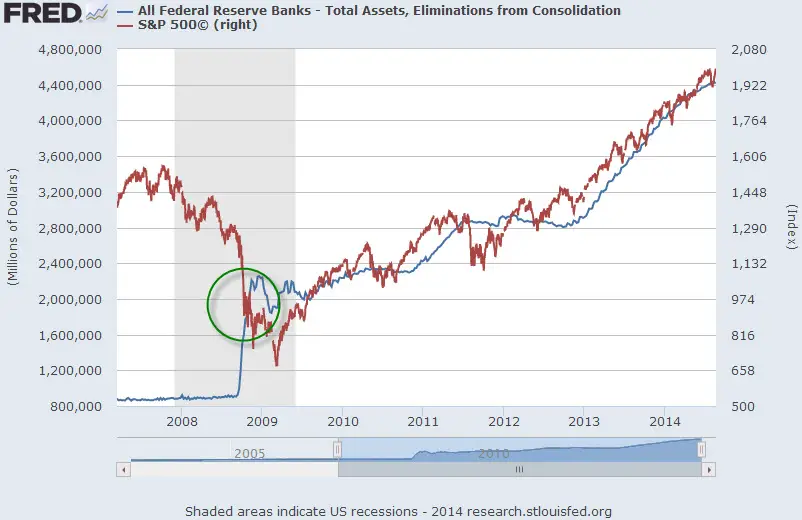 Credit: Correlation does not imply causation, but the graph arguably bolsters claims that stocks in general may be unable to maintain their upward trajectory as the Fed finishes winding down its latest QE program in October.
Debit: The rising stock market is in direct contrast to bond market signals. Already-low long-term US yields have dropped almost 25% this year alone — which indicate an economy in severe distress. And it's not just US bonds; German short-term rates are so low they're now negative.
Credit: One thing is certain: The stock and bond markets can't both be right — one of them is misreading the state of the economy. The answer depends on whether or not all of the massive currency printing continues to make things better — or worse.
Debit: Interest is the rental price of cash. Today, the world's currencies are so abundant — thanks to central bank printing presses stuck on hyper-drive during the last five years — that their rental price is dirt cheap. As such, savers will continue receiving pitiful interest rates.
Debit: The Fed printing press is why former Fed Chairman Alan Greenspan once assured Americans that, "The United States can pay any debt it has because we can always print money." That's comforting. Or not.
Credit: Of course, that dubious philosophy was also espoused by the central bank of Zimbabwe at turn of the 21st century. In 2009, they eventually saw the folly of that position — but not before a loaf of bread there reached 1.6 trillion Zimbabwe dollars.
Debit: The quest to turnaround our failing financial system has become so desperate, the highly influential Council on Foreign Relations — yes, the one led by former US Treasury Secretary Robert Rubin — is now urging central banks to transfer cash directly to the people. Hyperinflation, here we come.
Debit: So why propose such a scheme? The truth is, the bankers understand that there are only two ways over-extended nations can get out from under the massive debt overhang that's acting as a drag on the world economy: default or inflate the debt away.
Debit: Unfortunately, while inflating the debt away buys time, both roads lead to currency destruction. Sadly, it won't be too long before everyone learns that there's no such thing as a free lunch. The piper is finally knocking on our door — and he ain't leaving until he's paid.
The Question of the Week
 Loading ...
Last Week's Poll Results
Have you ever been the victim of a burglary?
Yes (57%)
No (45%)
I'm not sure. (8%)
More than 200 people responded to last week's question and, unfortunately, more than half of them have been theft victims at one time or another. At first, I thought that seemed kind of high; but then I did a little checking and learned that there are 2 million reported home burglaries in the US every year. So maybe that number isn't as high as I thought.
By the Numbers
On the topic of security:
13 Number of seconds between home burglaries in the US.
33 Percentage of home burglaries that also result in assaults.
2 Number of cars stolen in the US every minute.
30 Percent of all home burglaries where access is gained via an open window or unlocked door.
13 Percentage of all burglaries that are eventually solved by the police.
Sources: Safeguard the World
Other Useless News
Hey, no matter how you got here, please be sure to:
1. Click that Like button in the sidebar to your right and become a fan of Len Penzo dot Com on Facebook!
2. Make sure you follow me on Twitter!
And last, but not least…
3. Don't forget to subscribe via email too. Thank you!
Letters, I Get Letters
Every week I feature the most interesting question or comment — assuming I get one, that is. And folks who are lucky enough to have the only question in the mailbag get their letter highlighted here whether it's interesting or not! You can reach out to me at: Len@LenPenzo.com
After reading my recent article on the marriage conundrum of joint versus separate accounts, DrewShock passed along his solution:
I kept it real simple: I'm still single.
You know what they say, Drew: Before marriage, a man yearns for the woman he loves. After marriage, the "y" becomes silent.

I'm Len Penzo and I approved this message.
Photo Credit: brendan-c