Bathroom design and remodeling is trending on the Internet these days. Believe it or not, the bathroom is actually a part of the home that says more about your lifestyle and personality than what a living room decor or new car can tell people. With that in mind, here are five bathroom designs that are not only elegant, but also very inexpensive to implement.
The Vintage Glamor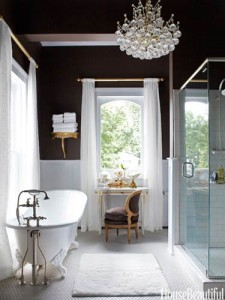 This bathroom has a cozy and elegant design. The floor is tiled with small box designs and the ceiling has a thick and dark wooden finish. On one side you have the standing shower with a glass shower screen and the other side is a vintage style bathtub. The two windows make the bathroom appear more spacious and closer to nature.
Minimalistic Sea Theme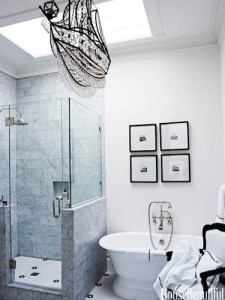 The most stunning thing about this bathroom is the ship chandelier that actually defines the theme. The tub provides a classy look, and sits next to the standing shower that is separated by a glass shower screen and a fancy stone half wall. The other end of the bathroom features a white washbasin with a base whose color resembles the wall of standing shower. The toilet is also white and gives a classy look.
Modern Classy Bathroom
This bathroom has a sleek modern look. It comes with two washbasins and a large view mirror. Vertical lights above the wash basin illuminate this bathroom. The bathtub, toilet and standing shower are separated from the washbasins by a glass screen and glass door. Although this bathroom still features only a couple plants for decoration, it could become the perfect naturist's bath if it can be implemented in a location where the tub window offers a green natural view.
Mother Nature Theme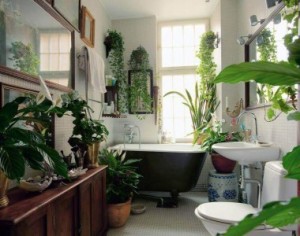 This extreme nature theme may be too much for some to handle, but it probably attracts many nature enthusiasts too! This bathroom has a classy look with simple, affordable, accessories. The beautiful horizontal lights on top of wash basin mirror illuminate the bathroom very well. There is also a candle stand near the bathtub for further effect. However, the main feature of this design is the addition of several small and large flower pots. The bathroom also has a big window to maximize the natural light inside; it also has lots of mirrors to make it appear spacious and greener by reflections.
Live Green Theme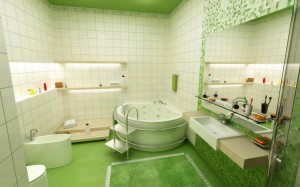 This green bathroom theme is ideal for people who want a modern and beautiful bathroom, but don't have much space to spare. This bathroom has a green and white theme, right down to the matching rug and towel. It has standard white basin, a toilet and a beautiful whirlpool tub. A huge mirror makes the bathroom look even more spacious. The bathroom also has a lot of shelf space. The shelf is illuminated with a $10 LED strip that gives the bathroom a stylish look.
These are just a few ideas that you can follow to make any bathroom look modern, elegant and classy. Best of all, you can implement most of these ideas at a very reasonable cost by buying accessories that will fit in almost anybody's price range.
Photo Credits (from top): Bjorn Wallander; Francesco Lagnese; Lisa Cregan; FelmiAtika.com; Interiordesignable.com