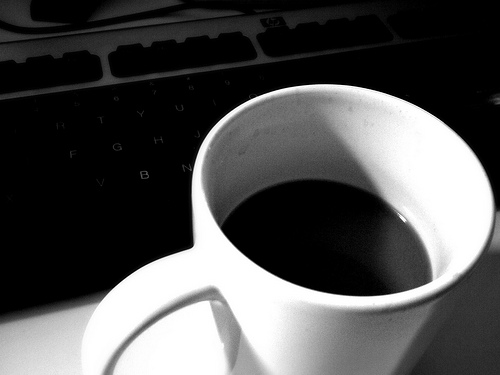 It's time to sit back, relax and enjoy a little joe …
Welcome to another rousing edition of Black Coffee, your off-beat weekly round-up of what's been going on in the world of money and personal finance.
Let's get right to it this week …
Credits and Debits
Credit: A lot of folks may consider Friday the 13th to be bad luck, but that didn't affect the Dow, NASDAQ or S&P 500 this week; at the closing bell they all finished the day in the green. Maybe they didn't know Friday was a full moon too.
Debit: It wasn't all good news. Despite that Friday the 13th rally, stocks finished with their worst week in two months — which is perplexing considering all of the terrible economic news this year had previously failed to damp the market's enthusiasm. So what did finally get the market's attention?
Debit: Apparently, the market's Achilles' heel is rising oil prices. A barrel of crude is now $107 — that's the highest it's been since last September. It's also 4% higher than it was just last week.
Debit: Those higher oil prices have gotten the attention of American business magnate T. Boone Pickens. In fact, he's warning that oil prices will skyrocket to somewhere between $150 and $170 per barrel if the current crisis in Iraq results in their oil supply being cut off. Uh oh.
Debit: I know what you're thinking: What would that mean for gasoline prices? Well … In July 2008, the oil price peaked at $147 per barrel. During that same month, the average US gas price was $4.11 per gallon — and $4.52 in California.
Debit: Of course, the so-called "average" price can be misleading — it's often much higher. One example: In October 2012, although the average price of gasoline in Los Angeles was officially $4.35, some gas stations were charging as much as $5.79 for a gallon of regular.
Debit: I see Government Motors is now recalling all Camaro models from 2010 through 2014 for a faulty ignition switch design that has resulted in at least three crashes. Yes, this is on top of a recall earlier this year that affected 2.6 million additional GM vehicles.
Credit: On the bright side, if fuel prices return to their 2008 highs, those GM recalls won't be such a bad thing. After all, cars that are in the shop don't require a lot of gasoline.
Debit: This seems almost too incredible to believe, but fully 1 out of every 10 cars on US roads have been recalled in 2014 — and we're not even half way through the year yet.
Debit: Meanwhile, consumer confidence dropped for the second consecutive month. In fact, it was the biggest miss of expectations in 18 months. That doesn't bode well for a contracting economy that is looking to rebound this quarter. If it doesn't — the US will officially be in a recession.
Debit: The plunging confidence figure makes a lot of sense if you consider that 52% of American renters and homeowners can't afford their house. No, that wasn't a typo. I'll wait while you go ahead and read that again.
Credit: Maybe that's why just 37% of Americans currently believe it's a good time to buy a home. Sentiment hasn't been that bad in more than four years. And if you're wondering why that's a "credit," then please reread the previous "debit." (For the third time.)
Debit: What's that? You think all of those freshly-minted college grads will get good jobs and turn the economy around? Think again. Fully half of all US college grads out of school for two years are still relying on their parents for money to make ends meet. I know.
Credit: Hey, on a positive note … The Los Angeles Kings completed an incredible playoff run, skating off with their second Stanley Cup in three years after beating the New York Rangers in a double overtime thriller on Friday. Hooray! The parade is Monday; I'll see you there.
By the Numbers
Is college still a smart financial move? Here are some findings from a recent University of Arizona study on college grads who have been out of school for two years:
49 Percentage of college grads out of college two years who have a full-time job.
$25,000 Lower end of annual salary range for surveyed college grads with a part-time job.
$40,000 Upper end of annual salary range for part-time college grads.
$29,400 Average college debt incurred by students in 2012 after four years of schooling.
63 Percentage increase in average student college debt since 2002.
70 Percentage of surveyed college alumni who claim to be NOT financially self-sufficient two years after graduating.
Sources: CNN; Huffington Post
The Question of the Week
Loading ...
Last Week's Poll Result
How many residences have you had during your lifetime?
10 or more (38%)
2 or 3 (19%)
4 or 5 (15%)
8 or 9 (12%)
6 or 7 (12%)
1 (4%)
More than 500 people answered last week's question, and it turns out that nearly 2 in 5 respondents have had 10 or more residences during their lifetime. Another 4% have spent their entire life in the same home. I once read that the average person lives at 14 different addresses over their lifetime, so this poll tends to back that claim up. As for me, I've had six separate addresses — and half of those were during a five -year period when I was in college.
Other Useless News
Here are the top — and bottom — five states in terms of he average number of pages viewed per visit here at Len Penzo dot Com over the past 30 days:
1. Vermont (2.18 pages/visit)
2. Utah (2.09)
3. Idaho (1.88)
4. Wyoming (1.84)
5. Washington (1.83)
46. New Mexico (1.44)
47. Montana (1.43)
48. Oklahoma (1.42)
49. Oregon (1.40)
50. Mississippi (1.37)
Whether you happen to enjoy what you're reading (like Ben & Jerry) — or not (ahem, Mississippi) — please don't forget to:
1. Click on that Like button in the sidebar to your right and become a fan of Len Penzo dot Com on Facebook!
2. Make sure you follow me on Twitter!
And last, but not least…
3. Don't forget to subscribe via email too! Thank you.
Here's Some Posts You Might Enjoy …
The Money Principle – Never Throw Away a Single Penny: Learning the Value of Money
Budgets Are Sexy – Debt Paying Tip #67: Round Up to the $100th!
Big Guy Money – The Shopping Horde
The Broke and Beautiful Life – Overdraft Fees: How Much Money Are You Putting in the Bank's Pocket?
Don't Quit Your Day Job – A Dividend Reinvestment Calculator for EVERY Stock
Letters, I Get Letters
Every week I feature the most interesting question or comment — assuming I get one, that is. And folks who are lucky enough to have the only question in the mailbag get their letter highlighted here whether it's interesting or not! You can reach out to me at: Len@LenPenzo.com
Jolie Fuller wrote in with several suggestions on how "tone down" the Credits & Debits section of my weekly Black Coffee posts:
I'm reluctant to tell you how to run your blog, but …
Then please don't. (Your subscription refund is in the mail.)

I'm Len Penzo and I approved this message.
Photo Credit: brendan-c