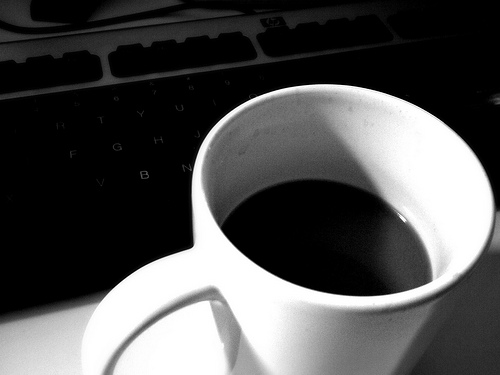 It's time to sit back, relax and enjoy a little joe…
Welcome to another rousing edition of Black Coffee, your off-beat weekly round-up of what's been going on in the world of money and personal finance.
I hope everyone had a memorable Valentine's Day on Friday!
Let's get right to it …
Credits and Debits
Debit: In case you haven't noticed, Argentina defaulted on its debt in 1982, 1989, and 2001. Today, the nation's collapsing economy and nearly-depleted cash reserves have it on the verge of achieving deadbeat status yet again. Hey, speaking of questionable credit risks…
Debit: Even though lax lending standards — and subprime mortgages, in particular — helped set off the last financial crisis, Wells Fargo bank is once again courting potential homeowners with subprime credit to bolster their bottom line. Uh oh.
Debt: When banks like Wells Fargo end up making dumb decisions like that, I can understand why so many high-powered bankers suddenly decide to off themselves. Earlier this week, Harry Dent, who had worked for JP Morgan, became the fifth victim in less than a month.
Debit: Another former moneyman supposedly committed a grisly suicide in Colorado last week. I say "supposedly" because, according to the Denver Post, the poor man died from, "seven or eight self-inflicted wounds from a nail gun fired into his torso and head." No, really.
Credit: Now I'm not a board certified medical examiner, but doesn't that sound just a little bit suspicious? The Arapahoe County coroner doesn't think so. I know.
Credit: Then again, maybe the coroner is correct. (After all, he's the expert.) I wonder if there was a suicide note mentioning the following scary chart now circulating on the Internet. It suggests that the stock market is following an eerily-similar path that led to the Crash of 1929: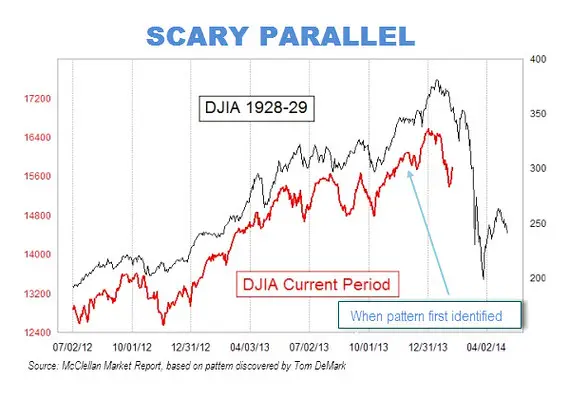 Credit: One thing's for sure: The infamous chart has built up quite a legend since the pattern was first identified several months ago. Some think it's absurd. We'll all know soon enough because the pattern suggests we're almost out of time — if it's correct, a crash will come before April.
Debit: For her part,  Janet Yellen announced that that the Fed would do whatever was necessary (read: keep printing money) to bolster the economy (read: inflate the stock market). Euphoric traders responded by sending the market into a sharp rally — just like "the scary chart" shows.
Debit: In other news, last week the President decreed that an upcoming Obamacare mandate deadline for certain employers has been extended until 2016. I'm sure his decision had nothing to do with avoiding any potential fallout the mandate would have caused in the 2014 midterm elections. Nope. Not at all.
Credit: I guess I'm a little confused. In 2012, the President was admonishing Obamacare critics by declaring that it's "the law of the land." But if that's true, how come he continually makes changes to that law by executive fiat?
Debit: The President has unilaterally repealed, delayed and extended various portions of his signature healthcare law more than two dozen times since 2010. Do you think he forgot that the US Constitution states that only Congress can make and change laws?
Credit: Whether you want to admit it or not, this is blatant lawlessness — and it's a hallmark of a banana republic. Unfortunately, when governments begin selectively choosing which laws they want to enforce, the citizens lose faith in the system — and our social fabric begins to fray.

Debit: Here's another disturbing news item you need to keep an eye on: A desperate European Union is now openly considering the confiscation of personal pension funds to fix their massive debt problem. Although no one will admit it, I'm sure the US is considering a similar plan.
Debit: Finally … A recent Gallup poll found that residents in all 50 states have a net negative view on the current state and direction of the US economy. That's right: every state in the Union. Apparently, most Americans are tired of moving "forward."
Debit: Don't tell that to the residents of our nation's capital; Washingtonians have a highly-positive economic outlook. And why not? Washington DC is the heart of America's ever-expanding central government. It's also why our public servants are hopelessly out of touch with their constituents.
(The Best of) By the Numbers
It's hard to believe it's been almost three years since Charlie Sheen was making headlines on a daily basis.
$2 million Amount Charlie earned for every episode of Two and a Half Men. His overall net worth is estimated at $85 million.
63 Approximate number of television and big-screen movies he has appeared in.
3 Television series he has starred in. (Anger Management, Two and a Half Men and Spin City.)
1 Times he appeared on Friends. (An episode from 1996 entitled "The One with the Chicken Pox.")
$55,000 Monthly child support he is reportedly paying for his two kids with Brooke Mueller. This is on top of child support he is paying for his two kids with Denise Richards.
$50,000 According to court testimony, amount he testified paying "Hollywood Madam" Heidi Fleiss for, um, services rendered.
5,000 Women he reportedly claims to have slept with. (That's a different woman every other day over the last 30 years for the 48-year-old Sheen.)
20,000 Women that Wilt Chamberlain claims to have bedded. (So there!)
1 Times Charlie managed to accidentally shoot actress Kelly Preston in the arm.
36 According to a Scripps News poll, percentage of people who, like Charlie Sheen, believe the US was responsible for the attacks on the World Trade Center.
Sources: IMDB; EOnline; TMZ; CBS News; Daily Mail
Other Useless News
Here are the top — and bottom — five Canadian provinces and territories in terms of the average number of pages viewed per visit here at Len Penzo dot Com over the past 30 days:
1. Northwest Territories (2.94 pages/visit)
2. Saskatchewan (2.04)
3.  New Brunswick (1.93)
4. Prince Edward Island   (1.92)
5. Yukon Territory (1.86)
9. British Columbia   (1.70)
10. Ontario (1.67)
11. Quebec (1.64)
12. Manitoba (1.45)
13. Nunavut (1.00)
Whether you happen to enjoy what you're reading (like those cold and crazy canucks in the Northwest Territories, eh) — or not (you hosers living on the frozen Nunavut tundra) — please don't forget to:
1. Click on that "Like" button in the sidebar to your right and become a fan of Len Penzo dot Com on Facebook!
2. Make sure you follow me on Twitter! And last, but not least…
3. Don't forget to subscribe to my RSS feed too! Thank you. 🙂
The Way-Back Machine: Past Posts Of Mine You May Have Missed
From November 2009:
9 Reasons to Get Aggressive with Your Debt Busting – There are hundreds of reasons to get aggressive when it comes to paying down your debt. Here are nine of them.
Last Week's Poll Result
Have you ever seen a UFO?
No (71%)
Yes. (15%)
I'm not sure. (14%)
Almost 200 people were brave enough to participate in this week's survey. Of them, 15% were brave enough to admit that they have actually seen a UFO. Another 14% weren't sure if they have or not. As for yours truly, I've never seen a UFO — but I believe aliens are out there. Somewhere. If you believe that the Drake Equation is valid, then there are somewhere between 1000 and 100 million civilizations in the Milky Way galaxy alone. What do you think?
The Question of the Week
Loading ...
Letters, I Get Letters
Every week I feature the most interesting question or comment — assuming I get one, that is. And folks who are lucky enough to have the only question in the mailbag get their letter highlighted here whether it's interesting or not! You can reach me at: Len@LenPenzo.com
I love it when I get fan mail. Here's one I got from Terri earlier this week:
"Hey, Len! Love your blog! I have a question for you. If quizzes are quizzical, then what are tests?"
Terri, thank you for the nice note — but it's probably two sentences too long.

I'm Len Penzo and I approved this message.
Photo Credit: brendan-c