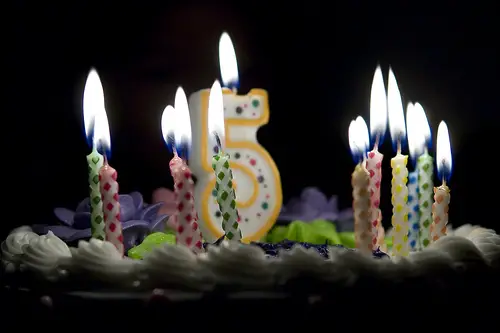 I wrote my first blog post five years ago today.
Now I've got to be honest with you, folks: I only started Len Penzo dot Com as a way to try and keep myself from getting bored. It's true!
Hopefully, I haven't bored too many of you since then.
By the way, as fate would have it, this post also happens to be article number 1000! I think that's pretty interesting, don't you?
No, I didn't write all of those articles by myself. I had some help from more than a few people, including my dear Aunt Doris who has contributed over a dozen pieces to this blog over the past couple of years. Not bad for a 93-year-old!
I've also had more than a little help from my readers over the years. Some of your guest posts have been truly inspirational. For example, there was Gayle Tate's uplifting story of how he escaped from the depths of poverty, not to mention all of the fantastic reader testimonials detailing how they live on less than $40,000 per year.
Then again, I've published some truly heart-breaking stories from you too. Like the one from Spedie, a long-time Len Penzo dot Com reader whose husband skipped town — but not before cleaning out her bank accounts of more than $50,000, and leaving her flat broke in the process.
Last week my blog also reached another milestone: 5-million page views. Hooray! At least that's what the guys from Google tell me.
If you would have told me five years ago that one day this site would tally 5 million page views, I would have said you were crazy.
I've chronicled before how difficult it was for me to attract readers when I was just starting out. In fact, Len Penzo dot Com attracted just 72 visitors in its first month. I know. And although I can't prove it, I suspect that all 72 of them attended my wedding.
Of course, maybe that's a good thing; admittedly, those early articles weren't the greatest. Nine months later, my writing had improved markedly, but the site still had just 13,000 page views. I didn't care though, because I was having a lot of fun. Frankly, at the time, it didn't matter if I had two readers (thanks Mom and Dad) or two million.
Anyway, thank you all so very much for stopping by and checking out what I've had to say here over the years. I really appreciate it!
Before I go, I have one request: If you've visited here in the past but haven't felt the urge to leave a comment, then I would love for you to take a quick moment and say hi now! You know … just to make sure that the guys at Google aren't playing some kind of cruel joke on me.
Photo Credit: Andrew Eick