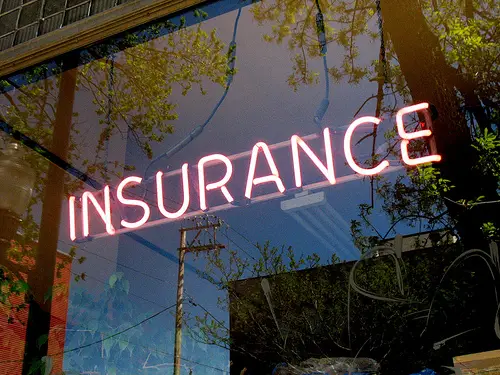 Life insurance is boring. Who wants to curl up at night and read the fine print of a life insurance policy? Nobody normal that's for sure.
Still, if other people rely on you financially, there's no topic more important. This is true for healthy people, and even more important for people who face health challenges.
Fortunately, it really isn't that difficult to understand. Boring, yes; but complicated, no.
You pay premiums to the insurance company in exchange for a promise they make to pay your family a sum of money in case you die. That's it.
If you kick the bucket, your heirs can take that lump sum and invest it in order to provide income.
So life insurance protects your family because if you buy enough of the stuff, your beneficiaries can invest it and replace the income you can't bring home anymore because you are too busy being dead.
The trick is in understanding the various types of life insurance and determining which one is best for you. In my opinion, that isn't too much of a brain teaser either. I think you'll see why shortly. But first, let's dig into the different kinds of policies.
The Two Types of Life Insurance
There are two types of life insurance: temporary and permanent. Term life is temporary. Whole life, universal life and variable universal life are examples of permanent insurance.
Term insurance is like car insurance in some ways. You have it as long as you pay for it. When you stop paying the coverage goes away.
When you sign up, you know exactly what your premiums are going to be and for how long. You also know what the death benefits are and how much your family gets if you pass away. So if you buy a 20-year term life insurance policy, your premium payments are fixed for 20 years and if you die during that 20-year period your beneficiaries get the jackpot — but once you stop making payments the coverage ends. Die one day after your policy lapses and you get zilch.
Permanent insurance is very different. It's designed to be with you your whole life — hence the name. Your premiums are far higher than term insurance. A part of that bigger premium goes to create a savings known as cash value. The insurance company takes that extra money and invests it for you to create and grow that cash value. In theory, the cash value grows over time and one day you can either use that money to actually make the premium payments instead of writing a check or use the cash value for any other reason you like.
If you buy whole life, the investment is super conservative. The cash value grows at a fixed rate for the entire period. With universal life the return you get varies from year to year based on how much the insurance companies earns on the cash value. If it's variable life, the insurance company buys mutual funds for you. That means the annual return and the entire cash value varies. In other words, the cash value itself goes up and down with the market.
The big selling point for permanent life insurance is that it theoretically stays with you your entire life so it pays off no matter how old you are when you die. Also, the salespeople will tell you that the cash value acts as a forced savings and is a great tax advantaged investment, but neither of these arguments hold water. And if you are interested in buying the most life insurance for the buck and providing as much protection for your family as possible, then term life insurance is absolutely the way to go. I say this for two reasons:
Price. Term is far cheaper than whole insurance. In fact, it can be 85% less than the cost of the permanent life or less. That means if you are most concerned about protecting your family, you'll get a hell of a lot more coverage with term than permanent insurance. Permanent insurance is so expensive that people tend to dump it as soon as they figure out that they can save a boat load of money using term.
Costs. Remember we spoke about cash value? That's the entire argument insurance agents make when they are trying to sell permanent life insurance. The problem is the insurance companies charge you big time for the privilege of investing your money. There are all kinds of costs, commissions and fees buried deep inside the fine print of that permanent life insurance policy. But you can easily avoid those costs. Just buy term and take the money you save and invest it yourself. You could shave 70% off those costs at least.
There is a place for permanent life insurance in the world. It's a great tool for certain business transactions and to protect against estate tax. And depending on your situation, it might be a better choice for you.
But if your main goal is to spend as little as possible to get the most protection you can, term is a great choice.
***
About the Author: Neal Frankle is a Certified Financial Planner in Los Angeles and an avid blogger for Wealth Pilgrim.
Photo Credit: David Hilowitz