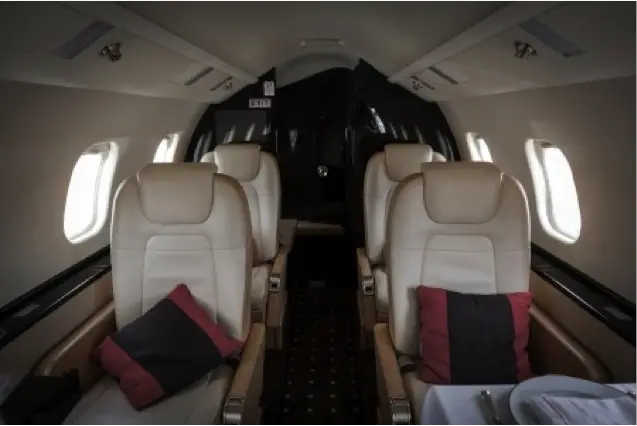 Think about your typical airport experience: You arrive several hours before your scheduled flight, wait in line, deal with security, grab a stale sandwich from a terminal coffee shop and trudge to your gate — only to discover your plane is delayed. Once you finally get on the flight, several hours later, you cram yourself into the middle seat between two former linebackers with questionable hygiene and an unlimited capacity for small talk.
Now, imagine this scenario: You pull up right next to your plane at a small airport and walk right from your car onto the jet. Your bags — weighing more than 50 pounds apiece! — are whisked to the hold by an employee as you settle into your seat and enjoy a gourmet snack. A few hours later, after you've napped and watched a movie, you land at your destination, where you grab your bags right from the plane and go on with your day.
While the second scenario sounds like a dream, it's becoming a reality for many travelers who have discovered the benefits of private air services. You may think that chartering a private plane is something that only the uber-wealthy can manage, but in some cases, choosing a charter is actually more affordable than purchasing a first or business-class ticket on a commercial airline.
Convenience, Luxury and Savings
When exploring the idea of chartering a private jet, it's important to make one fact clear: It is not a budget or low-cost travel option for the casual traveler looking for a deal. Only in a very few cases will a private flight cost less than the average coach-class ticket on a commercial airline.
That being said, it's not uncommon for a private flight to be on par with a first or business-class ticket in terms of price. For example, one charter company recently offered travelers a flight from New York to Los Angeles for $2000 per person; a first-class ticket on a commercial airline starts around $1,000 with restrictions and several layovers, and $2700 for a nonstop flight and the option to make changes without fees.
It's the lack of restrictions that makes private jet travel so appealing to many travelers. In most cases, when you charter a private flight, you have control over the flight schedule. Instead of rushing to the airport for an early morning flight and wasting time on layovers, you can leave when you need and travel directly to your destination, usually via smaller, less congested airports. In some cases, when you take into account the cost of ground transportation and the fees charged by commercial airlines plus your time's value, a private jet represents a better value, even if the bill is slightly higher.
Flying privately is usually more comfortable, although not all private jets are luxurious and packed with amenities. Some are small, carrying as few as four passengers, and not significantly more comfortable than the average commercial plane.
Booking a Flight
Because private flights are customized to the individual traveler, the best way to reserve one is to request a quote from a charter jet service. But for the best deals, you may wish to use a service like JetSuite or Jump Seat. These services allow members to grab seats on private flights that are already scheduled for low prices. For example, someone may book a flight from Chicago to San Francisco; if the plane has empty seats or it will return to Chicago without passengers, the plane's owner can post the flight. Then, travelers can take one of those unfilled seats. The more people who jump on the flight, the lower the individual price falls.
For years, traveling on repositioning flights has been common throughout Europe. Most of the time you cannot choose the exact route or schedule, but you can take a private flight to a place like Ibiza for up to 75 percent less than it would cost otherwise. Again, you can use a service to help you find deals, or search "deadhead" or "empty leg" flights to find options that may be more appealing than a commercial airline.
While most people will still find that flights on commercial airlines are the most affordable, for a special occasion or when you want to have a more convenient and glamorous option, flying privately might be a more affordable and appealing option. Consider looking into it for your next trip, and don't be surprised if you never want to go commercial again.
About the Author
Although Louise Vinciguerra is a fantastic joke teller, she has yet to be discovered by a Hollywood producer and still travels commercial most of the time. To bide her time until her big break, she enjoys approximately a million and one hobbies when she's not creating content on Facebook, WordPress or Twitter.

Photo Credit: Mikhail Starodubov