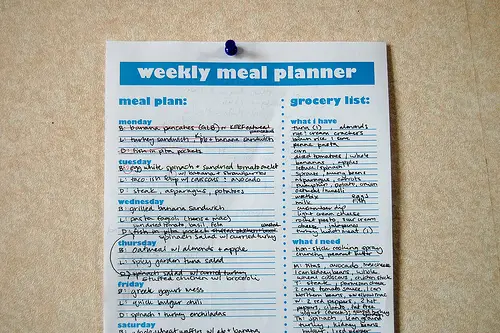 Whether your kids have moved out of the house, or you've just left a relationship, being single doesn't have to mean lonely nights of greasy take-out or microwaved frozen meals. There is a way to support a tight budget, eat healthy, and not spend hours every night in front of the stove. Enter, your weekly meal plan. Follow these three steps for budgeting and planning your weekly meals:
Plan
The first step of budgeting your weekly meals is to allot an amount of money to groceries. Then, take inventory of your pantry, refrigerator, and freezer. Having a general idea of the contents of your kitchen will let you plan your grocery list. It will also give you an idea of the ingredients you use in most in your meals.
The next step of planning your weekly meals is to scan through the sales ads of your favorite grocery store. You can then plan your weekly meals based on the specials. You will save money, and you don't have to worry about completely coming up with meals all the time. Try to only go to the grocery store once a week or every other week. By reducing your trips to the grocery store, you will find yourself avoiding impulsive purchases.
If you find that you're hitting a wall when trying to come up with creative, healthy, cheap meals, look to smartphone recipe apps like the ones listed here, and recipe websites like RealSimple or Delish. With these websites and apps, you'll never run out of meal ideas, and you can always know what you're going to eat for the week before hunger strikes.
Before you head to the grocery store, always have a detailed list of items you need and the amount you need. Try not to stray from that grocery list so that you can stick to your budget. You could also ask your grocer about loyalty cards so you can reap the loyalty benefits.
Purchase
The purchasing process might seem obvious, grab the groceries then pay for them, but there are some rules you should follow. First, only buy groceries when you're not hungry and not rushed. This will keep you on your budget, and keep you from buying unhealthy food.
When you're picking out food items, first compare generic store brands to other brands to see if they are cheaper. Then, compare unit prices so you're getting the best deal not just the lowest shelf price listed. Choose fruits and vegetables that are in season to save money.
Some grocery items are low-cost and available all year like, garbanzo beans, black beans, cannellini beans, carrots, greens, potatoes, apples, and bananas. These are items you can purchase every grocery visit and will sustain a well-balanced diet. Seek out local produce stands to buy fruits and vegetables, because they are often cheaper than grocery stores.
Another budgeting tip is to avoid individually wrapped items like yogurt or other snacks, because they generally cost more.
Prepare
The last step of finalizing your weekly meal plan is to prepare food so that you can make dinners quickly, after a long day of work. You can pre-cook on days you have extra time like on Saturdays or Sundays, and pre-chop fruits and veggies that you know you want to bring to lunch or snack on throughout the week. For your favorite recipes, double or triple-up on the amount of food you make, then freeze it. You can reheat the meal when you crave it, and you'll feel good knowing exactly what went into that frozen meal.
If you are single, or moved into a new house, be sure you have home insurance in case of cooking accidents! For the budget savvy, compare rates first before you purchase a plan.
If you find yourself in the middle of the week with no pre-cooked meals, don't opt for going out to eat, instead try no-cook meals like salads or sandwiches. If you have leftovers from the previous night, instead of just re-heating them, try to find a way to incorporate them into a different meal by adding another ingredient and more spices. Also, use those pre-chopped fruits and veggies in different ways, so you don't burn yourself out by eating the same recipes.
The key to maintaining a healthy diet and a tight budget is to always plan. Plan your meals at the beginning of the week, plan your grocery list before you hit the store, and plan your grocery budget so you don't make impulsive buys. Did you know there was a way to eat healthy on a tight budget?
Photo Credit: Mary Amanda Thompson