When it comes to holes-in-one, I always tell anyone who will listen that Tiger Woods has got nothing on me.
Did you know I recorded my first ace not long after reaching my 18th birthday, fully two months before Tiger got his first one? I did.
Of course, Tiger was just 6 when he got his. I also have yet to score another hole-in-one, while Tiger has gone on to bag 17 more of them over his illustrious career; but who's counting?
I only bring this up because last month I saw a report that said Tiger had to hire contractors to do some massive renovation work in order to keep his Jupiter Island, Florida mansion from sinking.
Yes, sinking. As in, well … sinking.
Anyway, as you might expect, Tiger's palatial estate is quite impressive, with waterfront property spread over 12 acres. According to People magazine:
"The estate has a four-hole golf course with sand traps, 100 ft.-long swimming pool, diving pool, spa, 100 ft. field and track area, tennis and basketball courts, a pair of boat docks, and a reflecting pond. Inside the facility is a 5,700 sq.-ft. fitness center."
Superb.
I wonder if Tiger would be as impressed with my modest little 2048 square-foot 3-bed 2.5-bath home. Then again, who am I kidding? I know exactly what he'd say after getting the 30-second tour of my place: "Meh."
I've been told that Tiger reportedly took out a $54 million mortgage to pay for his fancy digs. Uh huh. In fact, his monthly loan payment is supposedly in the neighborhood of $300,000.
And you thought your mortgage was expensive.
But wait, there's more. If you include Tiger's carrying costs — which represent the real cost of home ownership — he's probably shelling out well north of $600,000 per month on his house. I know.
Obviously, my house expenses don't come anywhere near that; but just for fun, I thought I'd put together this quick-and-dirty cost comparison between me and Tiger Woods, using data from my household expenses spreadsheet, and information I gathered from around the web: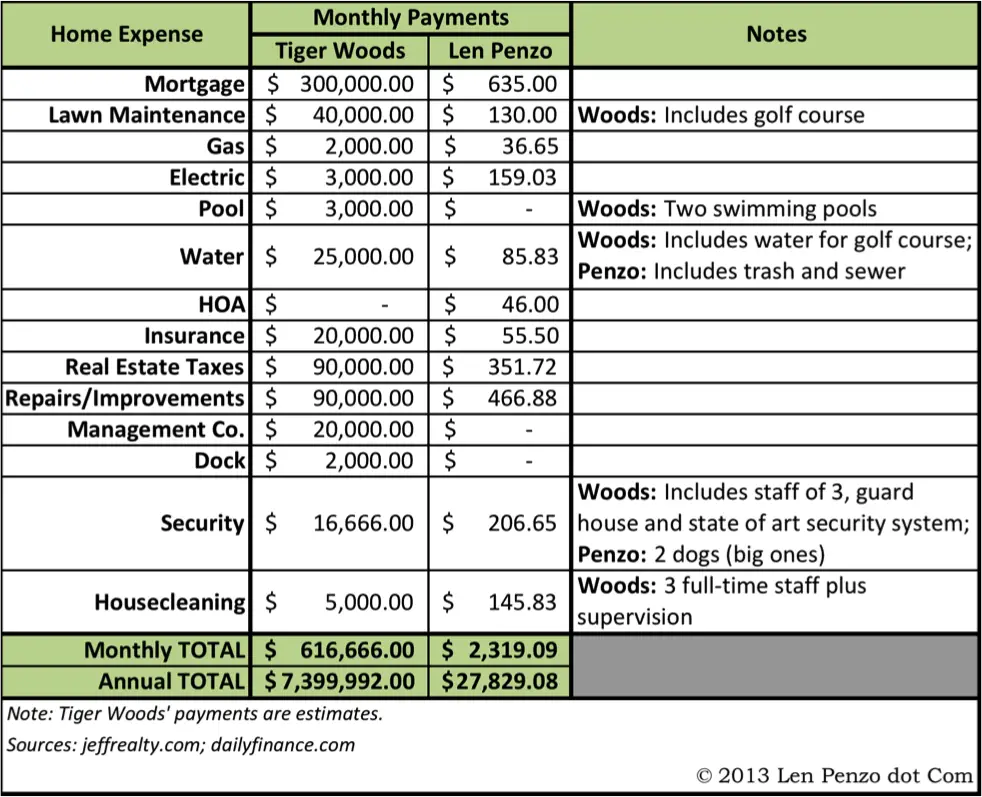 I know what a lot of you folks out there are thinking right now: How come Tiger doesn't have any homeowner association fees? Beats me. I can only assume he bought the entire association out. I would if I had his money.
Regardless, there's a lesson to be learned here: The cost of owning a home goes far beyond the mortgage, taxes and home insurance — so plan accordingly and don't forget to consider all of the other carrying costs before you buy.
Generally speaking, the bigger the home, the higher the carrying costs for everything from the utilities to maintenance. For many people, those additional home expenses act as a frustrating yoke on their discretionary spending options. That's certainly one reason why I've refused to "move-up" for many years now, despite the fact that I can afford a much bigger place than the modest home I live in now.
Hey, can you blame me?
After all, if I'm ever going to match Tiger's hole-in-one record, I'm going to need all the extra cash I can find.
Photo Credit: Friar's Balsam