It's time to sit back, relax and enjoy a little joe…
Welcome to another rousing edition of Black Coffee, your off-beat weekly round-up of what's been going on in the world of money and personal finance.
Can you believe the end of summer is almost here? It seems like it was only yesterday that it was just getting started.
I guess that just goes to show that life really is like a roll of toilet paper — the closer you get to the end, the faster it goes.
Anyway, I hope everybody has a great three-day holiday this weekend. I know I will!
By the way, one of my friends noted on Facebook that she was at our local Costco on August 22nd — and they had already broken out the Christmas stuff!
Oh, yes; they most certainly did. Here's the photo she took: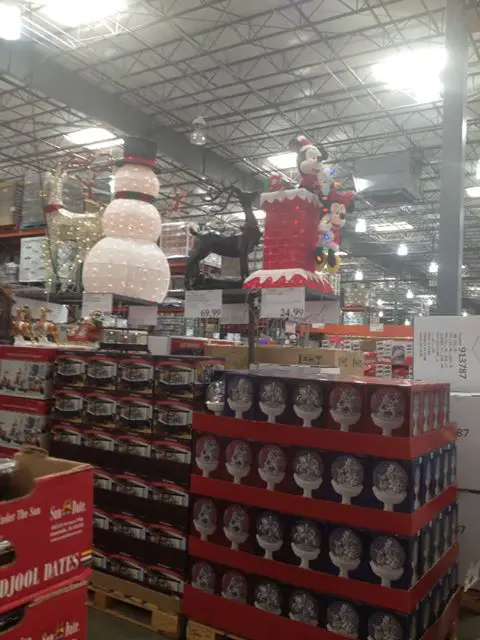 Unbelievable.
The Question of the Week
Loading ...
The Way-Back Machine: Past Posts Of Mine You May Have Missed
From August 2009:
Try Your Luck at This Tricky Money Quotations Quiz – More proof that you can never judge a book by its cover.
And Here's Some Other Posts You Might Enjoy …
Money Beagle – How's THAT for a Happy Birthday?
Stacking Benjamins – Five Financial Superheroes Who Never Were
We Only Do This Once – The Problem with Desire

Financial Independence – What Is Financial Independence?
Dinks Finance – The 10 Most Expensive Court Cases in History
Credits and Debits
Credit: The Wall Street Journal is reporting a "new flash of optimism" is the call of the day for small business owners.
Debit: Then again, everything is relative. The Journal also observed that "While small-business confidence is at its highest in years, it is still well under pre-recession levels." In fact, small-business confidence remains well below the average over the past 35 years.
Debit: Still, let's hope the optimists are right because, despite a growing population, the labor participation rate continues to shrivel with each passing month. It's now at a 34-year low.
Debit: When it comes to unemployment — and as my 16-year-old son, Matthew, can attest — teenagers are being hit disproportionately hard. In 1999, sightly more than half of all teens 16-19 held a summer job. This year, that number fell to fewer than one in three.
Debit: And you can bet that number will continue to decline at an even faster rate if the fast food workers across the nation who went on strike this week to demand a salary of $15 per hour get their wish. Heh. Heck, why not shoot for the moon and demand a six-figure salary?
Credit: The strikers better be careful what they wish for: At that absurd rate of pay, many of them will eventually find themselves unceremoniously replaced by more educated, capable, and reliable workers — or machines.
Debit: Here's another reason those strikers might want to consider such a massive pay raise: Once Obamacare kicks into full gear, single wage earners will have to make less than $20,000 per year to keep their premiums level or realize any savings.
Credit: Did you see this? Last week, a bank foreclosed on O.J. Simpson's 4233 square-foot Florida mansion. Simpson had to temporarily stop searching local golf courses for his ex-wife's killer because he's currently serving a 33-year prison sentence in Nevada for armed robbery.
Credit: Hey, it's hard to make enough money to pay the mortgage when you're in prison. For what it's worth, inmates in US federal prisons earn between 12 and 40 cents an hour for most institution work assignments.
Debit: You think O.J. has troubles? Property taxes in New Jersey are so high that the mayor of one Garden State town is putting his house up for sale and moving away because he can no longer afford to live there. Of course, that assumes he finds a sucker. Er, I mean a buyer.
Debit: Meanwhile, since peaking in 2008, the number of new single family homes being sold in the US today are at levels seen as far back as the early 1960s — despite the fact that there are 120 million more Americans living here. (Hat tip: CrashIsOptimistic)
Debit: Finally … I recently told you about how price controls caused stubborn toilet paper shortages in the socialist workers' paradise of Venezuela. Now it turns out that the country's nanny-state policies have led to a bread shortage too. I know.
Credit: On the bright side, with those empty bread shelves, it appears as if Venezuelan government officials have finally found a way to fix the proletariat's toilet paper problem.
Last Week's Poll Results
Do you like brussels sprouts?
Yes (57%)
No (37%)
I've never tried them. (6%)
Well, unlike my spinach poll, the results weren't as definitive this time. With more than 250 people participating in the survey, it's clear that although a majority of people like brussels sprouts — they're just not as popular as spinach. I actually enjoy brussels sprouts.
By the Numbers
For all you brussels sprout lovers out there:
1587 Year of the first written reference to brussels sprouts. It's believed brussels sprouts originated in Brussels, Belgium in the 13th century.
62 Approximate growing temperature, in degrees Fahrenheit, that cultivated plants produce the highest yields.
90 Minimum number of days it takes brussels sprouts to be ready for harvesting after being planted.
2 Pounds of brussels sprouts that are typically harvested from a single stalk.
85 Approximate percentage of US-grown brussels sprouts that end up in the frozen food market.
2012 Year that an unfortunate Scotsman overdosed on brussels sprouts. They're rich in Vitamin K, which can interfere with blood-thinning medications.
Sources: Wikipedia; Daily Mail Online

Other Useless News

If you're new here to Len Penzo dot Com, welcome aboard! Just a reminder … If you enjoy what you're reading I would be much obliged if you could find it in your heart to:
1. Click that "Like" button in the sidebar to your right and become a fan of Len Penzo dot Com on Facebook!
2. Make sure you follow me on Twitter!
And last, but not least…
3. Don't forget to subscribe to my RSS feed too! Thank you.
Letters, I Get Letters
Every week I feature the most interesting question or comment — assuming I get one, that is. And folks who are lucky enough to have the only question in the mailbag get their letter highlighted here whether it's interesting or not! You can reach out to me at: Len@LenPenzo.com
Earlier this week I got a free long-distance psychological evaluation from Awakeinwa, who included this key finding:
" … it's apparent to me that you're not wired for empathy."
And it's apparent to me that you believe empathy and personal accountability are mutually exclusive mindsets. Fail.

I'm Len Penzo and I approved this message.
Photo Credit: S. Mackay