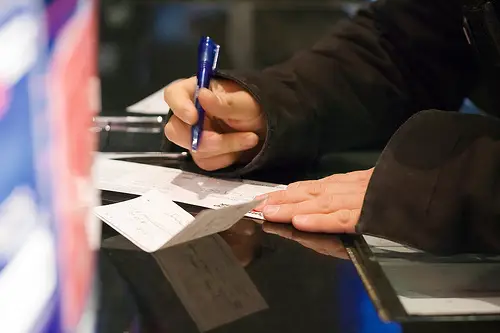 With modern online banking, direct deposit, and payment services like PayPal, many businesses forget the basic need of having checks on hand.But, in truth, most business owners still use checks often — sometimes everyday.
As such, if you're thinking about your banking needs, for either yourself or your business, you should look for an option, such as Tech Checks, that still includes personal and business checks.
Why Checks are Still Important
Checks still play a vital role in the banking system.Checks can be so handy to pay vendors when needed — for example, vendors, gardeners, or for other services you may use. You can simply keep your checkbook in a locked drawer, and always have it ready when you need to write them.
Furthermore, many vendors prefer checks they get to receive payment on the spot, but they also don't have to worry about carrying money around. For some vendors, they don't accept credit cards, so it can be a hassle to pay them without checks.
Benefits to Checks Versus Credit Cards
Checks are also great because, for the most part, checks are free! Many top tier banks offer checks for free to their customers.Then, on the deposit end, there are no fees to deposit checks into your bank account.
This is vastly different from using a credit card or PayPal.These payment processors regularly charge fees to use them, over 2.5% in many cases. That can seriously eat into the value of the payment. As a result, many vendors will offer discounts to customers who pay with cash or check because they can save on paying these merchant account fees.
Cons of Check Writing
At the end of the day, though, checks are still somewhat more cumbersome than paying with a credit or debit card or even online.You have to manually fill out a check or run it through a printer to have it valid for payment.
Second, checks can be an insecure form of payment if not handled properly.For example, all it takes is someone stealing your checkbook, and you could face thousands of dollars of loss.
Finally, some banks offer online bill pay, which will allow you to send a check to someone free of charge.However, be sure to check with your bank, because some banks charge for this service, and it could still be worth it to write a traditional check.
Conclusion
The choice is yours about whether to have checks or not. However, it's still wise to maintain an account with paper checks so that you can always have this backup form of payment should you need it to pay a vendor.
Photo Credit: CarbonNYC