Last week my boss and I were sitting in a conference room when he spied a pack of gum that someone had left on the table.
"Hey, Len! You want some gum?"
"Well, that depends," I said. "What flavor is it?"
"Five."
"Five? What the heck does that mean?"
"Beats me, but that's what it says!"
The whole thing was so odd, I took this picture of the package for posterity: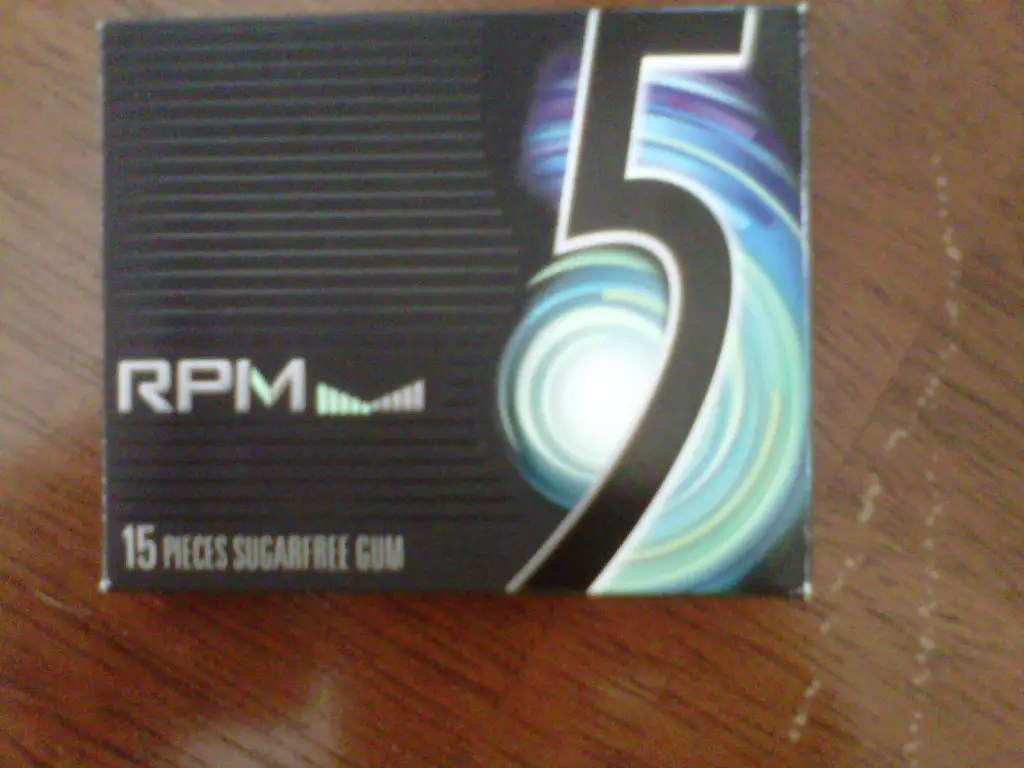 Anyway, after looking at the box again, my boss revised his assessment.
It was definitely sugarfree gum; the package specifically stated it.
The flavor, however, was still anybody's guess because the only other writing on the outside of the entire package was this tiny note on the backside, in the obligatory 1-point font, of course:
ALLERGY INFORMATION: CONTAINS SOY LECITHIN. PHENYLKETONURICS: CONTAINS PHENYLALANINE. QUESTIONS? COMMENTS? CALL 1-800-974-4539.
"Maybe it's soy flavored," my boss joked.
"Funny. Let's just call the number and ask what flavor 'five' is."
"Are you kidding? They'll think we're idiots."
"Aren't we?"
"Look: If 'five' is the wrong answer, then the flavor must be 'RPM' — I think."
"RPM?" I asked, "What do you think that might stand for?"
Who really knew? There were no other clues on the outside of the box to help us out.
Maybe "RPM" stood for raspberry pomegranate marmalade.
Regardless, I had just feasted on a peperoni pizza, so I figured I'd be the guinea pig and try a stick.
After stuffing a piece in my mouth, the mystery gum revealed itself to be … spearmint. At least I'm pretty sure that's what it was. Then again, maybe it was peppermint.
Whatever flavor it was, it was quite good.
A few minutes later the gum's owner came into the room and set us straight; we were chewing "5" gum, which happens to be made by Wrigley's.
He also showed us the official flavor of the gum we were happily smacking on: "A relaxing mint flavor." Wrigley's put that critical piece of product information on the inside of the box — and very inconspicuously at that. I know.
The guy also told us that "5" gum comes in all kinds of other mysterious flavors. Some sound fairly appealing like Rain, Lush, and Zing. The rest, however, leave me scratching my head: Cobalt, Flare, Elixir, Solstice, React (red), React (blue), Prism, Vortex, and Swerve.
The one thing they all have in common is their names are so lame that they do nothing to tell us poor consumers what they really taste like.
I know if I was selling a product I'd want to package it so that there was no ambiguity whatsoever. But that's just me; I didn't take any of those fancy pancy marketing classes in college.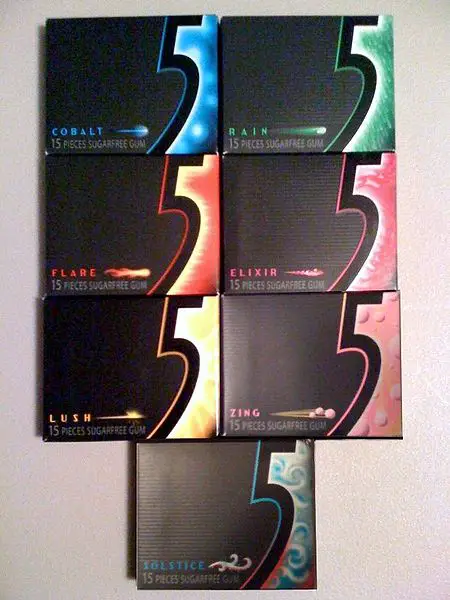 These stealth flavors, as I like to call them, have been around for awhile. For more than a decade now, Vitaminwater has had their own line of funky flavors with mysterious monickers like: defense, attention, focus, spark, revive, rise, glow, drive and XXX.
Then again, at least Vitaminwater provides plain-English translations on their labels directly below the stealth flavors, albeit in less prominent print. That allows clueless consumers like me to recognize, for example, that "focus" is actually kiwi-strawberry.
As for "XXX" Vitaminwater, it's not what some of you with active imaginations out there might be thinking; the label says it tastes like acai-blueberry-pomegranate.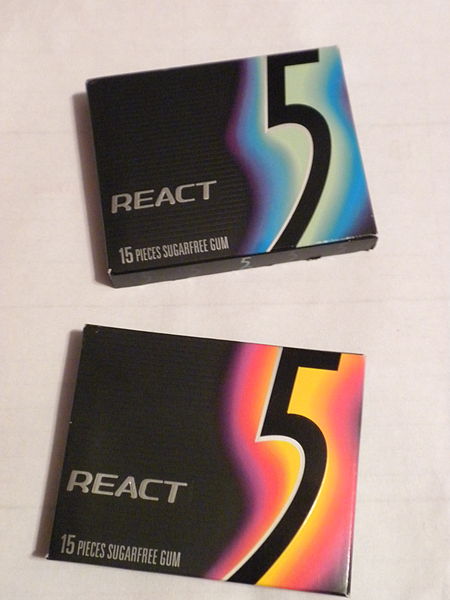 But back to this "5" gum …
I have a little advice for Wrigley's marketing department: your packaging paradigm is patently pathetic.
Yes, paint manufacturers can get away with naming their hues Midnight Madness and Summer Wheat Field — but you guys are selling gum.
I mean, what's wrong with a little product clarity? Is that too much to ask?
At least with names like JuicyFruit and DoubleMint, us consumers can make an educated guess about what your products taste like.
But "Cobalt"? Really? That's a metallic element, isn't it?
I bet the FDA and EPA banned cobalt years ago.
Besides, who in their right mind even buys cobalt-flavored gum when they could just as easily chew on a small ball of aluminum foil?
Do the marketing guys on the thirty-third floor even care about the folks they're selling to anymore?
Or is this all one big joke to them?
I'm just askin'.
Photo Credit (RPM gum): Len Penzo; Photo Credit (React; 5 collage): Richmond96