It's time to sit back, relax and enjoy a little joe…
Welcome to another rousing edition of Black Coffee, your off-beat weekly round-up of what's been going on in the world of money and personal finance. Here's what caught my attention over the past week…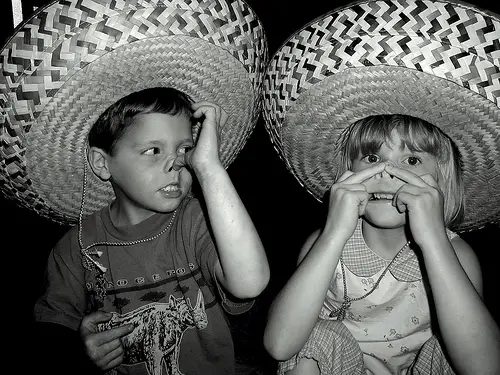 Happy Cinco de Mayo! The holiday, by the way, is practically ignored in Mexico. (If they only knew what they were missing.)
Anyway, after I'm done here I plan on getting this party started with a celebratory taco and una cerveza Mexicana fría o dos today. Who's with me?!
Blogs I've Been Following This Week
Don't Quit Your Day Job – The Efficient Market Hypothesis Is Flawed. This hypothesis essentially states that in an efficient market, it's impossible to buy any stock at wildly inflated or discounted prices because everyone has access to the same information. Riiiiight. Of course, that reminds me of a related joke about the economist and his buddy who were walking down the street one day. The buddy spied a $100 bill laying in the gutter, but when he reached down to pick up the hundy the economist stopped him. "Don't waste your time!" the economist said. "If it was real money someone would have already picked it up."
My Journey to Millions – Why I'm Not Sure I Believe in the Efficient Market Hypothesis.   Coincidentally, Evan only began to question the validity of the same hypothesis after Green Mountain Coffee Roasters' stock price lost almost 50 percent of its value on Thursday. Apparently he never heard the joke about the $100 bill in any of his Economics classes.
Everyday Tips and Thoughts – When Something Is a Great Deal, There Is Usually a Reason. Forget the Efficient Market Hypothesis. Kris has her own theory when it comes to buying and selling: You can't expect to get a deal on something and then then be frustrated when it is not perfect. Uh huh. I may be going out on a limb here, but something tells me Kris' investing club dumped their shares of Green Mountain Coffee Roasters months ago.
Sweating the Big Stuff – How Much Did I Save Living at My In-Laws? Nope; that's not a typo. I know. (By the way, I made sure to block this article's Internet link on both my kids' computers.)
20 Something Finance – Income and Happiness Studies: How Much Is Enough? If you're the type that doesn't mind living with your in-laws, I suppose it's not very much at all!
The Way-Back Machine: Past Posts Of Mine You May Have Missed
From March 2009:
Evaluate Your Options When Selling Gold Jewelry – If you're looking to sell some of your unwanted gold jewelry for cash, keep in mind there is more than one option out there to consider. In this post I evaluate the pros and cons of five of the most common ones.
Credits and Debits – Cinco de Mayo Edition!

Credit: On Tuesday the Dow Jones Industrial Average climbed to its highest level since December 2007. ¡Ole!
Credit: Meanwhile, on Friday the government announced that the US unemployment rate fell a tenth of a point to 8.1 percent. ¡Ole, ole!
Debit: Even so, the stock market was in full retreat by the time the markets closed at the end of the week. ¿Quéééééééé?
Credit: Economics 101: the unemployment rate can be reduced by increasing the number of jobs or decreasing the number of people in the labor force. ¡Sí, es verdad!
Debit: Unfortunately, the unemployment rate continues to fall because the number of people considered by the government to have stopped looking for work increased yet again. In fact, the labor participation rate hasn't been this low since 1981. ¡No trabajo, hombre!
Credit: The good news is if every one of the 29.7 million folks currently out of work "officially" quit looking for a job, our unemployment rate will fall to zero. No estoy diciendo. Sólo estoy diciendo.
Debit: For what it's worth, if the labor force participation rate simply remained stable since the "recovery" officially started in June 2009, the "official" unemployment rate wouldn't be 8.1 percent — it would be 11 percent.
Debit: Regardless, the U6 rate, which includes the unemployed and underemployed, is currently at 14.5 percent. Que no es bueno.
Debit: Then again, there are others who insist that real unemployment is somewhere north of 22 percent. Que no es bueno, también.
Debit: The dismal jobs picture won't be helped anytime soon by the US manufacturing sector, which saw factory orders last month post their biggest decline in three years.
Debit: With all this bad news, it's really no wonder Yale economics professor Robert Shiller — the man who famously predicted the dot-com and housing bubbles — thinks we're in the middle of a "Late Great Depression." Que es muy mala.
Credit: Of course, even I predicted the last housing bubble and the resulting stock market collapse that followed, which is why I pulled out of the stock market 10 months before it collapsed in 2008. Maybe I should get a job at Yale. Or not.
Debit: By the way, Shiller is also the co-creator of the Standard & Poor's/Case-Shiller home price index. He also thinks deficiencies in the US housing market are so extensive that it may take another generation before it finally rebounds.
Debit: If you think Professor Shiller has a bad attitude, think again. He seems rather optimistic if you consider that one in seven people now believe the world will end during their lifetime. I know, amigo.
Credit: Then again, maybe those doomsayers are on to something: an exploding meteor showered bits of fire and brimstone over California last week. ¡Ay caramba!
Credit: It ain't all bad though. The day after it happened, one woman out for a walk in her neighborhood accidentally stumbled upon a small piece of the resulting space rock debris. Its approximate value: $20,000. ¡Que es mucho dinero!
The Question of the Week
Loading ...
By the Numbers
A few financial facts for those of you considering a career as a meteorite hunter:
$1000 Price per gram for the rarest lunar and Martian meteorites.
$52.79 The closing price per gram for gold on Friday, May 4.
$0.50 The price of the most common iron meteorites.
$1 Typical price per pound of meteoritic material before museums and universities began widely collecting them.
0.2 The weight (in grams) of a one-carat diamond.
$25,000 The price per gram of a top-quality grade-one diamond.
Source: Geology.com
Other Useless News
Hey! If you happen to enjoy what you're reading — or not — please don't forget to:
1. Click on that "Like" button in the sidebar to your right and become a fan of Len Penzo dot Com on Facebook!
2. Make sure you follow me on Twitter!
And last, but not least…
3. Don't forget to subscribe to my RSS feed too! Thank you. 🙂
Top 25 Referrers for April

It's the first weekend of the month, which means it's time once again to thank the top 25 referring websites to Len Penzo dot Com.
1. MSN: Smart Spending
2. The Simple Dollar
3. Kiplinger
4. Money Talks News
5. Credit Karma
6. Budgets Are Sexy
7. Afford Anything
8. Green Panda Tree House
9. Monevator
10. (tie) Fabulously Broke in the City
10. (tie) Budgeting in the Fun Stuff
12. Wisebread
13. Time Magazine: Moneyland
14. Wealth Pilgrim
15. Money Help for Christians
16. Lazy Man and Money
17. Sweating the Big Stuff
18. (tie) The Millionaire Nurse Blog
18. (tie) The Free Financial Advisor
20. So Over Debt
21. PT Money
22. Yes I Am Cheap
23. JoeTaxpayer
24. Money Funk
25. First Gen American
Thank you to everyone who refers their readers to this little ol' blog! It's much appreciated.
Letters, I Get Letters
Every week I feature the most interesting question or comment — assuming I get one, that is. And folks who are lucky enough to have the only question in the mailbag get their letter highlighted here whether it's interesting or not!
Fligthkb wrote in to complain about how Google wasted his time by leading him to my site — and also brag about his home accoutrements:
Maybe from your point of view an Infiniti FX50 is a dream car. Well, now i [sic] am 19, and my sofa set is worth more than that …
If only I had my priorities in order at 19 like you do. Trust me; a good quality sofa will come in real handy after you've been married a few years.

Estoy Len Penzo y yo apruebo este mensaje. ¡Ole!
Photo Credit: Oakley Originals