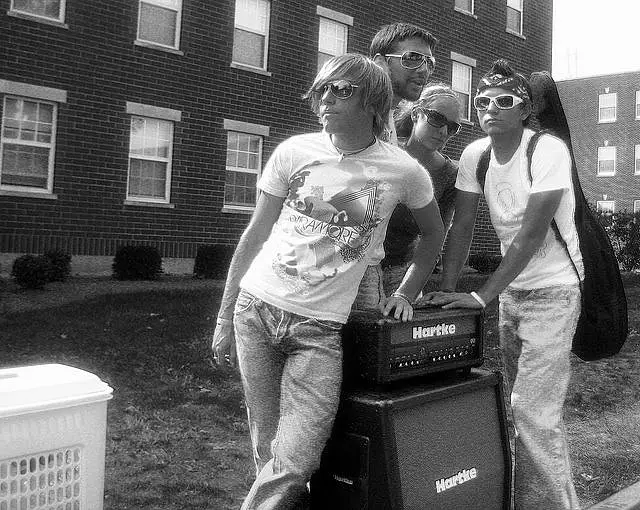 I get it; MacBooks are sexy, they're sleek, they're polished, and "research" just looks better on Retina displays. It's been shoved down the throats of students that once they graduate high school they need a MacBook under their arm to help them peacock. Similar to how generations before them viewed cars, this generation wants to show off the sex appeal of their vehicle to the digital highway.
And while you want to believe that your student is using a MacBook to compose music, edit video, or crack open Dostoevsky's literary themes, the majority of the time they're not.
They're watching porn.
And you don't need a MacBook to view porn. Some of you may already be saying to yourselves: "But really, we're using our MacBooks for education." If that's the case then let me offer you some cheaper alternatives, that will still offer the same "recreational" capabilities:
Utilize the college computers. NO, NOT FOR PORN YOU FILTHY ANIMAL! Most schools have computer labs that actually provide a better atmosphere for studying. Don't want to spend time in the computer lab? Good! It's better incentive for you to complete your assignment and get the hell out of there.
It's also better for you to have a workplace that is separate from your living and sleeping space. I know your bed is comfortable, but research has actually shown that having screens on in your bedroom can be detrimental to your sleeping. You want your bedroom to be a sanctuary from your assignments and stress.
Chromebooks. Any gaps that you might have left from your use of the college's computer labs can easily be fulfilled by a Chromebook. They're lightweight, they run Flash, Email, and you can even use Google Drive to easily have your colleagues edit your paper. Also did I mention they cost anywhere from $129 to $299. Even the higher end models are a whopping $1000 cheaper than your typical Macbook Pro with Retina display. They'll still allow you to to read academic articles, browse social media, or even conduct your "recreational research" with incognito tabs.
Be sure to check your computer requirements, to see if a Chromebook can run necessary applications or tools. But generally they can run anything that uses Flash, which is what the majority of online and offline applications for your classes will be using.
Tablets. Tablets can be a great option, they're more versatile, they come in at a great price point, Ranging from $60 to $800 and they're comfortable for reading purposes. Digital copies of textbooks can save you massive amounts of money and space. Take it from a Creative Writing Major, hauling books from apartment to apartment after you graduate is a nightmare. With options like the Microsoft Surface that have the functioning keyboard and Microsoft OS; tablets have started making a better argument for why they're relevant in the classroom.
Desktop computers. A comparable build for a PC is not only less expensive than a Macbook, but you can add significantly more processing power while still staying under the price of Macbook. Think that building a PC is too technical for you? It's really much simpler than you think and there are tons of video walkthroughs available to help you build your PC.
Student loan "Fun Bucks." For college students: The money that's left over from your student loans for miscellaneous expenses may be more money than you've ever had access to. It can be extremely tempting to spend that money on sexy electronics that you could never afford before, justifying it as an "education expense." Loan money might seem like "magic fun money," but it's still real money that you will have to pay off later. Treat that money with respect.
Never Say Never
Now, I'm not saying don't ever buy a MacBook, they make great computers that can be useful for specific utilities. But how often are you really going to use it? The problem is that when you're in college most of your browsing is less than noble, so you should wait until you've graduated from college to buy a high end computer. Once you've graduated you will have a better understanding from your use as to whether or not you want to spend a large amount of money on a Macbook or a PC.
I actually had a MacBook in college, but it was overkill for meeting my "needs." I wish I had had a better understanding of what I was really paying for: an overpriced porn player. A few months ago I bought another MacBook to record and edit my podcast, because Macbooks work well for that specific function. I love it, but that's because I'm taking full advantage of its strengths with audio fidelity.
Also, I totally use it to browse porn. But hey … I never said I wasn't a hypocrite.
***
About the Author: Byron Gould is a Creative Writing major in Idaho; transplanted from Vermont. He spends a lot of time working on his dumb podcast and a variety of scattered poetry pieces.
Photo Credit: TheMarque