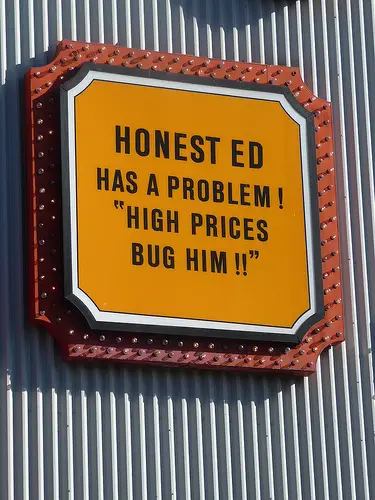 What do a grocery store, a funeral home and a college bookstore have in common? They each sell products with some of the highest markups in retail.
While we dont want to think of a funeral as a financial transaction, the reality is that we all pay a premium for products that are produced for a fraction of the cost. Though theres nothing we can do about the price gap between wholesale and retail, we can be savvy shoppers and avoid the really high markups whenever possible. Since electronics play a major role in our daily lives, let's look at six of the biggest markups and how to get these items for less.
Text Messaging
These days, we text more than we call, meet or even e-mail, making it the preferred method of communication for this generation. Sending a text costs the provider three-tenths of a cent according to Yahoo! Finance, but will typically cost the texter $0.20 per message. Thats a 6000% markup! If you text a lot, make sure you have an unlimited plan or download a free texting app. You can also get a free Google Voice number and request your friends text you there.
Ink
A friend of mine recently gave away her Kodak printer because she refused to pay for the ink cartridge replacement. Printer ink represents one of the highest markups of all products, with the per-gallon cost amounting to more than gold, gasoline and champagne. This injustice is the basis for a new comparative marketplace called InkjetWilly.com, where you can find the cheapest price on printer ink by comparing online inventory for both OEM and remanufactured cartridges.
Batteries
The last-minute urgency associated with the purchase of batteries is not lost on retailers. When you need them, you need them now and theres no time for price comparison. This is a mistake, however, since Energizer AA batteries bought in bulk from Sams Club will run from one-third to one-half less than you'll find at Target or Walgreens, respectively; and those same batteries cost even more at your local grocery. Ultimately, it pays to price compare and stock up on batteries so youre not paying for convenience.
HDMI Cables
Not everyone is well-versed enough in the electronics to know when theyre being cheated. HDMI cables represent one of the biggest price scams out there, with markups exceeding 100% in some cases. I found a Rocketfish 6 HDMI cable selling online from DanTronics (an Amazon seller) for 85% less than the price of the very same cable being offered at Best Buy — that's a lot of vanilla spice lattes!
Extended Warranties
Buying an HDTV or laptop is expensive enough, but youre inevitably pitched an extended warranty upon checkout. The offer is tempting since your purchase is expensive and potentially fragile. However, the basic warranty offered by the manufacturer is plenty; technology is ever-changing and its likely youll want to upgrade once the basic warranty is finished, anyway. Most experts agree that getting an extended warranty is never a good idea, so dont fall for this ploy and just be careful with your new purchase. Keep in mind, most major credit cards double the manufacturer's warranty. So if you're paying with plastic, check the credit card company's policy and earn some rewards while reaping the benefits of the double coverage.
Smartphone Accessories
You may have scored that smartphone for free, but what about the vehicle charger, window mount and heavy-duty case? Ditch this common sales pitch and buy your accessories elsewhere. The popular Otterbox Defender Series smartphone case, for example, is offered by Verizon Wireless. But head over to Amazon and the same case will cost you 36% less. The same goes with anti-scratch screen protectors for the Samsung Galaxy device: a 3-pack will cost you 46% less if you buy it an Amazon rather than Verizon. You may also consider scoping out deals for these types of accessories on eBay.
***
About the Author: Andrea Woroch is a nationally-recognized consumer and money-saving expert who shares smart spending tips and personal finance advice to help transform everyday consumers into savvy shoppers. She has been featured on Good Morning America, NBC's Today, Dr. Oz, New York Times, Kiplinger Personal Finance, CNNMoney and many more.
Photo Credit: wrestlingentropy