This is a guest contribution from Bill Hazelton, CEO of Credit Card Assist, where he provides a wide variety of tips, news, advice and recommendations about all things credit card-related.   Find him over on Twitter or Google+.
by Bill Hazelton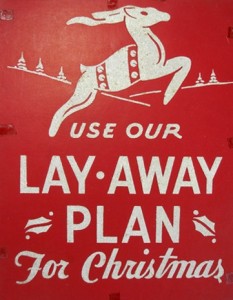 As the holiday shopping season draws near and the economy continues to falter under high unemployment and stagnant economic conditions, many retailers are considering a variety of promotional tactics to help draw in new customers. A few major retailers are even considering bringing back one of the oldest retail-marketing tactics in the book – the layaway plan.
Background
Layaway is a unique method of financing purchases that allows you to place merchandise on hold at a store, making small payments over time until it's paid for. Typically, setting up a layaway plan is as simple as making a down payment on a purchase item, and in some cases, paying an additional layaway fee for the privilege of doing so.
History
Layaway first became popular in the 1920s and  1930s when the Great Depression was in full swing. It was developed as a way to make large purchases more affordable by breaking them down into smaller, more manageable payments. For many years, layaways were very popular and available at most major retail outlets. However, during the 1980s, layaway's popularity began to wane in large part due to the rise in credit card usage.
Benefits
On the surface, layaway plans seem like a great option for budget-minded consumers. They offer a number of benefits including:
Affordable Payments. Layaway allows you to spread the cost of your merchandise out over several smaller payments.
No Interest. Unlike credit cards, layaway plans don't (typically) charge interest on the outstanding balance owed.
Won't Harm Your Credit. If you miss any payments or default on your layaway plan, it won't have a negative effect on your credit score.
Drawbacks
Even though there are a number of seemingly positive aspects of layaway plans, there are several drawbacks that need to be considered. Some of the major disadvantages of layaway plans include:
Delayed Access to Merchandise. Unlike a credit card purchase, layaway plans require that you make payments for weeks, or in some cases, even months, before you get access to the merchandise.
Increased Overspending Risk. Spreading payments out over time can make high dollar items seem less expensive than they really are, leading to over commitment and, consequently, overspending. Before using layaway, it is important to set a realistic budget upfront (one that includes an estimate of interest and fees if you're planning on financing the purchase) and then … stick with the plan to avoid overextending yourself financially.
Layaway Fees. Merchants will typically charge a layaway fee that, at first glance, might seem affordable.   Layaway fees just might wind up costing you more than you would have paid in credit card interest if you had just charged the merchandise to a card instead, which is true for lower cost purchase items in particular.
Cancellation Fees. If you change your mind and decide not to go through with the purchase, merchants will charge a cancellation fee or "restocking" fee.
No Credit Score Benefits. If you pay off your layaway purchases quickly without missing any payments it won't do anything to improve your credit score. If, on the other hand, you charge the purchases on your credit card and pay them off quickly, it can give your score a boost.
Opportunity Costs. With layaways, in order to get your merchandise paid off by the holidays, you might need to start shopping in October, well in advance of some of the best sales and discounts of the holiday shopping season.
Increased Bankruptcy Risk. In today's tough economic climate, it's not unheard of for a retail chain to go out of business with little warning (Sharper Image, KB Toys, CompUSA, Circuit City). If you have a layaway plan set up at a store that winds up having to close its doors, it will be difficult, at best, to recover your merchandise or the money that you've already paid out.
The re-launch of layaway plans has recently drawn the ire of congressional leaders as well.   U.S. Sen. Charles Schumer is staunchly opposed to layaway plans, calling them "hideaways for sky-high interest rates."   Schumer has asked major retail associations to implore their members to clearly spell out the cost of layaway fees and charges for customers.   The Democratic Senator from New York has threatened to alert the Federal Trade Commission to determine if layaway plans are "deceptive or misleading business practice."
Proponents of layaway plans say that it's wrong to compare layaway fees to credit cards though. "It is a leap to suggest that $5 on a $100 purchase is twice the going rate on credit cards, which today averages 14.99 percent nationwide," said Brian A. Dodge of the Retail Industry Leaders Association (RILA).
Major retailers are reviving layaway programs as a way to help lower-income consumers who are either unwilling or unable to access credit to buy gifts during the holidays.   "Layaway programs provide consumers with a responsible, low-cost alternative to credit cards that allow customers to buy an item that they want but the flexibility to pay for it over time without accumulating debt," Dodge said.   "They are remarkably simple and transparent. And unlike credit cards, the fees and terms never change."
Critics, however, are unbowed about the perils of layaway plans.   "As a financing option, layaway is decidedly worse than most credit cards," Professor Louis Hyman of Cornell University recently told The New York Times.
As always, the best financing option for any purchase is simply to pay cash.   At the risk of sounding like my grandfather, I'll say it anyway: If you can't afford to pay cash for an item, in particular for purchase items during the holidays, you probably shouldn't buy it at all.